The world's first online-only concert, SuperM (SuperM), the first runner of Beyond Live, was also highly interested in the world's media.
"Beyond LIVE" is an online-only paid performance that adds AR (Augmented Reality) technology and interactive (two-way) communication.,On the 26th, Naver V Live, SuperM's SuperM – Beyond the Future concert, which is the first protagonist, was held for 120 minutes, which enthused viewers from 109 countries around the world.
After the show, ABC News of the United States said, "You do not have to line up in front of the theater to see your favorite boy band, and you do not have to worry about getting expensive seats." K Pop has entered a new era of live concerts with cutting-edge AR technology and real-time communication in the Corona virus crisis.,There were no audiences at the venue, but performances were broadcast live for paid ticket buyers around the world. "
The prominent American cultural magazine Variety also accepted it as a digital experience when SuperM was canceling the concert due to Corona Pandemic. "In the stage of the unpublished track 'Tiger Inside', tigers ran around the stage, and in Lucas's 'Bass Go Boom' stage, virtual AR graphics were mobilized for the performance, including funny pop art-like graphics.,It seemed to be friendly to answer questions directly through one-on-one communication with fans of various countries. "He noted the technical part and interactive communication.
Forbes, a leading American economic magazine, also expressed interest, saying, "Beyond LIVE, which was held last Sunday, is the beginning of a series of four concerts planned to replace traditional live events at this point in time when the corona virus is putting social distances in many areas."
In addition, in the entertainment news corner of Fuji TV 'Mezamashi TV' in Japan, SuperM 'Beyond LIVE' concert video together with "SuperM held the world's first online exclusive concert, and fans from 109 countries around the world watched and communicated with fans through video talk "He said.
Major entertainment media such as China's Sina entertainment, Phoenix network, and YES entertainment also attracted attention by publishing articles that focused on 'SuperM – Beyond the Future' concert in Korea and overseas media.
'Beyond LIVE' is the world's first online paid concert with SM Entertainment's excellent content production ability, Naver's global platform operation experience and technology.
On the other hand, the Chinese group WayV (WayV) will continue the opening of the 'Beyond LIVE' performance on the 3rd, and NCT DREAM (En City Dream) will hold a concert on the 10th and NCT 127 (En City 127) on the 17th.
PENINSULA Unveils World's First Official 8K Main Trailer!
(PRESSREELS) CONTENTS PANDA(Next Entertainment World), which presents PENINSULA released the world's first official main trailer of 8K image quality at noon (Korean time) on June 16, 2020.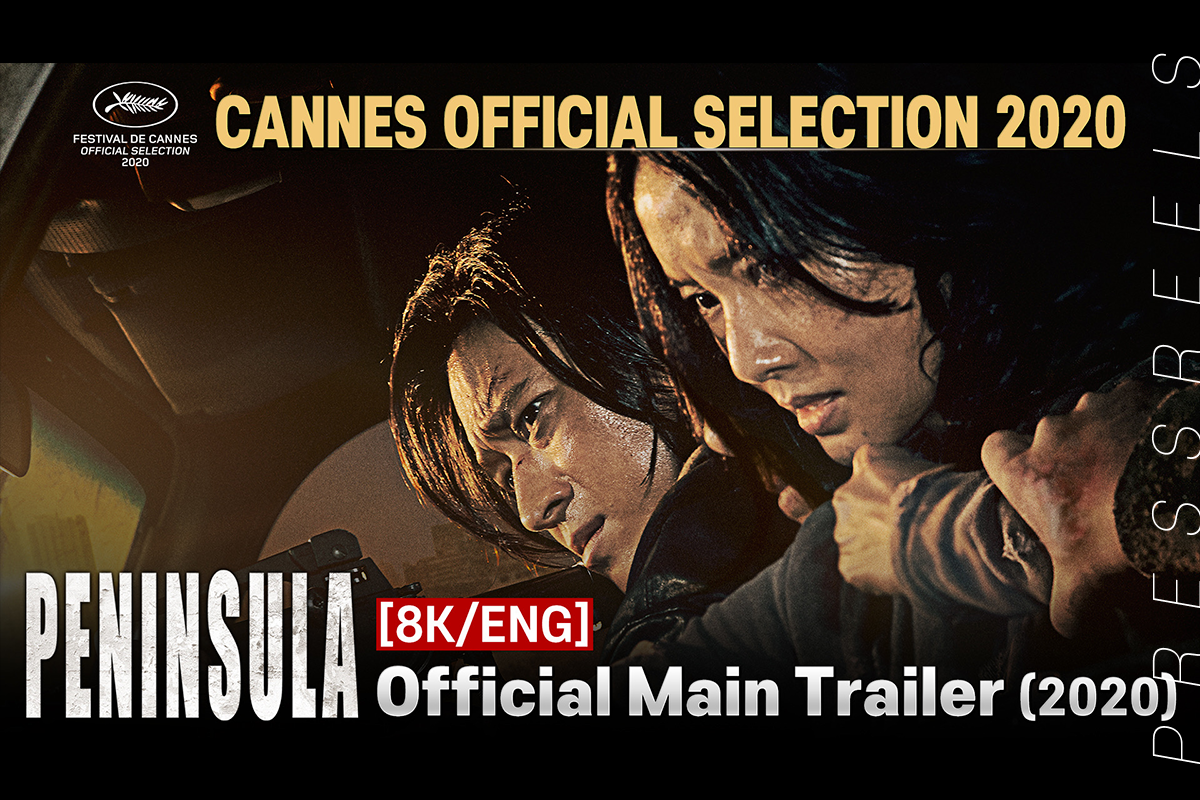 Four years after 'TRAIN TO BUSAN', Connect with the survivors of the 'PENINSULA'!
(PRESSREELS) CONTENTS PANDA(Next Entertainment World), which presents PENINSULA released the world's first official main trailer of 8K image quality at noon (Korean time) on June 16, 2020. The trailer of PENINSULA, a 2020 Cannes Film Festival's official invitation film, depicts the struggles of those who have survived in different ways for four years after TRAIN TO BUSAN.
PENINSULA is an action blockbuster depicting the last battle for survival between the people left behind in the ruins of the Korean peninsula four years after Train to Busan. The upcoming PENINSULA trailer ahead of its worldwide premiere release in the summer of 2020 is full of such big scale action sequences and explosive thrills together with fast-sounding gunfights and car-chasing scenes.
In particular, the official trailer of PENINSULA, which has 8K image quality for the first time in the world, meets the technical specifications of all digital devices and delivers a high level of visual completeness to moviegoers around the world. The 8K trailer, which is 16 times clearer than the FULL HD image quality and 4 times clearer than the 4K image quality, can be enjoyed in 8K, 4K and HD according to the device's specifications if the 8K main trailer via the NEW's official channel on YouTube is selected as the highest specification (4320p 8K). Especially, viewers can watch them with a perfect picture quality without an extra setup from the YouTube app on Smart TVs that support either 4K or 8K.
This super high-definition trailer was created through the collaboration of NEW's digital business corporation NEW ID and SK TELECOM. Among the media-focused core technologies of AI-based Post Production, a joint enterprise between the two companies, the technology called Supernova is a media upscaling solution (up to 8K) to improved quality of image and sound source based on the AI's deep learning algorithms while maintaining the quality level of the original.
Movie Information
– Title: PENINSULA
– Director: YEON Sangho (Psychokinesis | Seoul Station | Train to Busan)
– Genre: Disaster, Zombie
– Cast: GANG Dongwon (Illang: The Wolf Brigade | A Violent Prosecutor)
LEE Junghyun (Love, Again | The Battleship Island)
– World Sales: CONTENTS PANDA (NEW)
– Production: REDPETER FILMS (Birthday | Psychokinesis | Train to Busan)
– Expected Release Date: Summer 2020
– Logline: 4 years after the inexplicable disaster, they're returning to the godforsaken land!
– Synopsis
: Jung-seok barely managed to escape from the unprecedented disaster in Korea 4 years ago and lives in exile in Hong Kong by himself. He is given a lucrative chance to return to Korea to retrieve large bags of cash left abandoned in the streets of Seoul. His mission is infiltrated ruined city of Seoul and secure the target truck before the sunrise, then return to Hong Kong unscathed. But he and his team are ambushed by a militia known as Unit 631 and vicious zombie hordes. During his desperate struggle to survive, Jung-seok experiences a moment of deus ex machina as survivor Min-jung and her family save him from brink of death. Together, they formulate one last plan to escape the peninsula for good. The prodigal son, the survivor and the deranged, their bloody battle begins!
NEW K.ID TV : K-POP Entertainment Channel has released TOP 10 weekly rankings, 4th week of May
iKON is the new champion of the weekly idol chart in the fourth week of May, with their new appearance.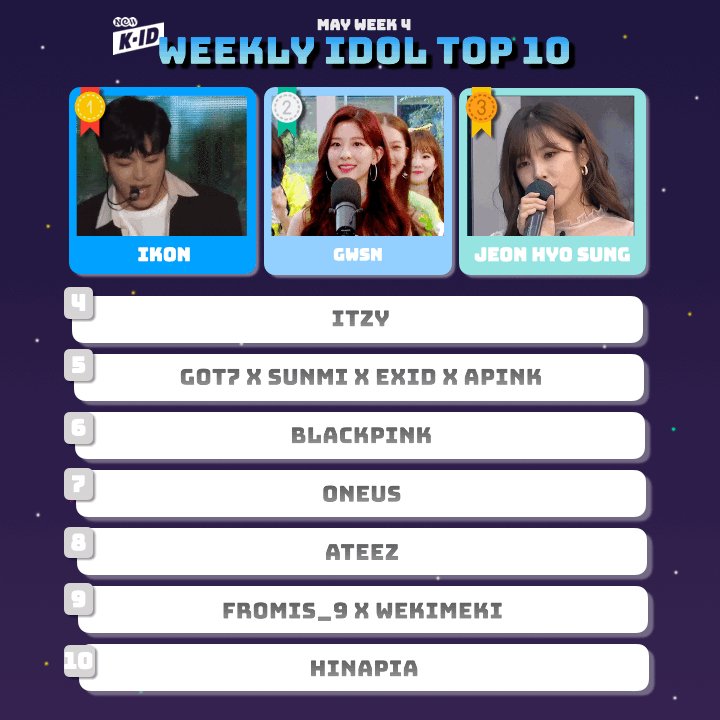 Coming hot: iKON, new number one if the idol chart

Rising of K-Drama news and School attack programs.

Weekly best: YG Ent.' (iKON, BLACKPINK, and Treasure)
NEW K.ID, the only provider of K-POP idol content for 24/7, released its weekly chart for viewers rating based on accumulated watching hours of both live-streaming and on-demand services from fans around the U.S. Wide variety of exclusive episodes and more than 10,000 K-idol programs are available on CH 511 of LG Smart TVs and XUMO apps for free
iKON is the new champion of the weekly idol chart in the fourth week of May, with their new appearance. GWSN, the winner of last week, was a runner-up and JEON Hyo Sung secured the last spot in the podium
The rest of Top 10s are ITZY, GOT7X SUNMI X EXID X APINK stage compilation, BLACKPINK, ONEUS, ATEEZ, fromis_9 X Weki Meki, and HINAPIA in order. YG Entertainment's artists such as iKON and BLACKPINK were still shown as they always do, and TREASURE, a YG's pre-debut trainee group also showed up in Top 10 with their V-log episode.
SHOW CHAMPION, Fact iN Star, and WEEKLY IDOL remained on the podium of the Program chart. N.Flying and SF9 keep their popularity for four (4) consecutive weeks. The rise of strong new contenders shows the increasing attention for K-Drama and Reality shows, enjoying their huge popularity throughout Asia with distinctive originalities.
Secret Friend of Idols, a reality show featuring idol groups from the SHOW CHAMPION stage and mysterious character in the studio was ranked 6th. 15min K-Drama NEWS Special from KStarLive, a news report introducing the newest trends in K-Drama newly appeared in the 8th place.
Tardiness Prevention Live(MOMO X), a school attack program that allows only students who attended on-time to enjoy the performance of their favorite artists, was in the 9th place.