"Thank you for the Bang Bang Concert. A wonderful night with the best music, I'm very happy."
It is the voice of an ARMY who loves BTS (Jin, RM, J-Hope, V, Jungkook, Jimin and Suga)
Watching BTS' online streaming festival "BTS ONLINE CONCERT WEEKEND" prepared by BTS for fans, he left such a cheering message on community platform Weverse. The other ARMY also wrote to Weverse, "I'm so happy. I feel overwhelmed and choked up. I'm just going to watch "Bang Bang Concert" all day today," he said, taking and posting photos of the official cheering stick, Army Bomb.
As the new coronavirus infection (CORONA 19) spreads around the world and the era of untact (non-face-to-face) has opened, BTS chose the untact performance "Bangbang Concert."
It released "Bang Bang Concert" on YouTube channel Bangtan TV on Wednesday and Wednesday, bringing together Army from around the world.
◇ 2 million global fans are cheering in the front row of the main room
"Bangbang Concert" is composed of eight parts from noon on the 18th and 19th, collecting the actual performances of BTS' existing concerts and fan meetings. On the 18th, "2015 BTS LIVE 'Hwayangyeonhwa ON STAGE'" and "2016 BTS LIVE 'Hwayangyeonhwa ON STAGE: EPILOGUE", as well as "BTS 2014 LIVE TRILOGY: EPISODE II THE RED BULLET" and 2016 fan meeting "BTS 3 MUSTERMZ." On the 19th, "2017 BTS LIVE TRILOGY EPISODE III THE WINGS TOUR IN SEOUL" "2017 TRILOGY EPISODE III THE WINGS TOUR THE FINAL" and 2018 fan meeting '4TSBERT' concert 'LOVE YOURSELF SEOUL".
From BTS' spirit and fresh charm to its further growth, it was very fun to listen to and watch the performance live. Fans' reactions were also enthusiastic. When "Bang Bang Concert" began on bulletproof TV, the number of simultaneous users exceeded 2 million and remained around 1 million despite a 12-hour run. Fans who watched the performance at the actual concert hall left a touching comment, recalling the memories of the time, and those who couldn't see it at the concert hall were thrilled, saying, "I really missed you."
Fans were disappointed as BTS' concert in Seoul was canceled due to the reason of preventing the spread of Corona 19, but "Bangbang Concert" calmed the disappointment. Instead of just watching various performances on the home turf, he drew enthusiastic responses from fans with ideas that add meaning and emotion, such as the Amibam interworking system and hashtag events, and presented a performance culture in line with the new era.
◇The lights of the amibam connecting to Bluetooth
Leading the world, BTS was also different from others in "Untact Performance." Beyond releasing the performance in the form of online streaming, he noted "how fans enjoy it." Big Hit Entertainment has joined forces to realize the joy of its fans with the advent of the Untact era. That's how Amibam and mobile interworking services were created. Usually, cheering sticks are tools that shine in concert halls, but they are useless in the current situation where many people cannot gather. The use of "Bang Bang Concert" came alive. He bought a cheering stick, but it shone properly thanks to Big Hit's system developed for ARMY, who must have been sad that the concert was not held.
Big Hit played the "Bang Bang Concert" video on Weverse and set the ARMY BOM in Bluetooth mode to provide a service that changes the color of the ARMY BOM, which is linked to the performance video, depending on the song. As a result, the fans' disappointment turned into a new sensation and made them feel connected even though they are separated. In fact, not only YouTube bulletproof TV but also Weverse and various social networking sites were lined up with fans' touching messages toward "Bangbang Concert."
In other words, the new attempt, which is the result of focusing on the experience of fans, the beginning and essence of "Bangbang Concert," has served as a hub for the era of Untact. Through the "Bang Bang Concert," Big Hit has set the stage for fans from all over the world to unite and further participate together. In fact, Big Hit's Weverse developers, who worked hard to develop interworking services for Weverse and Amibam, thought about how to use the ARMY Bomb online, a device originally built as an offline cheering tool. It is said that the company has gone through difficult procedures ranging from app testing to store approval in order to implement technologies that change color depending on video changes. Their hidden efforts have led to an innovative connect culture of the "untact era."
AMAZER – BLACKPINK COVER DANCE CHALLENGE FINISHED. 81 COUNTRIES PARTICIPATED!
Corporate event between global K-POP cover dance application 'Amazer' and artist 'BLACKPINK' has successfully finished.

Corporate event between global K-POP cover dance application 'Amazer' and artist 'BLACKPINK' has successfully finished.
This challenge, which took place with the release of BLACKPINK's second single "Ice Cream," is a collaboration between 'BLACKPINK' and 'Amazer' followed after the release of first single "How You Like That."
As 7,816 contents were uploaded by 1,972 users from 36 countries around the world, the total number of users participating in the two BLACKPINK Challenge events held in 'Amazer' reached about 3,000 users, 81 countries.
BLACKPINK's first album, which will be released on October 2, will also have a challenge targeting worldwide cover dancers in 'Amazer', and as this is BLACKPINK's first full-length album since debut, lots of participation are expected.
'Amazer' is a global K-POP representative app based on 1.2 million global users in 175 countries, where people can upload and share their cover dance, cover song videos with other users, promote K-POP to the world by collaborating with various artists and expanding new play culture in the current Untact-era.
Family Rivalry Continues! TREASURE Regains The Lead in NEW K.ID's Weekly Chart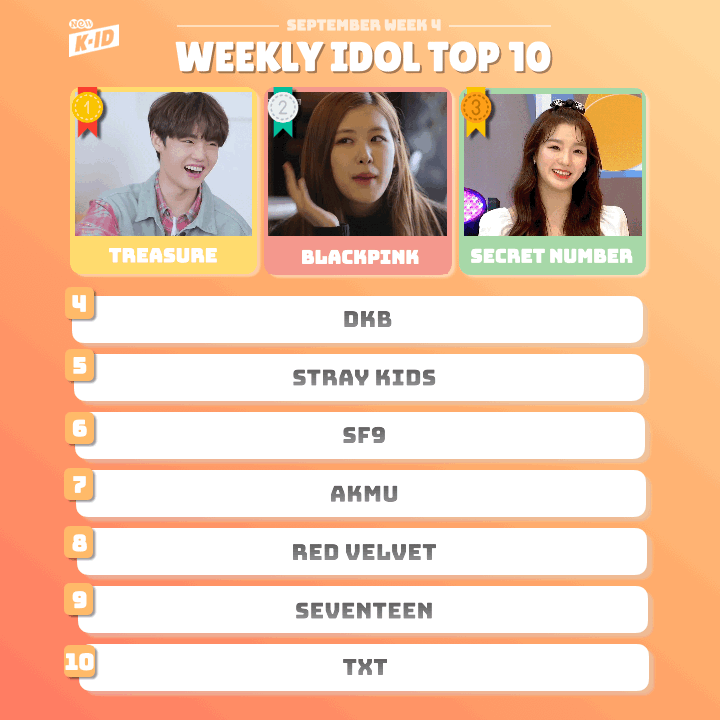 NEW K.ID, the No.1 TV channel for all K-Pop entertainment and source (https://cutt.ly/NEWKID), announced its weekly chart for the 4th week of September.
[Weekly Idol]
TREASURE is on a mission. After BLACKPINK reclaimed their throne in NEW K.ID's Weekly Idol Ranking last week, TREASURE rose to the top of this week's chart once again. Considering that TREASURE only officially made their debut last month, it is remarkable to see them go toe to toe with BLACKPINK so fast. YG fans will undoubtedly be happy as YG artists have won the last 11 NEW K.ID's Weekly Idol Rankings. TREASURE's new song, 'I LOVE YOU' is also attracting a lot of attention worldwide as it topped LINE MUSIC's Top 100 Chart, which is the biggest music platform in Japan. They also surpassed 200,000 in the album sales just in pre-order, having the best performance among all the newly debuted K-Pop idols this year. Furthermore, the 'I LOVE YOU' Music Video brought more than 10 million views on YouTube within 72 hours of its release. TREASURE's members commented that they do not wish to dwell on the numbers but would rather like to repay the fans with great music.
[Weekly Hot News]
Followed by TREASURE, BLACKPINK, SECRET NUMBER, DKB, STRAY KIDS, SF9, AKMU, RED VELVET, SEVENTEEN, and TXT got into this week's Idol Ranking. Coming in at the second place, BLACKPINK is releasing their first official studio album, 'THE ALBUM,' on October 2nd. YG Entertainment has been teasing the highly anticipated album with members' unique and individual pictures. The album will be released at 12 AM EST or 1 PM KST. 'THE ALBUM' already surpassed 800,000 sales in pre-order and is projected to shatter the records as the most sold K-Pop female artists' album in the history. With the pre-released singles such as 'How You Like That' and 'Ice Cream' having tremendous successes, fans are excited to see how 'THE ALBUM' will shake up the industry.
Ranked at #5, Stray Kids has been selected as the fastest-rising K-Pop artist in the world according to the joint data analytics done by Twitter and Space Oddity. With this year's K-Pop Analysis and #KpopTwitter 2020 World Map, Twitter showcased various infographics from the 'most mentioned K-Pop artist by market' to 'Top 10 most mentioned K-Pop songs in the world'. Stray Kids was the only artist debuted in 2018 to break into 'Top 10 fastest-rising K-Pop artists in the world'. Stray Kids also was placed 10th on 'Top 10 most mentioned K-Pop artists in the world', buttressing their status as a rising global artist. Stray Kids' new album 'Life' exceeded 230,000 in sales and topped the album chart in 23 different countries, breaking their previous records.
At the 6th place is SF9 who is planning a new project called 'FANTASY RACE' in a celebration of their 4th debut anniversary. It has already been 4 years since SF9 made its debut with a single album, 'Feeling Sensation,' in 2016, and gained immense popularity throughout their career. FNC Entertainment announced that fans could expect in a total of 4 different race courses as they can experience a variety of content, including a unique album, 'SF9 Corp 2', VLIVE, and an offline pop-up store. SF9 is also performing an online late-night concert, NOOB CON-SF9, on October 10th via VLIVE.
Ranked at #10, TXT is making a comeback on October 26th with refreshed and never seen looks. Big Hit Entertainment released album motion graphics through its official platform, Weverse. This third mini-album will capture TXT's small stories as they transition from the 'The Dream Chapter' series into a new installation. TXT's 'minisode1: Blue Hour' will showcase a changed TXT like fans have never seen before with a new concept. Meanwhile, TXT was also nominated in Radio Disney's Song of the Summer as the only Korean artist alongside global artists like Lady Gaga, Ariana Grande, Sia, and Dua Lipa.
NEW K.ID, the only TV channel that allows viewers to enjoy K-POP Idol-related content programming 24/7 and exclusive episodes curated from 10K+ videos, is available at CH 511 for free on LG Smart TVs and XUMO apps on all Internet-connected devices.