BLACKPINK Collaborates with Pop Star→Releases Face Masks… The Driving Force of K-Pop Girl Power
Group BLACKPINK is the biggest driving force of K-Pop girl power, spreading out the charms of K-Pop girl groups in the global Pop market. They've set milestones through YouTube on every title song they've ever released, collaborated with a global Pop star, and even started a global project among artists such as Ariana Grande and Billie Eilish to overcome the COVID19 crisis. 
On April 25(local time), Universal Music Group revealed the 'We've Got You Covered' project to encourage the use of face masks for the prevention of COVID19.
The project was directed as the Centers for Disease Control and Prevention(CDC) began to advise the use of face masks in public places for the prevention of COVID19, as the virus is spreading out in the entire globe. Their goal is to sell reusable cotton masks with logos of global Pop stars, for global music fans.
Bravado, a subsidiary company of Universal Music Group, began selling masks with logos of global artists including Justin Bieber, Ariana Grande, Billie Eilish, The Weeknd, The Rolling Stones, Queen, and Willy Nelson, while BLACKPINK also became the K-Pop group to be listed among them.
The masks are being sold at $15 each(approximately 18,500 KRW) and are reusable after laundry. BLACKPINK's masks include the group name logo in pink, which is the color that represents the group.
The proceeds will be donated to 'MusiCares', and will be used for industry employees who are in need.
BLACKPINK has previously signed with Interscope Records, the biggest and representative label of Universal Music Group, back in 2018, to begin targeting the overseas Pop market.
Last year, the group has performed at Coachella, the biggest music festival in the US, while 'Kill This Love' entered US Billboard's main charts including the Hot 100 and Billboard 200 as no. 41 and no. 24 respectively, setting the first and best record in K-Pop girl group history.
While currently working on their new album and preparing to make comeback, the group has received attention from the global Pop market with the news on their collaboration with Lady Gaga, the global Pop star. They've participated on track no. 10 titled 'Sour Candy' as featuring artists on Lady Gaga's 6th official album titled 'Chromatica'. BLACKPINK stood beside Ariana Grande and Elton John, who represent the history and current trend of Pop and have also participated in the album as featuring artists. BLACKPINK is reviewed to have raised the status of K-Pop through their latest collaboration.
YG Entertainment revealed, "BLACKPINK and Lady Gaga were fans of each other through their own music, which made the collaboration possible".
Meanwhile, the MV for 'STAY', one of the double title songs of BLACKPINK's second digital single 'SQUARE TWO' released back in November 2016, has surpassed 200 million views on YouTube. As a result, BLACKPINK now has over 200 million views on all title song MVs they've ever released, including their debut song 'WHISTLE'(400M), 'BOOMBAYAH'(800M), 'PLAYING WITH FIRE'(700M), 'AS IF IT'S YOUR LAST'(700M), 'DDU-DU DDU-DU'(1.1B), 'Kill This Love'(800M), and JENNIE's solo track 'SOLO'(400M).
Recommend Video
AMAZER – BLACKPINK COVER DANCE CHALLENGE FINISHED. 81 COUNTRIES PARTICIPATED!
Corporate event between global K-POP cover dance application 'Amazer' and artist 'BLACKPINK' has successfully finished.

Corporate event between global K-POP cover dance application 'Amazer' and artist 'BLACKPINK' has successfully finished.
This challenge, which took place with the release of BLACKPINK's second single "Ice Cream," is a collaboration between 'BLACKPINK' and 'Amazer' followed after the release of first single "How You Like That."
As 7,816 contents were uploaded by 1,972 users from 36 countries around the world, the total number of users participating in the two BLACKPINK Challenge events held in 'Amazer' reached about 3,000 users, 81 countries.
BLACKPINK's first album, which will be released on October 2, will also have a challenge targeting worldwide cover dancers in 'Amazer', and as this is BLACKPINK's first full-length album since debut, lots of participation are expected.
'Amazer' is a global K-POP representative app based on 1.2 million global users in 175 countries, where people can upload and share their cover dance, cover song videos with other users, promote K-POP to the world by collaborating with various artists and expanding new play culture in the current Untact-era.
Family Rivalry Continues! TREASURE Regains The Lead in NEW K.ID's Weekly Chart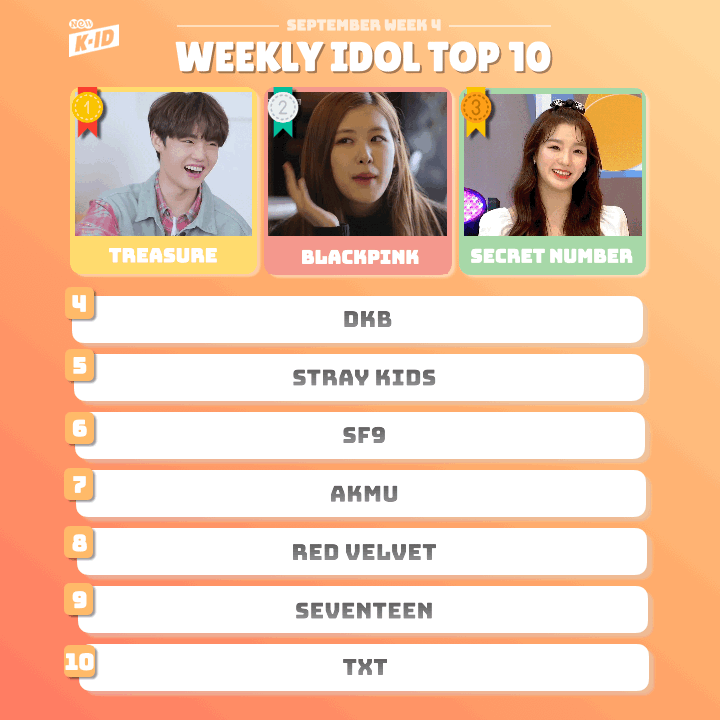 NEW K.ID, the No.1 TV channel for all K-Pop entertainment and source (https://cutt.ly/NEWKID), announced its weekly chart for the 4th week of September.
[Weekly Idol]
TREASURE is on a mission. After BLACKPINK reclaimed their throne in NEW K.ID's Weekly Idol Ranking last week, TREASURE rose to the top of this week's chart once again. Considering that TREASURE only officially made their debut last month, it is remarkable to see them go toe to toe with BLACKPINK so fast. YG fans will undoubtedly be happy as YG artists have won the last 11 NEW K.ID's Weekly Idol Rankings. TREASURE's new song, 'I LOVE YOU' is also attracting a lot of attention worldwide as it topped LINE MUSIC's Top 100 Chart, which is the biggest music platform in Japan. They also surpassed 200,000 in the album sales just in pre-order, having the best performance among all the newly debuted K-Pop idols this year. Furthermore, the 'I LOVE YOU' Music Video brought more than 10 million views on YouTube within 72 hours of its release. TREASURE's members commented that they do not wish to dwell on the numbers but would rather like to repay the fans with great music.
[Weekly Hot News]
Followed by TREASURE, BLACKPINK, SECRET NUMBER, DKB, STRAY KIDS, SF9, AKMU, RED VELVET, SEVENTEEN, and TXT got into this week's Idol Ranking. Coming in at the second place, BLACKPINK is releasing their first official studio album, 'THE ALBUM,' on October 2nd. YG Entertainment has been teasing the highly anticipated album with members' unique and individual pictures. The album will be released at 12 AM EST or 1 PM KST. 'THE ALBUM' already surpassed 800,000 sales in pre-order and is projected to shatter the records as the most sold K-Pop female artists' album in the history. With the pre-released singles such as 'How You Like That' and 'Ice Cream' having tremendous successes, fans are excited to see how 'THE ALBUM' will shake up the industry.
Ranked at #5, Stray Kids has been selected as the fastest-rising K-Pop artist in the world according to the joint data analytics done by Twitter and Space Oddity. With this year's K-Pop Analysis and #KpopTwitter 2020 World Map, Twitter showcased various infographics from the 'most mentioned K-Pop artist by market' to 'Top 10 most mentioned K-Pop songs in the world'. Stray Kids was the only artist debuted in 2018 to break into 'Top 10 fastest-rising K-Pop artists in the world'. Stray Kids also was placed 10th on 'Top 10 most mentioned K-Pop artists in the world', buttressing their status as a rising global artist. Stray Kids' new album 'Life' exceeded 230,000 in sales and topped the album chart in 23 different countries, breaking their previous records.
At the 6th place is SF9 who is planning a new project called 'FANTASY RACE' in a celebration of their 4th debut anniversary. It has already been 4 years since SF9 made its debut with a single album, 'Feeling Sensation,' in 2016, and gained immense popularity throughout their career. FNC Entertainment announced that fans could expect in a total of 4 different race courses as they can experience a variety of content, including a unique album, 'SF9 Corp 2', VLIVE, and an offline pop-up store. SF9 is also performing an online late-night concert, NOOB CON-SF9, on October 10th via VLIVE.
Ranked at #10, TXT is making a comeback on October 26th with refreshed and never seen looks. Big Hit Entertainment released album motion graphics through its official platform, Weverse. This third mini-album will capture TXT's small stories as they transition from the 'The Dream Chapter' series into a new installation. TXT's 'minisode1: Blue Hour' will showcase a changed TXT like fans have never seen before with a new concept. Meanwhile, TXT was also nominated in Radio Disney's Song of the Summer as the only Korean artist alongside global artists like Lady Gaga, Ariana Grande, Sia, and Dua Lipa.
NEW K.ID, the only TV channel that allows viewers to enjoy K-POP Idol-related content programming 24/7 and exclusive episodes curated from 10K+ videos, is available at CH 511 for free on LG Smart TVs and XUMO apps on all Internet-connected devices.