Charity culture of BTS and ARMY
It was the beginning of an article posted by one ARMY. BTS' Seoul concert was canceled due to concerns over the spread of the new coronavirus infection (COVID 19). ARMY posted a message among upsetting fans. It said that the cancellation amount of the concert was donated to the Hope Bridge National Disaster Relief Association. This content made the ARMY cry. Countless ARMY have joined in donating the concert refund amount to a donation to prevent the spread of Corona 19. According to the Hope Bridge National Disaster Relief Association, the total amount donated by ARMY as of April 16 is over 537.05 million won. Its donation names are "BTS," "방탄소년단," and "ARMY."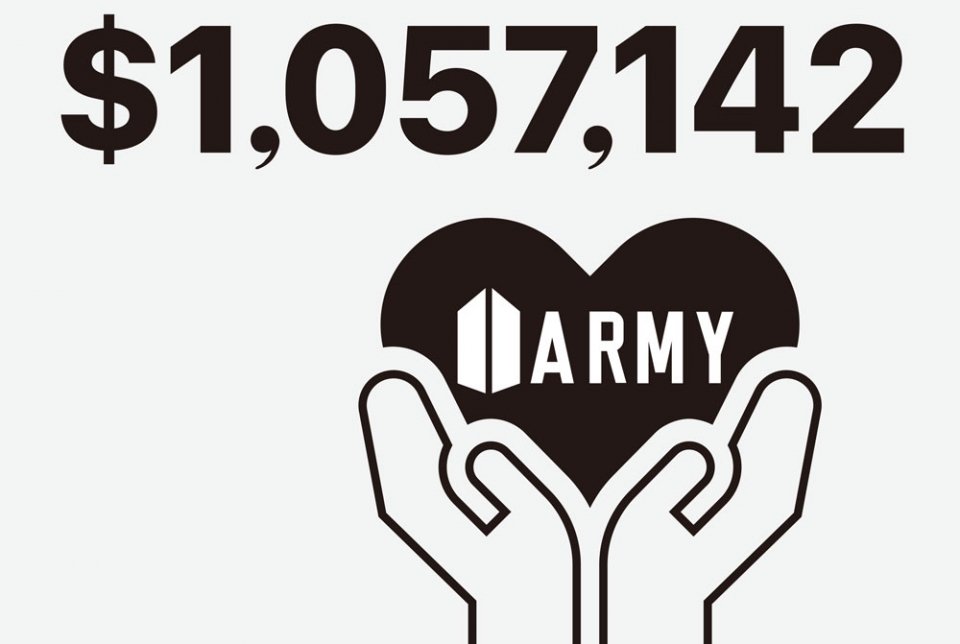 Amid donations to prevent the spread of COVID 19, a positive culture of "fandom" is spreading as fans join the ranks to add strength. The most prominent fandom is BTS' fandom ARMY. From the early days of the spread of COVID 19, BTS fandom has continued to make "good donations." Members of J-Hope's fan community Hope on the World J-Hope Fanbase and favorite J-Hope community donated 1,640 KF94 health masks to the Buk-gu Office in Gwangju, J-Hope's hometown, in February to mark his birthday. J-Hope's fans donated profits from the "Donation Market" to the Korea Leukemia Children's Foundation to support masks for children with cancer. Profits from Singapore's birthday cup holders were donated to the National Disaster Relief Association, while earnings from keying tools were donated to the Gwangju Hope Foundation, a division. In China's j-hope fan base, donations were also made to build the "Jeong Ho-seok (J-hope's real name) Hope Hospital." More than 500,000 yuan (85.1 million won) has been collected.
On April 5, Jungkook Peru, Jungkook's fan base in Peru, made a donation to the National Edgardo Rebagliati Martins National Hospital through the Fundacin OLI Foundation. Jungkook's Peruvian fans showed good influence by joining hospital medical staff in donations to support protective kits consisting of masks, sterile dressing gowns, nitril gloves, shoe covers and hats. On March 13, V's global fan base, V-Union, and Korean fan base V-Inside donated "Sweet Night Lunch Box" to Daegu hospitals to mark the month of the release of V's self-written song "Sweet Night." A total of 313 lunch boxes were delivered to a total of three locations — Daegu Medical Center, Daegu Dongsan Hospital and Daegu Catholic Hospital. Vunion continues its donation relay by donating to the U.N.'s COVID 19 Solidarity Response Fund. In many cases, overseas Army's donated to the National Disaster Relief Association to use it for the COVID 19 slogan.
OIAA Donates 1.2 billion won from 2015 to the present
In fact, the donation culture of the fandom, Amira, has been steadily and through the participation of a large number of people. One In An ARMY (OIAA), a global army small donation group, is also the result of an Army's proposal. The fact that it is not just a means to promote BTS can be seen by the slogan, "Big fandom makes a big difference." Army, who first tweeted, suggested, "There are so many Army all over the world that we can help people and contribute to making changes in the world." As Army shared it, the idea became a reality, and OIAA, a donation organization that regularly conducts charity projects every month, was born.
Lee Ji-haeng, a cultural researcher, said in his book "BTS and Army Culture" that charity seems to originate from the message of BTS and the desire to return the experience gained through the community of Army to the rest of the world. He realizes his desire to contribute to making the whole world a more positive place by using the positive power he has received for others. There are also some principles that the OIAA follows. It supports as many countries as possible not to overlap. Small donations should be possible. This is because each and every one of them has the intention of donating a small amount of money to exert great power. There is also a principle to support smaller organizations. OIAA donated more than $1 million (1.2 billion won) from 2015 to March this year. Among them, donations amounted to 800 million won in the first three months of this year.
Members' birthdays will also be followed by "special" donations. It is not just donating in the name of a star, but also making a project of good deeds that people need while matching the characteristics of their members. Influenced by Jin, who has sponsored animal rights groups, Jin's fans donated food and cushions to the Korea Animal Freedom Association in December last year and participated in the animal protection service. Last September, RM's birthday, his fans created a forest named after him for RM, who usually shows interest in the environment. It planted 1,250 trees in hopes of restoring the natural nature of the Han River and reducing fine dust.
J-Hope's fans donated money to support youth dance education in line with J-Hope's BTS main dancer position, and raised operating expenses to give bright smiles to children with cleft palate following the nickname "Sun Shine." Celebrating this year's birthday, some 400 fans from around the world donated some 13 million won to the International Relief and Development Organization's Hope Friend Hunger Countermeasure.
Why is the donation culture of Army particularly active? Lee Ji-young, a professor at Sejong University, said, "As BTS fandom grows huge, regardless of age or country, the population distribution of Army has changed. "We will find more ways to use this power positively as we see, hear, and feel the real changes and effects that Army, a huge fandom, is making." It is not just an increase in the number of fandom, but the expansion of fandom accompanied qualitative changes.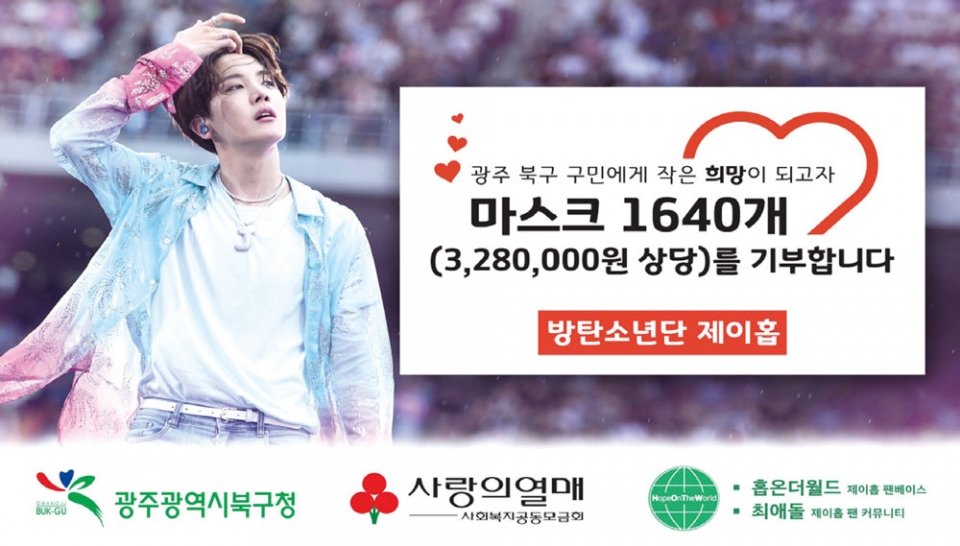 BTS's Good Influence, Big Fandom Rises Positive Spread
Another reason is BTS' "good influence." In November 2017, BTS donated 500 million won to UNICEF's Korean committee and donated part of its album sales and the entire proceeds from the campaign's official goods sales through the "LOVE MYSELF" campaign, which calls for "love myself" for two years. It sponsored UNICEF's campaign to root out violence against children. Naturally, both BTS and Army participated in the donation culture.
Its campaign's ripple effect grew as BTS matched the message in the "LOVE YOURSELF" series. Lee said, "BTS sets a good example for fans and stimulates them to do good things. Thinking about ways to spread good influence has become my identity as an Army," he explained. In other words, BTS' message and ARMY's good deeds are combined to continue a positive cycle.
Suga once donated 10 kilograms of 1++ grade Korean beef to child care centers across the country for his birthday. Suga's promise to buy Korean beef to his fans was kept by sending love to 39 nurseries across the country in the name of Army. Last year, Suga also donated 100 million won to the Korea Pediatric Cancer Foundation under the name of Army. It is a virtuous cycle that emerged when Army returned charity in the name of BTS and BTS returned to society in the name of Army. Even in the COVID 19 incident, BTS directly participated in the donation culture. Suga delivered 100 million won in donations to the National Disaster Relief Association, asking it to spend the money to prevent COVID 19 in his hometown of Daegu and recover from the damage.
BTS Showing Possibility of 'Untact Concert' with 'Bang bang Concert'
BTS appeared on U.S. CBS' "The Rate Rate Show with James Corden" on March 30 and emphasized the practice of "staying social distance." It is BTS who recently posted a video of "COVID 19 People's Cheering Message" to cheer the public. The members said, "We sincerely thank the nurses, medical staff, and quarantine officials who are fighting the virus for the safety and life of the people at this moment," and added, "If we have the courage and will to overcome any difficulties, I think we can overcome this period with the strength of the connection."
BTS's service "Bang Bang Concert," which BTS unveiled for ARMY, also showed the possibility of an untact concert. It is a YouTube concert held for fans who are disappointed as the concert tour was canceled and postponed due to the spread of COVID19. It revealed the actual conditions of concerts and fan meetings from 2015 to 2018 for free on YouTube for two days from April 18 to 19. On the first day, the number of simultaneous viewers soared to 2.2 million, and nearly 2 million fans also watched the concert on Wednesday. Fans enjoyed the concert as if they were in a concert hall, using Bluetooth to link the cheering sticks (Armybomb) and shake the ARMYBOMB, which changes color in real time depending on the song.
BTS, which canceled the Seoul concert, also temporarily postponed its North American tour schedule. Leader RM said on YouTube's "BTS TV" on April 17 that he will share his daily life once a week in the future. RM explained, "The delay of the concert and the prolonged situation have led us to the conclusion of doing something new," and announced the news, "We are trying to capture the process of preparing for a new album."
Recommended video for reading and viewing this article
Read More: "BTS V Saved the Company"…The Touching Story