NEW K.ID, the No.1 TV channel for all K-Pop entertainment and source (https://cutt.ly/NEWKID), announced its weekly chart for the 2nd week of September.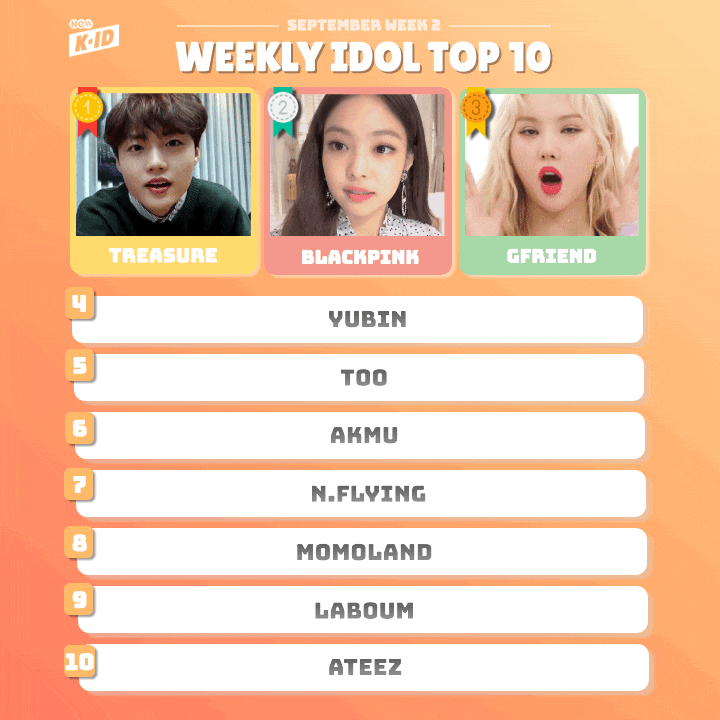 [Weekly Idol]
After 5 weeks of the seemingly unbreakable run, TREASURE finally dethroned BLACKPINK in the NEW K.ID's Weekly Idol Ranking. This is TREASURE's first time breaking into the #1 spot in the weekly chart and it is a remarkable achievement for a group that only officially made its debut last month. TREASURE made their official debut last August with an album, [THE FIRST STEP: CHAPTER ONE]. Its main track, 'BOY', broke into not only the iTunes top song chart in 19 countries but also the Billboard Social 50 chart and Emerging Artists chart. After their successful debut, TREASURE is preparing to make a quick comeback with their second album, [THE FIRST STEP: CHAPTER TWO].
[Weekly Hot News]
Despite losing their ground as the most popular group in NEW K.ID, BLACKPINK is still placed second. Netflix recently announced that it picked up a documentary on BLACKPINK. The new documentary titled, 'BLACKPINK: Light Up the Sky' will be showcased on October 14th exclusively on Netflix. The documentary will follow the lives of BLACKPINK members over the last 4 years from their trainee days to the global artists they are today. BLACKPINK did not hide their excitement in the joint statement: "We can't wait to share our personal stories with BLINK all over the world through Netflix! We hope this film will bring joy and light to the viewers, and they will enjoy seeing our journey together on screen from the past four years".
Coming in at #6, AKMU's LEE SU HYUN is making her long-anticipated solo debut this fall. SU HYUN's new song will be the first installment of AKMU's three-part comeback. Earlier, YG Entertainment revealed that AKMU has already completed the recording of their new songs. YG Entertainment also wrote, "fans have more than one reason to anticipate AKMU's comeback as their new songs will reflect AKMU's unseen journey." LEE SU HYUN also recently gained high praise for her Korean OST cover of 'Reflection' for Disney's Mulan.
At the 9th place is LABOUM who is finally making their long-awaited comeback with a new mini-album this October. This is their comeback in a year since their first studio album, [Two of Us], which came out last September. LABOUM's agency Global H Media revealed, "LABOUM is preparing their new mini-album so please show lots of interest and support in LABOUM's return." Fans cannot wait to see what new and exciting music LABOUM will bring this time.
Ranked at #10, ATEEZ is releasing a DVD recording of their first concert in Seoul titled, 'ATEEZ World Tour The Fellowship: Map The Treasure'. Fans could pre-order this exclusive DVD starting September 9th. The DVD will include not only the recording of their performance and behind-the-scene footages, but also photobook, mini-poster sets, and VR cards through a phone application. For fans who are excited to relive the performance or see their concert for the first time, the official DVD will be released next month.
Others who made it into NEW K.ID's Weekly Idol Ranking are GFRIEND, Yubin, TOO, N.Flying, and MOMOLAND.
NEW K.ID, the only TV channel that allows viewers to enjoy K-POP Idol-related content programming 24/7 and exclusive episodes curated from 10K+ videos, is available at CH 511 for free on LG Smart TVs and XUMO apps on all Internet-connected devices.