BLACKPINK LISA is captivating the Chinese continent not only with her skills as an artist and her beauty, but also through her pure and passionate humanity.
LISA is currently acting as the dance mentor in 'Qing Chun You Ni 2', the Chinese audition program. The program has progressed through its halfway point after the 12th episode was broadcasted on the 18th through iQIYI, which is China's largest platform.
LISA is in the center of the explosive popularity of 'Qing Chun You Ni 2'. After every episode, real-time searched keywords in Chinese local social media channels and community sites are being filled with LISA, making her every move into a topic.
Her Weibo account surpassed 4 million followers in a short amount of time, while the number of her Instagram followers increased to 31 million. The figure in within the top 1% in the entire world and is the highest figure among Korean celebrities and entertainers.
◆ Unrivaled Stage Charisma… Proved Her 'Amazing Talent'
LISA dominated the audience with her charismatic performances. LISA performed solo dance performances of 'In The Name of Love' and 'Attention' on the first episode of 'Qing Chun You Ni 2', which even made some of the trainees shed tears.
The reactions were fast and passionate. LISA's performance clip reached over 400 million views on Weibo with the hashtag '#LISA's performance on Qing Chun You Ni 2', proving her popularity in China. Also, the choreography video of 'YES!OK!', the theme song of 'Qing Chun You Ni 2', became the first 'Qing Chun You Ni 2' clip to surpass 1 million 'likes'.
LISA has proved her presence through her capabilities and unrivaled performances, digging into the hearts of trainees and numerous Chinese fans.
◆ 'Unexpected Mentor' LISA, 'Kind vs Strict'
Her actions as a mentor were also fascinating. She showed warmth by cheering for the trainees who were nervous, as well as revealing her sharpness while thoroughly checking the performances prepared by the trainees as a mentor.
She earned the nickname 'angel mentor' when she left favorable reviews to the trainees by stating, "The dance lines are beautiful. I think I became a fan". However, she is a strict 'tiger instructor' who yells "again' numerous times until the trainees get things done right and point out their weaknesses. She is improving not only the trainees' dance skills, but also making their dance lines look more trendy through her '1:1 in-depth mentoring'.
The participants of the show were touched by LISA's sincerity. Her language abilities, as she speaks English, Thai, and Korean freely and even some Chinese, also helped her friendly communication with the participating trainees.
◆ 'A Walking Barbie Doll'…'Popular' with Her Exotic Beauty
LISA's beauty is one of the main reasons for her popularity. Her small face and exotic features matched with a ponytail on the 8th episode grabbed the fans' attention.
'LISA_Cute' became the no. 1 real-time searched keyword on Weibo, China's largest community site, while the video containing her smile became the no. 1 issue clip on Weibo. Her thin waistline and perfect proportions is making her receive praises as the 'walking barbie doll'.
Her fashion senses are also something one should look out for. She revealed her aspects as a 'fashionista' by looking perfect in both lovely looks and chic looks with denim. As a result, 'LISA_Fashion' became a popular hashtag on Weibo for a while. Her airport fashion and pictorial photos were also hot topics on Weibo, stealing the hearts of many local fans.
While LISA's popularity in China is rising, BLACKPINK is currently working on their upcoming album.
BLACKPINK has successfully completed their world tour held in 23 cities of 4 continents including North America·Europe·Australia·Asia, presenting themselves as a global top artist group. The MV for their hit song 'DDU-DU DDU-DU' has recently surpassed 1.1 billion views on YouTube, which allowed them to set the first-ever milestone in K-Pop group history, while their MV for 'Kill This Love' is about to reach 800 million views in the near future.
Family Rivalry Continues! TREASURE Regains The Lead in NEW K.ID's Weekly Chart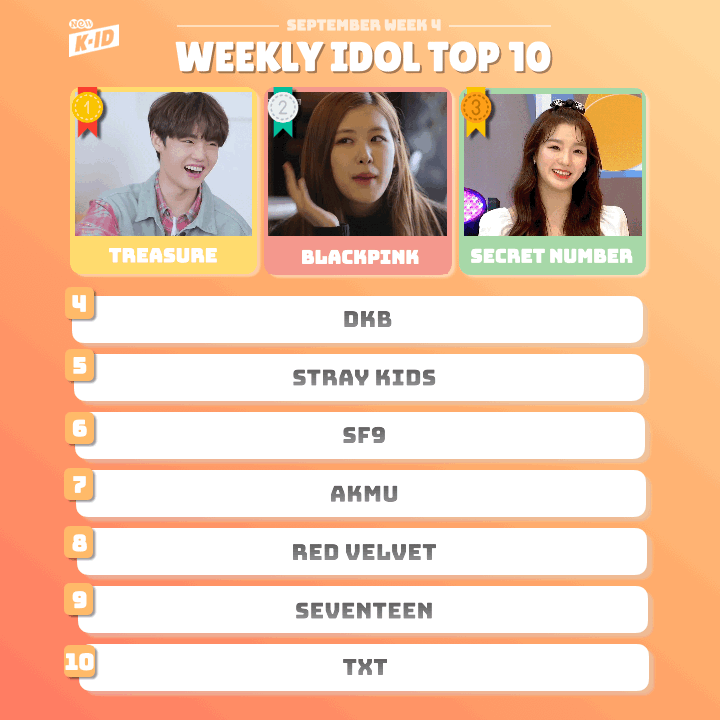 NEW K.ID, the No.1 TV channel for all K-Pop entertainment and source (https://cutt.ly/NEWKID), announced its weekly chart for the 4th week of September.
[Weekly Idol]
TREASURE is on a mission. After BLACKPINK reclaimed their throne in NEW K.ID's Weekly Idol Ranking last week, TREASURE rose to the top of this week's chart once again. Considering that TREASURE only officially made their debut last month, it is remarkable to see them go toe to toe with BLACKPINK so fast. YG fans will undoubtedly be happy as YG artists have won the last 11 NEW K.ID's Weekly Idol Rankings. TREASURE's new song, 'I LOVE YOU' is also attracting a lot of attention worldwide as it topped LINE MUSIC's Top 100 Chart, which is the biggest music platform in Japan. They also surpassed 200,000 in the album sales just in pre-order, having the best performance among all the newly debuted K-Pop idols this year. Furthermore, the 'I LOVE YOU' Music Video brought more than 10 million views on YouTube within 72 hours of its release. TREASURE's members commented that they do not wish to dwell on the numbers but would rather like to repay the fans with great music.
[Weekly Hot News]
Followed by TREASURE, BLACKPINK, SECRET NUMBER, DKB, STRAY KIDS, SF9, AKMU, RED VELVET, SEVENTEEN, and TXT got into this week's Idol Ranking. Coming in at the second place, BLACKPINK is releasing their first official studio album, 'THE ALBUM,' on October 2nd. YG Entertainment has been teasing the highly anticipated album with members' unique and individual pictures. The album will be released at 12 AM EST or 1 PM KST. 'THE ALBUM' already surpassed 800,000 sales in pre-order and is projected to shatter the records as the most sold K-Pop female artists' album in the history. With the pre-released singles such as 'How You Like That' and 'Ice Cream' having tremendous successes, fans are excited to see how 'THE ALBUM' will shake up the industry.
Ranked at #5, Stray Kids has been selected as the fastest-rising K-Pop artist in the world according to the joint data analytics done by Twitter and Space Oddity. With this year's K-Pop Analysis and #KpopTwitter 2020 World Map, Twitter showcased various infographics from the 'most mentioned K-Pop artist by market' to 'Top 10 most mentioned K-Pop songs in the world'. Stray Kids was the only artist debuted in 2018 to break into 'Top 10 fastest-rising K-Pop artists in the world'. Stray Kids also was placed 10th on 'Top 10 most mentioned K-Pop artists in the world', buttressing their status as a rising global artist. Stray Kids' new album 'Life' exceeded 230,000 in sales and topped the album chart in 23 different countries, breaking their previous records.
At the 6th place is SF9 who is planning a new project called 'FANTASY RACE' in a celebration of their 4th debut anniversary. It has already been 4 years since SF9 made its debut with a single album, 'Feeling Sensation,' in 2016, and gained immense popularity throughout their career. FNC Entertainment announced that fans could expect in a total of 4 different race courses as they can experience a variety of content, including a unique album, 'SF9 Corp 2', VLIVE, and an offline pop-up store. SF9 is also performing an online late-night concert, NOOB CON-SF9, on October 10th via VLIVE.
Ranked at #10, TXT is making a comeback on October 26th with refreshed and never seen looks. Big Hit Entertainment released album motion graphics through its official platform, Weverse. This third mini-album will capture TXT's small stories as they transition from the 'The Dream Chapter' series into a new installation. TXT's 'minisode1: Blue Hour' will showcase a changed TXT like fans have never seen before with a new concept. Meanwhile, TXT was also nominated in Radio Disney's Song of the Summer as the only Korean artist alongside global artists like Lady Gaga, Ariana Grande, Sia, and Dua Lipa.
NEW K.ID, the only TV channel that allows viewers to enjoy K-POP Idol-related content programming 24/7 and exclusive episodes curated from 10K+ videos, is available at CH 511 for free on LG Smart TVs and XUMO apps on all Internet-connected devices.
BLACKPINK Reclaims Their Throne in NEW K.ID's Weekly Chart in The BLINK of an Eye
NEW K.ID, the No.1 TV channel for all K-Pop entertainment and source (https://cutt.ly/NEWKID), announced its weekly chart for the 3rd week of September.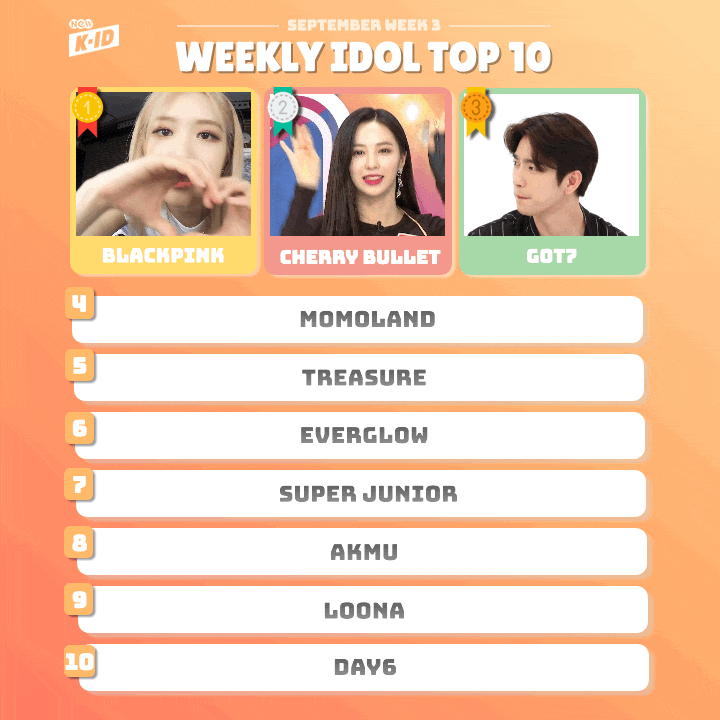 NEW K.ID, the No.1 TV channel for all K-Pop entertainment and source (https://cutt.ly/NEWKID), announced its weekly chart for the 3rd week of September.
[Weekly Idol]
The queens are back again. After TREASURE's surprise rise to the top of NEW K.ID's Weekly Idol Ranking last week, BLACKPINK reclaimed their throne, solidifying themselves once again as the most popular idol group in NEW K.ID. BLACKPINK takes 6th win in the chart and will certainly not be the last. BLACKPINK also recently topped the September Girl Group Brand Reputation Rankings carried out by The Korean Business Research Institute. The rankings were determined through a bigdata analysis on media coverage, participation rate, and community indexes of the female idol groups to determine which female idol group has the best brand image in public. As the ranking suggests, BLACKPINK is insanely popular not only in South Korea but also worldwide. Their recent releases like 'Ice Cream' that was on Billboard's The Hot 100 for two consecutive weeks and 'How You Like That' that won 'Song of The Summer' on MTV Video Music Awards, helped BLACKPINK secure the #1 spot in both NEW K.ID's Idol Ranking and Brand Reputation Chart.
[WEEKLY HOT NEWS]
Followed by BLACKPINK, CHERRY BULLET, GOT7, MOMOLAND, TREASURE, EVERGLOW, SUPER JUNIOR, AKMU, LOONA, and DAY6 got into this week's Idol Ranking. Ranked at #4, MOMOLAND's Nayun starred in a web-series, 'The Police', developed by The Korean National Police Agency. She took on the role of 'Ah-jin Suh', a virtuous college student who helps the cyber investigation team. The web drama follows the cyber investigation team as they tackle crimes such as, phone frauds, online scams, and more. Nayun also starred in Naver V originals 'Anniversary Anyway' as a leading actress, taking on the role of 'Cha Sei'. She was praised by her fans and the public on her acting skills and put herself in the spotlight as the next up-and-coming idol-turned-actor in the industry.
Coming in at #6, EVERGLOW is making their comeback on October 21st with a second mini-album, '-77.82X-78.29'. In the teaser trailer of the title track, 'LA DI DA', EVERGLOW showcased a powerful charisma as they appealed to the girl crush image. 'LA DI DA' will have a combination of an up-tempo electric pop and retro genre, satisfying the fans with a new sounds that they have never heard of. EVERGLOW topped the iTunes K-Pop chart and surpassed a hundred million views on YouTube with 'DUN DUN' and 'Adios' within only one year of their debut, solidifying themselves as the new super rookies in K-Pop.
At the 7th place is SUPER JUNIOR-D&E who is releasing a deluxe edition of the beloved 4th mini-album 'BAD BLOOD' on September 28th. 'BAD BLOOD' that was released on September 3rd gained huge success as it broke into the iTunes top chart in 25 different countries. A new concept image of the special mini-album teased that the new tracks will mirror the dark imagery as shown in the image. The special edition will include two additional tracks, a cover poster, a photo book, and photo cards.
Ranked at #9, LOONA is also making a comeback with their third mini-album 'Midnight' (12:00) which will be released on October 19th. This is their new album in 8 months since their successful second mini-album, '#'. '#' not only was the #1 iTunes Album in 56 different countries worldwide but also broke into Top 4 in Billboard World Albums Chart. The official LOONA YouTube channel released a teaser trailer of 'Midnight', showing a KST clock hitting midnight in various time zones around the world. The powerful and dynamic soundtrack in the teaser made fans excited for LOONA's new and upcoming mini-album.
NEW K.ID, the only TV channel that allows viewers to enjoy K-POP Idol-related content programming 24/7 and exclusive episodes curated from 10K+ videos, is available at CH 511 for free on LG Smart TVs and XUMO apps on all Internet-connected devices.