Peep Chat Interview
We opened a new type of interview. Please welcome, 'Peep Chat!'🥳
This interview is in the style of text messaging.
Chat goes in Korean, and you can see the English version below the chat bubbles.
---
# Welcome to the PRESSREELS!
---
Q. Please say hello to Giant Pink's fans and also to your future fans!
Giant Pink
Hello!! Fans!!!! PRESSREELS subscribers!!! I've missed u so much😂😂😂 ! I am 'Wang Boonhong(Giant Pink)' back with a new album!! haha
Q. It's been a while since 'Burn Out'! How have you been doing?
Giant Pink
There were lots of issues since BURN OUT~! I got married to the man I love, lol. I'm enjoying the time with my husband, and I was preparing 'Come Closer.'
---
# about__'Come Closer'
---
Q. The lyrics for the song show a lot of affection for the other person. The atmosphere also goes well with the weather these days, is it a love letter to a specific person? Or is it a gift for your fans?
Giant Pink
Rather than choosing someone specifically, the emotions that I feel in the moment seem to be the happiest thing! I haven't done a song that shows my affection to anyone…So I think I replied to the love I received! hahaha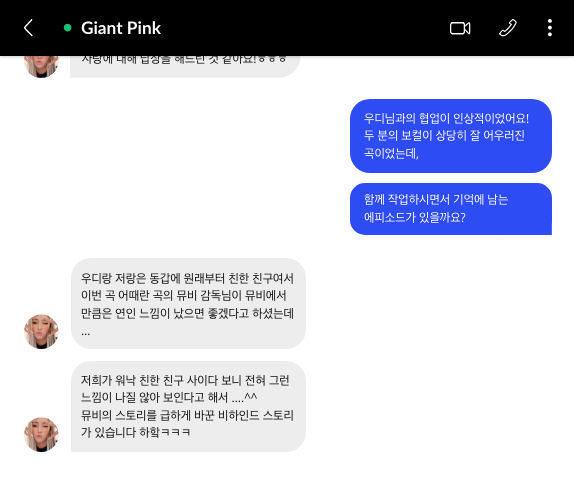 The collaboration with 'Woody' was impressive. Both of your voices harmonize well. Are there any memorable episodes while working together?
Giant Pink
Woody and I are the same age, and we've been close friends. Our M/V director wanted us to look like lovers…But it doesn't seem to look like that at all bc we are such close friends…:) So we had to change the story at the last moment. That's the behind-the-scene story, hahaha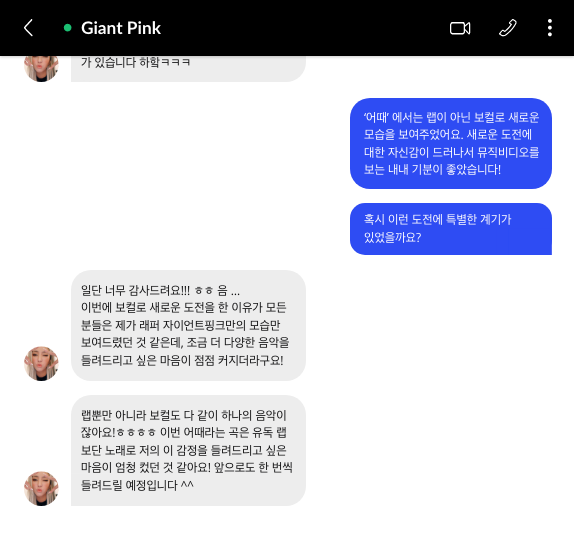 Q. You've shown a new side of yourself in 'Come Closer.' It was good watching the M/V because you showed confidence in new challenges. Was there a special occasion for you to try new challenges?
Giant Pink
First of all thx so much!! 😆😆 Umm…I challenged myself as a vocalist this time because I think I've only shown myself Giant Pink as a rapper. I wanted to show different music! Bc rap, vocals are all music, after all, Lol! 'Come Closer' seems to deliver my emotions through singing rather than rap! I am planning to release them in the future 🙂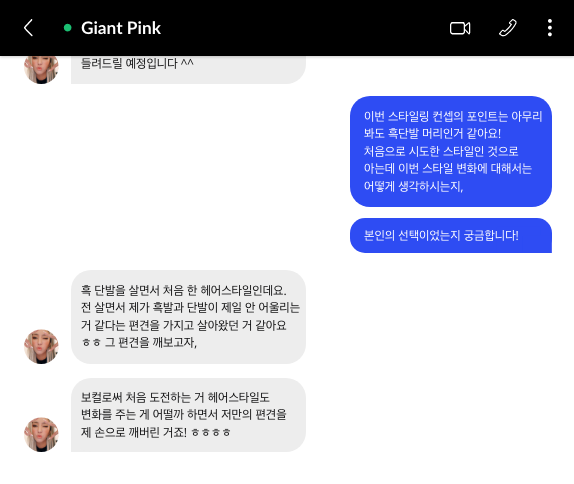 The point of this album concept styling is your black bobbed hair! We believe it's your first time trying this new style. How do you feel about the change, and was it your choice?
Giant Pink
It's my first time in my life trying black bobbed hair. I had a prejudice that black and short hair wouldn't look good on me. LOL, I wanted to break that. So since I'm trying new things as a vocalist, I might as well change my hairstyle as well!😝😝😝
---
# about__Giant Pink
---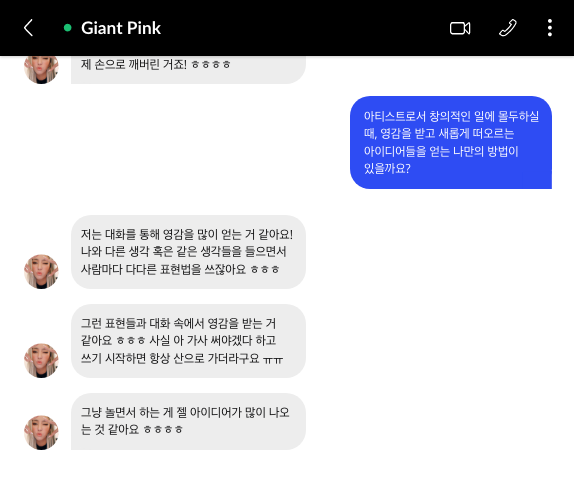 Q. Is there a way of your own to get inspiration and new ideas when you're immersed in creative work as an artist?
Giant Pink
I think I get a lot of inspiration through conversations! People have different or the same expressions or thoughts. While listening to the expressions in the conversations, I get inspired 🤗🤗🤗 When I start writing lyrics without anything, it always gets off track 😢😢😢 I think I get the best ideas when I'm just hanging out. Lol.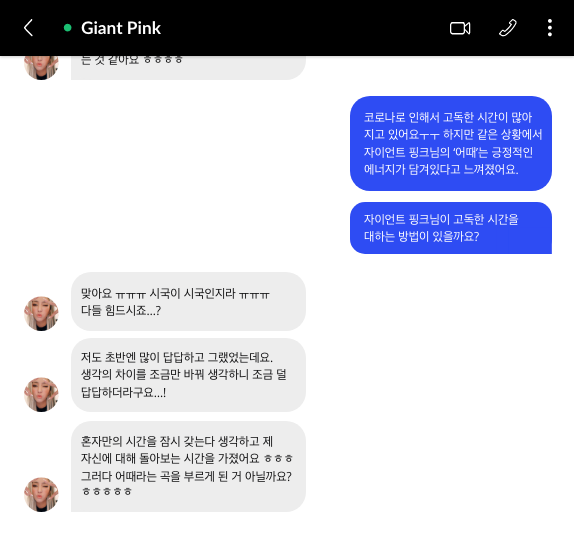 Q. The isolated times are continuing all over the world. In this situation, 'Come Closer' contains positive energy. Is there a way for you to deal with the times?
Giant Pink
So true.. Are you guys okay with the COVID situation? I was also very frustrated, but when I changed the difference between my thoughts a little, it was a little less stuffy…! I spent time and took a moment to throw myself back🙄🙄🙄I think that is how I could make 'Come Closer.'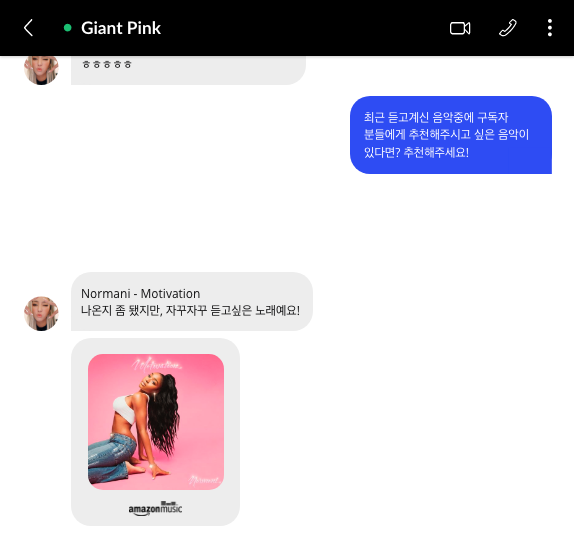 Q. Is there a song you've been listening to lately that you would like to recommend to our subscribers?
Giant Pink
Normani – Motivation. It's been a while since it was released, but it's a song I enjoy more and more!
---
#about__Future and Plans!
---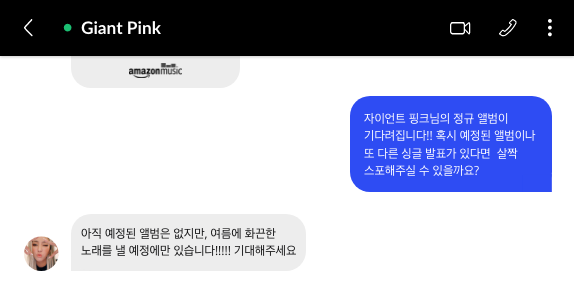 Q. We can't wait for Giant Pink's full album. Can you give a slight spoiler if you have an album planned or a single release?
Giant Pink
The album is TBD, but the hot asssss song will be dropped by summer!!! Stay tuned everyone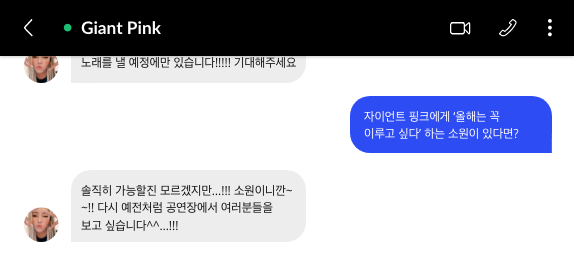 Q. Do you have a wish you would like to achieve this year?
Giant Pink
To be honest, I don't know if it's possible, but it's a wish anyway! My wish is to see you guys at the concert like in the old days 😊
---
#To__PRESSREELS
---
Q. Please leave a word for your fans and PRESSREELS subscribers!
Giant Pink
PRESSREELS subscribers and my fans, huge appreciation for your support! I'll come back with more music. Love you heaps❤️ Let's cheer up together!!
---
Editor's Note
---
It was like chillin' out with a friend! Positive energy seemed to be pouring out! During the interview, I felt like I was close to Giant Pink, and for the first time, I thought I wanted to be friends with an artist! (Really) I also wish to convey congrats to Giant Pink, who is enjoying her life as a newlywed, and I hope you guys love the track released recently, 'Come Closer,' and look forward to the new song this summer. Once again, thank you, Giant Pink!