Original Interview
---
We always dream of our daily life to be different. Have you ever had a conversation with your friends about if the same day repeats and if you are trapped in an infinite loop, how boring it would be? It's such a terrible thing to imagine. So, how happy would we be if there is someone who gives us a brand new every day? My answer is, here's a group just like that. It is Weeekly who brings a new and special 24/7, every day and week.
---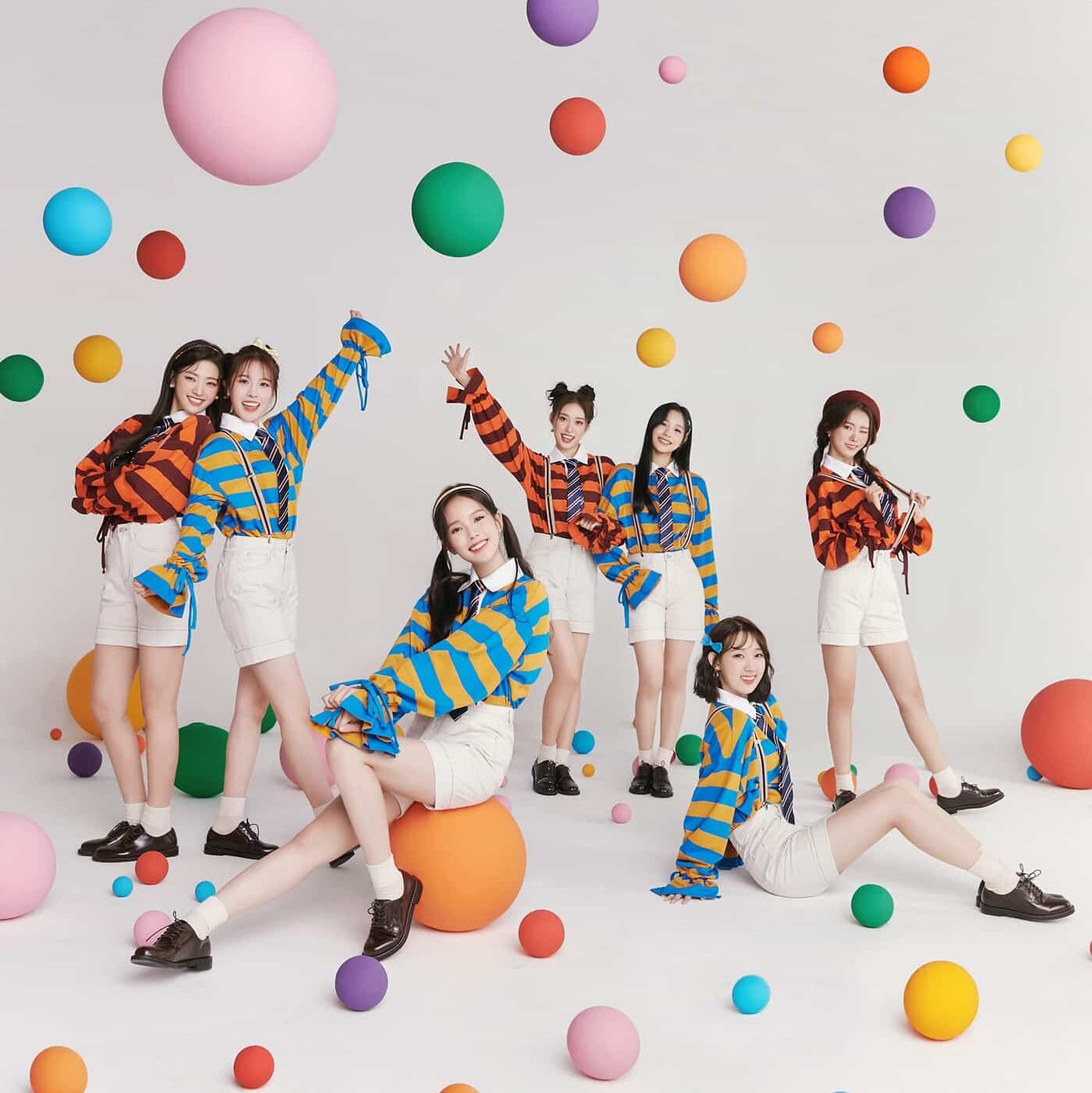 ---
Weeekly has its own universe, just like each member's teaser video. Each member is assigned a day of the week and a symbol planet. 'DONA,' the god of creation, is gradually solving questions about the universe of Weeekly through the official fan cafe, which is the story of Weeekly and Daileee who came to Earth. The conversation with the Weeekly members was very tangy. Let's meet lively Weekly with a high-teen concept!
---
Q1. Here comes 2021! Please say hello to the fans and the ones who will be into you for the New Year!
---
Weeekly
It was an unforgettable, happy and precious year, thanks to Daileee's support. Last year, we only had few opportunities to meet, so we felt sorry for it, but it was our luck to meet Daileee.
Q2. The K-high teen concept was so impressive! I know you guys are 17 years old on average, could you tell me about your school life? What is your favorite subject or snack?
---
JIHAN
I like my school life! When I was in middle school, there was a history teacher who taught me. I studied hard to be loved by the teacher. I think I like soda the most at the cafeteria.
ZOA
I'm a student who also loves school life, so I participated in a lot of school competitions and presidential elections. I think I spend my school life very actively, studying and playing with my friends.
JAEHEE
I love spending time with my friends and teacher, so I'm working hard on my school life. As I'm majoring in acting, I study practical classes such as acting, ballet, musical, acrobatics, and dancing. I love these classes. For snacks, I like ice cream and Dakgangjeong(Sweet chili fried chicken,) the delicacy of our school.
Q3. You've performed student concepts so far, what kind of concept do you want to do in the future?
---
SOOJIN
I want to try a dreamy concept.
MONDAY
I want to try an elegant or charismatic concept.
JIYOON
I want to try a cool concept with swag. Yo~!
SOEUN
I think the high-school concept that we're doing right now fits well with us, so I want to try it one more time! Or if I get to do it, I'd like to try a refreshing and bright summer-based concept.
Q4. I heard that each member has cute nicknames! What is your favorite nickname?
---
SOOJIN
My favorite nickname is 'Captain Puppy'!
MONDAY
I like to be called 'Wall-E(*The pronunciation 'Wall' means Monday in Korean)'
JIHAN
I have a lot of nicknames I adore! Among them, I like 'Mulmandu(Dumplings)' and 'Cherry Rabbit.'
JIYOON
I like the nickname 'Hamster'.
SOEUN
I like the 'Ssong' the most which Sujin gave me!
ZOA
Among the nicknames I like, I think the word 'ZOAGI(*The word 'AGI' means 'Baby' in Korean)' that my members gave me is what I like the most.
JAEHEE
I like my signature nickname 'Lee Jelly!' the most.
Q5. Jihan had a chance to get along with her bias, Olivia Hye from LOONA through YouTube content. You're so lucky! After your first date, are you still in touch with her? Could you tell me a few episodes?
---
JIHAN
When we had overlapping schedules on music shows, she bought drinks for all of us! Whenever we meet, we greet each other and we're doing well!
Q6. Like LOONA, is there any girl group you want to be close to?
---
SOOJIN
OH MY GIRL and TWICE! I like them
MONDAY
GFRIEND and (G)I-DLE! I like them a lot!
JIHAN
I like OH MY GIRL!
JIYOON
I like OH MY GIRL! I love you. ❤
SOEUN
I like TWICE. I practiced dancing while watching TWICE's performance for a long time. If there is a chance when we can meet during the schedule, I'd like to visit and say hello.
ZOA
I love and respect ITZY so much that I want to get closer.
JAEHEE
Girls' Generation's Yoona. I've been a fan since I was young and she is my role model. I love her so much. Just imagining saying hello to her makes my heart pound.
Q7. For Shin Jiyoon, you've participated in composing some works! I heard your goal for 2020 was to make 100 self-composed songs, did you accomplish it? And can we look forward to composing Weeekly's title track later?
---
JIYOON
If you look forward to it, it would be an honor! As I finished the year on December 31, 2020, I found that there were about 102 work data. We'll play a lot of good songs for you, so please look forward to it!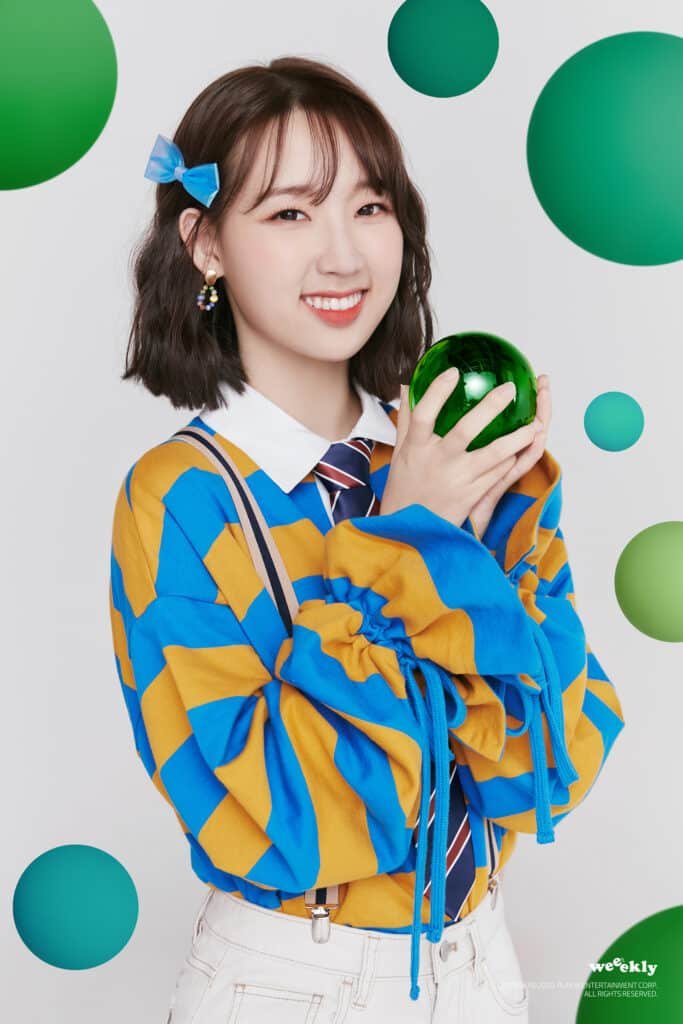 Q8. Daileee, including me, we all are looking forward to your various promotions! What commercials do you want to shoot or TV programs do you want to appear to? (For an ad you want to shoot, play a scene briefly!)
---
SOOJIN
I like Baek Jong-Won a lot and I'm also interested in cooking, so I want to appear on the SBS entertainment program <Delicious Rendezvous>.
MONDAY
I'd like to be a sportswear model!
JIHAN
I want to film a soda commercial which I can drink cool after exercising!
JIYOON
Then I'll do a ramen commercial! I'm good at expressing the taste.
SOEUN
I want to shoot a car commercial, which is my biggest dream.
ZOA
I usually watch JTBC's entertainment show, 'Knowing Bros', so I want to appear on 'Knowing Bros' with the members of Weeekly.
JAEHEE
I usually drink bubble tea a lot. So I want to shoot a commercial for my favorite bubble tea!
Q9. Is there any personal goal or wishlist for 2021?
---
SOOJIN
In 2021, I hope Soojin will be able to spend time thoroughly, I hope everyone is healthy, and I hope we can promote Weekly more.
MONDAY
I'm interested in composing songs, so I usually work on songs whenever I have time. I have a small wish this year, which is my song to be included in the Weeekly album.
JIHAN
I want to meet my beloved Daileee face-to-face! And I want to go on a trip with our members and make good memories with them.
JIYOON
I want to love myself more and give a lot of love to the people around me and Daileee!
SOEUN
In 2021, I hope I can meet my beloved Daileee face-to-face and spend time, and my goal is to become a Soeun who can show better music and better performances to many people.
ZOA
I hope that Weekly members and the world's favorite Daileee are always healthy, and I hope to meet the Daileee in person in 2021.
JAEHEE
I hope that 2021 to be a year without having a hard time for everyone. And I especially hope to see Daileee face-to-face. We miss you so much. I will work hard with the belief that I can meet Daileee in person! Let's meet up soon.
Q10. Could you leave a message for your fans and PRESSREELS subscribers!
---
WEEEKLY
Hello, PRESSREELS readers and subscribers! It's Weeekly. We'll do our best to show you how much we've grown in 2021, so please keep supporting us! Thank you!
---
a word from an editor
---
It was a fun interview. It would be nice to add Weeekly's music whenever you feel a little depressed these days when the word 'Covid Blue' spreads like a trend. On Weekly's official YouTube channel, they'll show you new and diverse images with cover videos and 'Weee:kloud,' so make sure to meet them! I hope every week of ours is always new. Always stay safe.