First of all, I would like to thank my friend Jeff Benjamin for interviewing for a long time, notwithstanding his busy schedule with several awards celebrations due to the Christmas and year-end issues. I expect the COVID 19 pandemic ends soon, and we can healthily meet in Korea.
Jeff are famous for infinite fans worldwide who love K-pop, but I will take the honor of introducing you newly.
Jeff Benjamin is a powerful columnist during K-POP who is the best. After graduating from New York University with a degree in music journalism, he worked in magazines for Inspirer and Fuse Media. Next to that, he started to build great successes. At least, as far as I know, it would not be false to say that the history of K-POP had changed when 2NE1 was introduced to Billboard. Since then, K-POP has actively started tapping into overseas markets!
Q.1 "Is there one sentence to summarize K-POP 2020?"
---
Jeff Benjamin's Answer
I would be confident in saying that "In 2020, K-pop reached its next level even with all the hurdles presented from this year."
While I've been watching K-pop grow in meaningful ways for over a decade now, 2020 was significant in so many ways thanks to 1)new achievements reached by the artists on the global charts (BTS sending their Korean song "Life Goes On" to No. 1 on the Billboard Hot 100 was very, very significant) more 2)partnerships growing in meaningful ways (artists like TWICE, BLACKPINK, NCT, Tomorrow X Together and more all had their albums available for purchase in U.S. stores) and 3)new media opportunities (Seventeen and TWICE confirmed big U.S. television shows, while BTS took over The Tonight Show for a full week and major publications including large magazines featured K-pop more than ever).
This all happened in spite of the difficulties that 2020 presented which I think is a larger testament to where K-pop is globally, and also how smart and strong the industry has become.
Reading of Editor's Sense
#1 Billboard Hot 100 in Korean ( BTS)
K-POP featured in several media shows and interviews.
Despite the physical difficulties of 2020, the K-POP industry has grown.
Editor's choice popular scene
BTS took over The Tonight Show for a full week
Jimmy announces a week of special BTS performances on The Tonight Show. Find the show now!
Q.2 "What's the most impressive K-POP music video in 2020?"
---
Jeff Benjamin's Answer
Oh this is a tough question! Most of the times I'm not asked about music videos…haha but Agust D (a.k.a Suga from BTS) and his "Daechwita" music video as well as A.C.E's "Goblin (Favorite Boys)" were both so stunning in how they blended elements of traditional Korean culture but still made it so appealing for modern-day audiences.
I also thought Kai's "Mmmh," EVERGLOW's "La Di Da," The Boyz's "The Stealer," Wonho's "Open Mind" and TOO's "Count 1, 2" were all really great visuals and brought something impressive and visually refreshing that I hadn't seen in the past.
Q.3 "Could you recommend 5 Kpop albums in 2020 must listen to?"
---
Jeff Benjamin's Answer
I chose these albums because I thought not only did many of them have a huge impact with their large sales, but I felt like each of these releases helped me learn more about each of these artists. From the many solo and unit songs from BTS on 'Map of the Soul: 7' to the range of different sounds and emotions BLACKPINK showed on 'The Album,' I really felt like it was a deeper discovery into who these musicians were as people and that made me connect deeper with these albums and I can only imagine did the same for more artists.
Listen to a sample of BTS albums now.
Q.4 "What kind of K-pop artists are you interested in these days?"
---
Jeff Benjamin's Answer
Similar to how I answered the must-listen albums question, I'm always drawn to the artists who I feel are creating a larger, deeper story with their music. I think there are so many acts who are creating a larger universe and world with their music like ATEEZ and Stray Kids.
But there's also so much talent in the rookie groups this year. I can't remember a year where there have been this many impressive debuts! I'm really really impressed by so many of the new acts like Treasure, ENHYPEN, Weeekly, Cravity, Secret Number, TOO, P1Harmony, MCND, aespa, WEi, DKB, StayC, Natty, BAE173, Cignature, woo!ah!, B.O.Y…I know I'm listing a lot of groups and probably still forgetting some but really I've been so impressed this year. I can't believe how tough the Rookie of the Year awards will be in 2020 and 2021.
[hfe_template id='15831′]
Q.5 "Who's going to be a post-BTS or post-BLACKPINK?"
---
Jeff Benjamin's Answer
Ah this question is always so tough as I think both groups have proven that success is within reach for whoever wants it! Both groups have worked so hard in creating great music and such a strong image that whenever you think of them, you automatically have a clear picture in your mind of who they are and what they stand for.
Some acts that I see creating a similar image and storyline in their music and releases include Stray Kids, ATEEZ, The Boyz and A.C.E. These days, the K-pop scene is so competitive that I do believe it's not enough just to have impressive music and stages. Of course that's important, but what I love from these groups is the deeper stories that connect their music as well how they are using outside content to help share more themselves as artists and people.
I also love seeing a group like (G)I-DLE who are able to produce and write their own music especially since we don't see as many female acts given those same opportunities which feels like a shame. But I do see that ownership as so important too to help groups like (G)I-DLE, Seventeen, Stray Kids, Treasure, P1Harmony and more connect in larger ways since they are so actively involved in their music.
Reading of Editor's Sense
Take benefit of external content more aggressively
Please don't wait and be active in everything (Everything the company can do)
K-pop artists should do everything they can
Q.6 "Is it essential for K-POP artists to expand overseas? If so, how can we succeed?"
---
Jeff Benjamin's Answer
I don't know if it's necessarily essential, but the way music is so digitally connected and accessible almost makes artists automatically have the ability to expand overseas. And then I think it's up to the artist and their teams to decide how much they would like to actively pursue overseas based on their data and interest in expanding.
I think it's so imperative to make sure there are the right partners and collaborators in place when expanding abroad as they can truly help your efforts. Because media is handled differently all around the world, having local partners and having those able to better understand the landscape is really invaluable.
I think so many times there's an expectation that artists can do well no matter what area they are expanding to but there's different ways to approach all different kinds of territories overseas. Having partners who can understand your goals and translate them into bigger successes is really key if expanding overseas is a priority.
Q.7 "What can the entertainment agencies or artists do to overcome the pandemic season?"
---
Jeff Benjamin's Answer
I think a major part of overcoming this current situation is looking for new ways to connect, in both the industry and with fans. I've seen many companies need to look for different ways to cope and strategize in this pandemic.
For example, I've seen companies like MyMusicTaste and Subkulture—who are very focused on international tours for K-pop acts—need to readjust their services and they are now helping produce virtual performances, selling albums and merchandise and hosting FaceTime fanmeetings.
This is a really smart way for them to use strengths and resources they have, but try to expand their services if their main source of revenue is not available. I also think if the industry can work together to help out those in live production and event hosting, which are having very difficult times, those connections can be paid back in future help for better events in the future.
But also I think it's really crucial for the artists to communicate more than ever and be smart about their communications if they aren't able to travel in person. Working hard to talk with fans, create different kinds of contents, being open to new types of media opportunities, these are all really critical at this time when the traditional ways of meeting fans are not available.
Q.8 "As a K-POP expert, what will happen to K-POP from now?"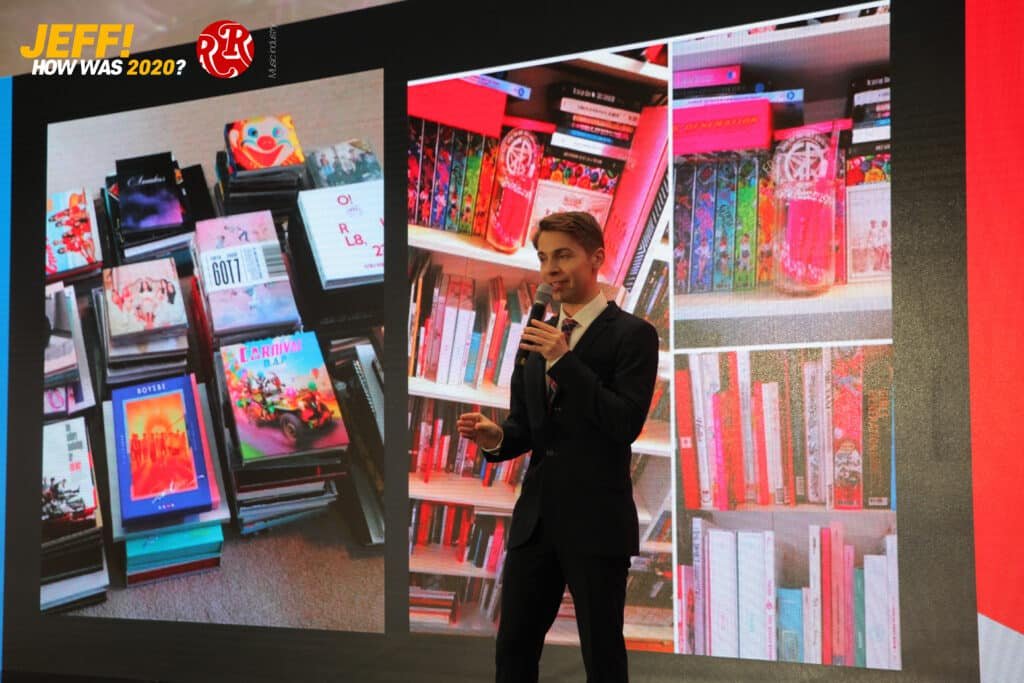 ---
Jeff Benjamin's Answer
I always say that one of the biggest indicators to why I've been so excited about K-pop has been the substantial growth it's shown year over year. Since 2012—a.k.a. the summer of "Gangnam Style"—the entire K-pop scene has been growing in meaningful ways.
From the album sales to the chart accomplishments to the increasing tours and festivals like KCON growing its audience and size, these are all indications that the industry and business is very strong and expanding. I think as K-pop opportunities continue to grow, it's going to be so important for artists and companies to understand what direction they want to go and how to best accomplish that. Working with partners who also understand and can help execute those visions will be really important.
It used to be that artists and companies had difficulties finding partners in management, PR or touring for larger opportunities. Now, the world understands K-pop more than ever and the artists who will thrive will be the ones who understand how to best create teams that will help specifically them.
Q.9 "What can we do to make a sustainable K-POP industry model?"
---
Jeff Benjamin's Answer
I truly think it's about sticking to what makes K-pop unique. I think many artists around the world have felt pressures to change the way they sing, dress, act, perform, etc; in order to be more "accessible" but I don't think that's the correct model.
K-pop has created such a strong and powerful business model by embracing and supporting the key elements that make it so unique from other music industries. From the way the music is made to the way the music is released, K-pop should continue being K-pop and not feel like it should succumb to what they think the global market wants.
That's why I'm so adamant about having the right partners who understand all sides of these different cultures and can help find the best situations between all the different parties involved in K-pop.
Reading of Editor's Sense
When choosing an overseas partner, think fiercely about which company really understands the overseas industry and which one is on the front line and choose a partner.
---
Is everything all sorted out? Feel free to ask Jeff or me! If you have any more questions! We are experts who always work for K-POP!