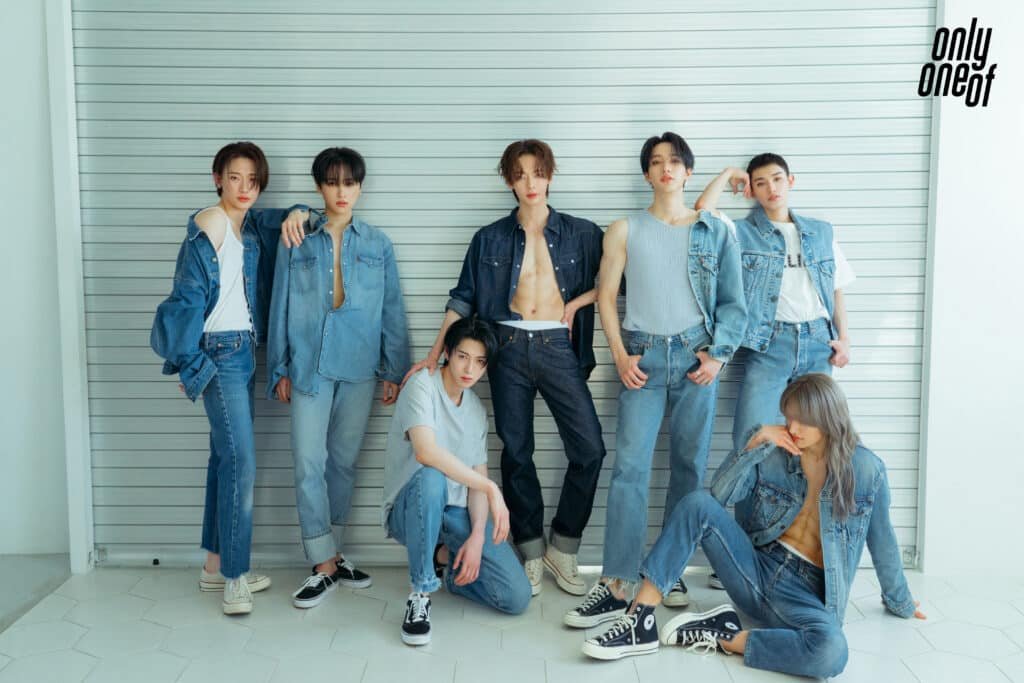 There is an MV that has become a hot topic immediately after its release. This music video is the image of young boys, and the intense physical contact and the pair of members elicited a feeling of youth. The response was extreme from various communities and social media. Some people said that they were obscene or sensational, while others, as K-pop artists, said art captured the inexperienced but innocent aspects of boys. Did OnlyOneOf expect this kind of reaction?
The title 'libidO' is the first word proposed by Sigmund Freud. In simple terms, Freud described libido in the category of sexual desire or sexual impulse, and Carl Jung expanded it further and interpreted it as the dynamic energy of life. In any sense, libido is the energy that moves us—wanting and longing for something or someone with a clear motivation inherent in everyone. The boys delivered their interpretations of libido through choreography, music, and visuals in the music video. We interviewed the k-pop artist who is the center of the topic, "OnlyOneOf."
---
# Welcome to the PRESSREELS!
Q. Please say hello to OnlyOneOf fans and also to your future fans!
Love
Hello, lyOn and future lyOns! We are back with our album 'Instinct Part One.' lyOn are our fans, and we are also a fan of lyOn. We are instinctively attracted to lyOn. We will try to show you good music and performances on every album, so please look forward to us and give lots of love to our title song, 'libidO.'
Q. It's been nine months since 'a sOng Of ice & fire,' with Groovyroom. How have you been?
YooJung
We have been working hard to show better music, performances, and visual aspects while we were on a period.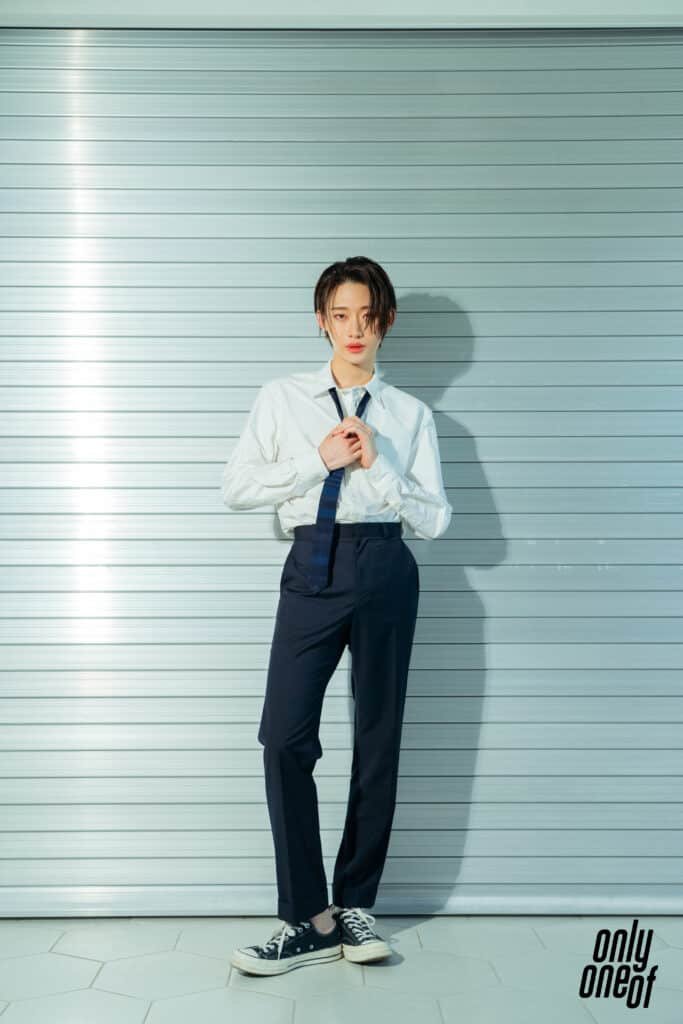 ---
# about_libidO and Concepts
Q. The M/V was worthy of the name Comme Des Garcons, 'Like a Boy.' The image of a boy who is pure and attracted by curiosity was well captured. If you were to pick a member that fits the concept the best, who would it be?
Nine
I think it's YooJung. He gives a sexy and pure vibe at the same time on stage. And we studied facial expressions a lot for this concept. I think he fits the best.
Q. The choreography expresses a lot of physical contacts in pairs. You have comments, such as 'Artists who broke the taboo of K-pop,' 'Pioneering Concept.' What do you think about these reactions?
OnlyOneOf
We were surprised because the reactions were more intense than we expected. We thought of the theme of instinct and impulse for the stage production. We believe people seem to be interested in the performance because it is completed in the same context. If you learn the storytelling of the music that has been going on since our debut, you can feel the meanings interesting rather than vital.
Q. The choreography is very stimulating. Have you guys ever talked about this part when you received a demo version of the choreography or while revising it?
Rie
Actually, we worked on the choreography draft ourselves at first, and since then, we have been revising it through feedback from the choreography team and the general producer. The dance moves were more intense and powerful in the early stages, but the quality seems to have improved as we added more tender sexiness.
Q. The reactions towards your unique outfits and styling are hot. You guys wore outfits that showed a lot of skin, and for the album cover, you wore denim wear. What is your favorite outfit point of this album?
Mill
I think the see-through outfits that show a little bit of our flesh are the highlight parts.
Q. KB, Nine participated in the track for 'libidO.' I think it's a high-quality track that deviates from the existing K-pop style. I personally thought of Berlin-based techno music. How did you feel about the work?
Nine
We focused on our instincts. I felt the adrenaline all the way while we were in the process. We've put more energy into the song than ever. We put down a lot, and I am satisfied with how the song came out. We have achieved so much in the process. I'm very proud of it. I think this experience will also be helpful for us when we work on the next song.
KB
We combined the beats with Hip-hop and EDM and the melody from R&B. It's common to sing in high octaves in the climax, but we went backward. We tried an experiment conducted in which the gear shift changes to low speed rather than speeding up. We had many trials and errors while making this song, but I think the music eventually expresses and merged in the direction we thought. We couldn't have done it without the help from people around us.
Q. The album, 'Instinct Part. 1' title song, 'libidO' throws a heavy message straight into the spot. People say OnlyOneOf's new attempt could be art or obscenity. So far, you have been sharing art history through music while taking the unique universe of OnlyOneOf. What was the interpretation of art you were trying to tell through 'libidO'?
OnlyOneOf
Since our debut, our goal has been to succeed in our way without being bound by any form. The dotted-line worldview and art history storytelling are also another fun element of our music. From the past to the present, countless artists have studied and described human beings. Humans consume art, but humans are an essential material in art. We tried to express the most primitive part of a human being through music. These subjects are always controversial, whether it is aesthetics or obscenity, but we boldly broke the taboo and challenged it.
In the K-pop scene, this is a new track of OnlyOneOf that has built a worldview through the fusion of art, rare in the K-pop scene, so if you understand their storyline, you can enjoy this album even more.

PRESSREELS
---
# about_OOO and Behind Stories
Q. The concept is quite new to us, and it would also be new to you. What did you think of the idea when it was first conceived? Are there any episodes while you were on stage or the process for the choreography?
Mill
As soon as I heard the concept, I thought, 'Ah…We have to work out for sure.' And it was fun to watch our members using props expressing the gestures with the strings because it was different from what we have done before.
Q. We heard that you guys worked out hard due to the revealing outfits and concept. What exercise did you focus on the most?
Love
I worked on my back, chest, shoulders, and every part, but I invested a lot in my abs. Because I am the 'baby belly' among our members. I had to lose a lot of fat.
Q. What would you like to eat the most if you were given a credit card without limits after this album?
Rie
I want to order in lots of food with our members without worrying about dieting. Right now, what comes to my mind is gopchang and daechang! (Pig giblets barbecue)
Q. JunJi, you had the bangs covering your eyes for such a long time. You said you felt the need to change your hairstyle for 'libidO.' Was there any specific ideas or just an emotional change?
JunJi
When I heard 'libidO,' I felt that I needed a change. I just wanted to do this hairstyle. There weren't any specific ideas. I just followed my instinct!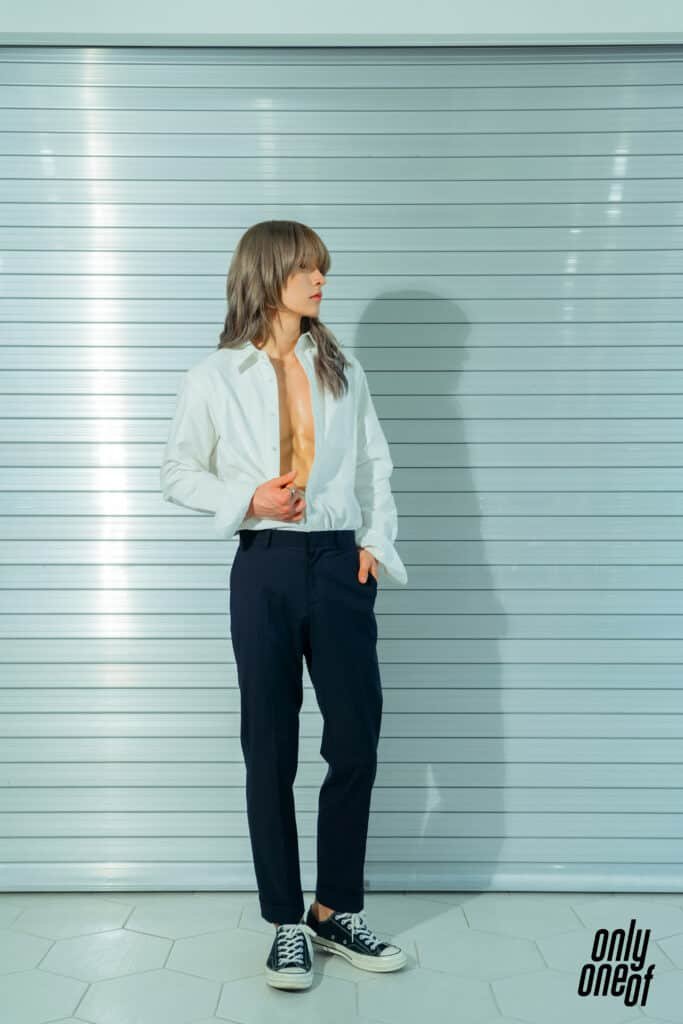 Listen to <Instinct, Pt. 1> on Apple Music
---
#about_Future Plans
Q. OnlyOneOf showed dramatic changes in every album. Is there a concept or story you would like to try next time?
OnlyOneOf
Whatever you imagine, you'll see more.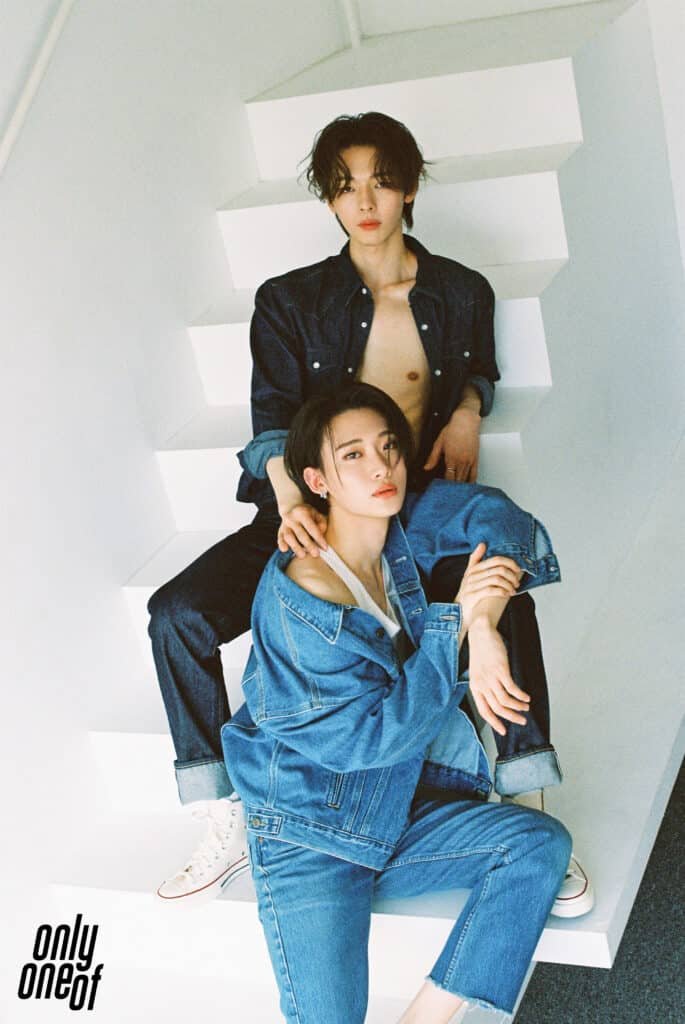 Q. If someone would remember 'OnlyOneOf,' is there a concept or song that you want people to remember?
Nine
If you compare instinctively to gluttony, we would like to be a team that you keep thinking about and want to eat and that everyone can enjoy? And before that, when people listen to our song or see a concept, we would like our fans to recognize it at once!
Q. What would you like to achieve this year?
KB
We wish to be No.1 on the Billboard chart. We would be proud to hear a short 'Wow' rather than the results. 'Their music is great,' or 'I've never seen a performance like that before.' I think it would be an outstanding achievement just by having a good response for our work.
---
#To_PRESSREELS
Q. Please leave a message to the fans and PRESSREELS subscribers.
JunJi
PRESSREELS subscribers, we are 'OnlyOneOf' back with the album, 'Instinct Part: 1.' It's an honor to be able to say hello again. We have grown so much and achieved so much throughout this album. Besides the title song, 'libidO,' there are also good songs on the album. So please listen to them and look forward to us! And thank you always for supporting us lyOn. We miss you and love you.
YooJung
We had a great time today during the interview. We will try to show you even better performances in the future, so please show us your love and support! We will change little by little as we grow as an artist. It is a blessing to be able to communicate with so many people through music. We want to remain a group, an artist who sympathizes with people in the same world and era.
---
a word from the Editor
---
It is a double-edged sword that rises to the center of the topic. It is also up to the artists themselves to deal with this. They are not stingy in revealing and expressing themselves. I was particularly impressed with the challenges of combining contemporary art history with music, but 'libidO' is even more memorable.
The word 'Comme des Garçons' should be thankful for the music video representing the word best. The appearance of boys who are insecure and somehow anxious but shines because of their innocence. These subjects are always controversial, whether it is aesthetics or obscenity. Still, they boldly broke the taboo and challenged it. 'libidO' plays a role in a connection because it is a story that the public thinks inwardly but has not yet brought it out, at least in the k-pop scene. After breaking the taboo of K-pop, many people are concerned. But I feel OnlyOneOf has no limits now. As I'm very impressed by their music video and music, I am very excited about their subsequent work.