STONEHENgE and BTS are meeting. Under the name of Jewelry Collaboration "MOMENT OF LIGHT," it is known to run an offline pop-up store on the first basement floor of Lotte Department Store's Jamsil branch, drawing keen attention from the market.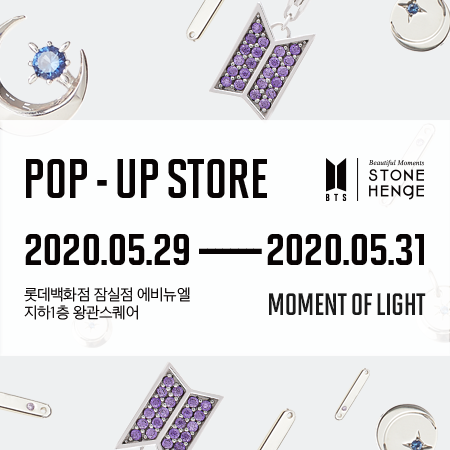 Since the release of the silhouette on May 8, MOMENT OF LIGHT is a collaboration product between STONEHENgE and BTS, which has been an issue on SNS and various communities, and will showcase a total of 22 products including "BTS CHARM," which is applied with 21 kinds of necklace and BTS' official logo design with each member's birthstone and imprint.
The first concept, "BIRTH," expresses the moment when full light is born in design, adding meaning to birth as well as beauty. "DESTINY" then captures the moment when different beings lead to one through fateful attraction, and "COEXIST" stimulates sensitivity along with a three-dimensional image of a pendant design that harmonizes the shape of the moon and stars.
The pop-up store, which runs for three days from May 29 to 31, is only available online for an online preview. It also has the advantage of being able to check the design of the product and purchase it carefully.
"It's an opportunity to check out the necklace that we've only seen online," said an official from Silverstone, a co-organizer of STONEHENgE and BTS. "We plan to prepare various contacts in the future to actively convey the concept and message of 'MOMENT OF LIGHT'."