Is the end of the planned idol era coming to an end?
1996 is a very important year for K-pop history. That year, Seo Tai-ji and Boys, who were called the "President of Culture," retired. And in the same year, the group HOT appeared. It was the first group to match the modifier "IDOL" in the modern sense.
HOT was different from the existing group. It is the same as Seo Tai-ji and Boys that have wowed the younger generation, but the biggest difference is that it is a "planned" group. Under the direction of the agency called SM Entertainment, five members of their respective purposes appeared in public after harsh training.
And in 2020, 24 years later, our music industry is once again at a crossroads of transformation. Just as the factory prints "idols make money," boy groups and girl groups are produced and there are no differences except a few. Against this backdrop, groups trying to remove the "planned" label, which has continued since HOT, are drawing attention. Instead, groups with the name tag "Self-made" are creating a new trend. How will the game of idols change in the future?
Remember this name!
For those who like K-pop, and those who are worried about the K-pop future, they need to remember the names of the two groups. Stray Kids and (G)I-DLE. Both groups, which debuted in 2018 and have been in their third year, are called "self-produced idols."
In the meantime, some members of the group have participated in composing or writing lyrics. But strictly speaking, this was nothing more than a publicity stunt, except for a few truly talented people. In addition, those who did not have the foundation participated in producing the album, but rather undermined the quality of the album and damaged the group's image in the long run.
However, the self-production capabilities of Stray Kids and (G)I-DLE are unrivaled. In the case of Stray Kids, they released their own mix tapes that they wrote and composed even before their debut. It is not a structure that relies on some people with production skills, but rather Bang Chan, Chang Bin, and Han are leading the writing and writing of all the songs in the album.
Stray Kids has a separate production team called "3RACHA" within the group. Most of the title songs released by Stray Kids have been their works. It means it's no coincidence that they won four rookie awards in their first year of debut.
(G)I-DLE is a self-produced idol led by leader Soyeon, who is known as a "monster." Unlike most girl groups who challenge to write and write lyrics after building awareness with the songs of famous producers, (G)I-DLE has written their own songs from their debut songs "LATATA" and "HAN." The title of their second mini album was "I made," or "I made it." Soyeon has already been recognized for her ability in the industry as a whole, to the point where she has already given songs to other groups.
In the case of the recently released third mini-album "I Trust," Soyeon was in charge of producing the entire song. Regarding So-yeon, who has been pioneering areas that no girl group member has stepped on, the members said, "She is charismatic on stage, but she is playful and funny in everyday life," adding, "There were many moments when I felt charisma as a professional whenever I recorded." Whenever I felt down or tired, I played around with my sister, so I did it comfortably without any pressure," she said.
Stray Kids and (G)I-DLE, which are self-produced idols, have different status in foreign countries. Last year, 3RACHA wrote and composed the song "Wo De Si Dai," which was released last year by famous Taiwanese singer Na Ji-sang (Show Lo). The news was also introduced through major local media outlets in Taiwan.
(G)I-dle recently joined hands with Universal Music Group's record label Republic Records to announce its entry into the U.S. market. Avery Lipman, COO and co-founder of Republic Records, said, "We are happy to work with the girl group (G)I-dle, who has various talents, by entering the U.S. market and entering the North American market. 2020 will be the biggest and most daring year for GI-dle."
Will it be the future of K-pop?
Many predict that the self-produced idol will become a new growth engine that will lead the K-pop market in the future. In particular, it is worth noting what Jeff Benjamin, a K-pop columnist at the U.S. Billboard, said.
Jeff Benjamin, who was selected as the winner of the stepping-stone bridge award at the "2020 Korea Image Awards 2020" held in January, said in a press meeting for "Korea's Competitive K-MUSIC" that "the future K-pop is expected to be less highlighted." "Artists should focus on their capabilities," he said. "If artists have sincerity and originality, they can get enough attention and grow."
In addition to Stray Kids and (G)I-DLE, he chose ATEEZ, who is considered to be another self-produced idol. He noted ATEEZ, which was introduced by KQ Entertainment, which produced Block B. "Strong messages and excellent performances are the best," he said. "In the case of (G)I-DLE, the members write and compose their own songs, and (G)I-DLE's strength is that they can express their stories with music."
Looking back at the K-pop market, one can see that a group with self-sustaining capabilities has long lived. Big Bang led by G-Dragon, Block B led by Zico, and Beast (currently Highlight) endured by Yong Joon-hyung. Icon's B.I. also left the group after being embroiled in an unsavory affair, but his "Love Scenario" and others quickly made the icon a top idol. Their characteristics have something in common that they stand out not only in group activities but also in individual activities. This means that it is possible to stand alone.
Its own production idol is also expected to break the so-called "seven-year jinx" and result in extending the K-pop group's vitality. Groups leaning on the agency's planning power will be turned down when they leave the agency with the group's trademark rights and leading producers. This is one of the reasons why most groups are taking steps to disband after the first seven years of contract. However, if they have their own production skills, they can stand alone even if they leave their agency. In the end, they can raise their voices at the negotiating table with their agencies, draw additional contracts on more favorable terms and keep the group afloat.
An official in the music industry said, "It is difficult for idol singers who make their debut in their early 20s to have better capabilities than professional producers. "In the end, planned idols centered on their agencies will continue to be supplied," he said. "However, the need for self-produced idols has grown recently, and the proportion of self-produced idols will also increase in the future as a number of talented newcomers who have developed such capabilities since childhood."
AMAZER – BLACKPINK COVER DANCE CHALLENGE FINISHED. 81 COUNTRIES PARTICIPATED!
Corporate event between global K-POP cover dance application 'Amazer' and artist 'BLACKPINK' has successfully finished.

Corporate event between global K-POP cover dance application 'Amazer' and artist 'BLACKPINK' has successfully finished.
This challenge, which took place with the release of BLACKPINK's second single "Ice Cream," is a collaboration between 'BLACKPINK' and 'Amazer' followed after the release of first single "How You Like That."
As 7,816 contents were uploaded by 1,972 users from 36 countries around the world, the total number of users participating in the two BLACKPINK Challenge events held in 'Amazer' reached about 3,000 users, 81 countries.
BLACKPINK's first album, which will be released on October 2, will also have a challenge targeting worldwide cover dancers in 'Amazer', and as this is BLACKPINK's first full-length album since debut, lots of participation are expected.
'Amazer' is a global K-POP representative app based on 1.2 million global users in 175 countries, where people can upload and share their cover dance, cover song videos with other users, promote K-POP to the world by collaborating with various artists and expanding new play culture in the current Untact-era.
Family Rivalry Continues! TREASURE Regains The Lead in NEW K.ID's Weekly Chart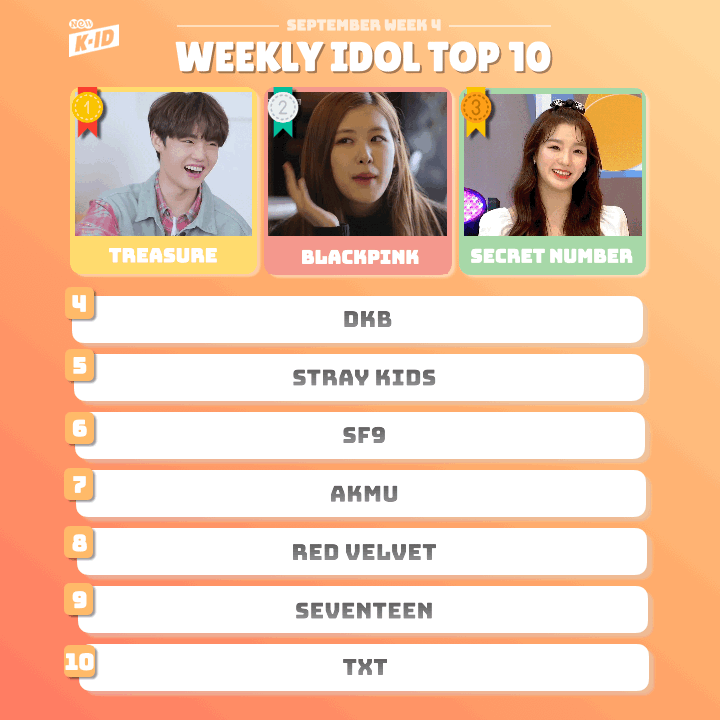 NEW K.ID, the No.1 TV channel for all K-Pop entertainment and source (https://cutt.ly/NEWKID), announced its weekly chart for the 4th week of September.
[Weekly Idol]
TREASURE is on a mission. After BLACKPINK reclaimed their throne in NEW K.ID's Weekly Idol Ranking last week, TREASURE rose to the top of this week's chart once again. Considering that TREASURE only officially made their debut last month, it is remarkable to see them go toe to toe with BLACKPINK so fast. YG fans will undoubtedly be happy as YG artists have won the last 11 NEW K.ID's Weekly Idol Rankings. TREASURE's new song, 'I LOVE YOU' is also attracting a lot of attention worldwide as it topped LINE MUSIC's Top 100 Chart, which is the biggest music platform in Japan. They also surpassed 200,000 in the album sales just in pre-order, having the best performance among all the newly debuted K-Pop idols this year. Furthermore, the 'I LOVE YOU' Music Video brought more than 10 million views on YouTube within 72 hours of its release. TREASURE's members commented that they do not wish to dwell on the numbers but would rather like to repay the fans with great music.
[Weekly Hot News]
Followed by TREASURE, BLACKPINK, SECRET NUMBER, DKB, STRAY KIDS, SF9, AKMU, RED VELVET, SEVENTEEN, and TXT got into this week's Idol Ranking. Coming in at the second place, BLACKPINK is releasing their first official studio album, 'THE ALBUM,' on October 2nd. YG Entertainment has been teasing the highly anticipated album with members' unique and individual pictures. The album will be released at 12 AM EST or 1 PM KST. 'THE ALBUM' already surpassed 800,000 sales in pre-order and is projected to shatter the records as the most sold K-Pop female artists' album in the history. With the pre-released singles such as 'How You Like That' and 'Ice Cream' having tremendous successes, fans are excited to see how 'THE ALBUM' will shake up the industry.
Ranked at #5, Stray Kids has been selected as the fastest-rising K-Pop artist in the world according to the joint data analytics done by Twitter and Space Oddity. With this year's K-Pop Analysis and #KpopTwitter 2020 World Map, Twitter showcased various infographics from the 'most mentioned K-Pop artist by market' to 'Top 10 most mentioned K-Pop songs in the world'. Stray Kids was the only artist debuted in 2018 to break into 'Top 10 fastest-rising K-Pop artists in the world'. Stray Kids also was placed 10th on 'Top 10 most mentioned K-Pop artists in the world', buttressing their status as a rising global artist. Stray Kids' new album 'Life' exceeded 230,000 in sales and topped the album chart in 23 different countries, breaking their previous records.
At the 6th place is SF9 who is planning a new project called 'FANTASY RACE' in a celebration of their 4th debut anniversary. It has already been 4 years since SF9 made its debut with a single album, 'Feeling Sensation,' in 2016, and gained immense popularity throughout their career. FNC Entertainment announced that fans could expect in a total of 4 different race courses as they can experience a variety of content, including a unique album, 'SF9 Corp 2', VLIVE, and an offline pop-up store. SF9 is also performing an online late-night concert, NOOB CON-SF9, on October 10th via VLIVE.
Ranked at #10, TXT is making a comeback on October 26th with refreshed and never seen looks. Big Hit Entertainment released album motion graphics through its official platform, Weverse. This third mini-album will capture TXT's small stories as they transition from the 'The Dream Chapter' series into a new installation. TXT's 'minisode1: Blue Hour' will showcase a changed TXT like fans have never seen before with a new concept. Meanwhile, TXT was also nominated in Radio Disney's Song of the Summer as the only Korean artist alongside global artists like Lady Gaga, Ariana Grande, Sia, and Dua Lipa.
NEW K.ID, the only TV channel that allows viewers to enjoy K-POP Idol-related content programming 24/7 and exclusive episodes curated from 10K+ videos, is available at CH 511 for free on LG Smart TVs and XUMO apps on all Internet-connected devices.