Group EXO's Suho pauses briefly to fulfill its defense obligations.
Suho posted a self-written letter photo on Lysn, a community for EXO's official fan club "EXO L," on the 4th, saying, "I will perform my mandatory military service as of the 14th." "I think I'll really miss many people during that time," he said. "I hope EXO L, who thinks of me and loves me every day, stay healthy."
It is right for Suho to enter the training center on Friday, his agency SM Entertainment said on the same day. However, the location and time of admission were not disclosed. It is reported that Suho will enter the training center and undergo basic military training before serving as a substitute for social service personnel.
It will make Suho the third EXO member to fulfill his national defense obligations after Xiumin and Dio. Xiumin and Dio joined the military in May and July last year, respectively, and are serving in the Army on active duty.
Suho has been popular both at home and abroad since 2012 as an EXO leader, and has appeared in films "Gift" and "A Middle School Girl" at the same time acting. In March, she released her first solo album "Self-Portrait."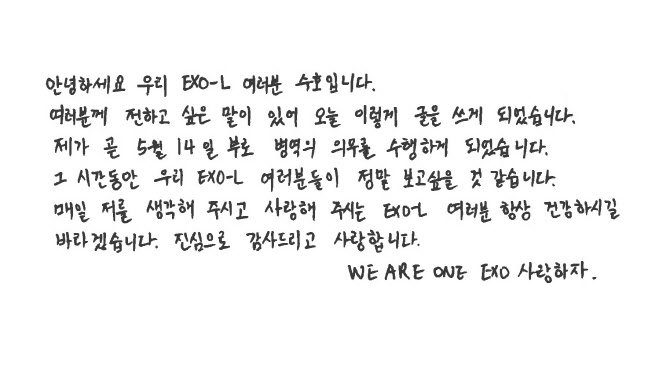 [Next is Suho's handwritten letter]
Hello, EXO-L. I'm Suho.
I wanted to say something to you, so I'm writing today.
I will soon be serving in the military on May 14.
I think I'll miss EXO-L during that time.
EXO-L, who think of me and love me every day, I hope you stay healthy. Thank you very much and I love you.
Let's love WE ARE ONE EXO.