A series of confirmed cases of the new corona virus infection (COVID 19) have put the music industry on alert. As the confirmation of the singer himself and his staff was announced on the 3rd, anxiety is growing. It seems inevitable that the broadcast schedule will also be disrupted. Against this backdrop, self-rescue measures to keep social distance from the music industry, such as online fan meetings and performances, are drawing attention.
◆ 3 K-pop artists were confirmed to be COVID19 in just one day. People are getting anxious.
Yoon Hak (real name Jeong Yoon-hak, 36, photo), a former boy band "Choshinsung," was the first Korean celebrity to be confirmed as COVID 19. Earlier on Thursday, the group Super Nova, the successor to "Choshinsung," said in a notice on Japan's official website that Yoon Hak was in poor physical condition and was tested by a South Korean medical institution on April 31 and found to be COVID 19. Yoon Hak, who worked on his schedule in Japan last month, returned home on the 24th of the same month.
Super Nova said Yoon Hak was hospitalized at a hospital in Seoul on the same day and is currently committed to treatment, adding that he is "sorry for the concern and inconvenience." All the staff members who worked with Yoon Hak were tested negative.
Yoon Hak has become more popular in Japan than in Korea, serving as the leader of the group "Choshinsung," which debuted in 2007. Choshinsung resumed its activities in Japan under the new group name of "Super Nova" in 2018, and Yoon Hak also appeared in dramas and musicals.
Girl group Everglow's agency Yue Hua Entertainment also said Thursday that two of its staff members have been confirmed to be COVID 19. All members of Everglow have been tested negative, but they have canceled all scheduled schedules according to the government's and related agencies' quarantine guidelines and have been at their own prices for two weeks. In particular, the first confirmed case of the COVID 19 by Yue Hua was reported to have attended the recording of SBS MTV's music show "The Show," which took place on April 24, further raising anxiety among music industry insiders.
The broadcast schedule has also been disrupted. That's why Juyeon, members of THE BOYZ and Kim Min-kyu, who are hosting "The Show" with Everglow members Si-hyeon, have been tested for COVID 19 and are self-purchased. She did not contact the confirmed person directly, but was voluntarily examined for safety. The production team has also been at a price point for two weeks. As a precaution, The Show decided to cancel the broadcast on July 7.
◆ The K-pop world that campaigns for 'social distance'
As a result, tension is rising again in the K-pop scene, where singer and actor Kim Jae-joong complained about April Fool's lie that he was infected with COVID19 on his social media on the 1st.
Two staff members of singer Chungha, who attended Milan Fashion Week last month, were confirmed early this month, and issues related to COVID19 have been dormant in the music industry for some time after the tested negative Chung Ha ended her own price.
Concerns, however, are mounting as the three confirmed cases were announced on Thursday in a single day. The "social distance" guideline is expected to be strengthened in the K-pop industry, which has been responding well to COVID19 in a relatively non-face-to-face manner. In fact, singers who release their latest new album have rarely done promotional activities offline.
Instead, for fans who don't have a chance to meet their favorite singers in person through concerts, fan meetings and music shows, they are trying a fan service that allows them to face the singer's face without the risk of infection of COVID19.
Boy group EXO Suho, who recently released a solo album, held two fan signing events on the 2nd and 4th using video calls. Dubbed the "Video Call Event," the fan signing event was held by Suho making a video call to the winner of the Suho album, having a two-minute conversation, and sending a signed CD to their home. In addition to Suho, girl group Gugudan's Sejeong and rookie boy band MCND recently held video fan signing events.
An official from SM Entertainment, Suho's agency, explained on the 6th, "With no fan signing event due to COVID19, fans have a chance to talk to the singer one-on-one."
The so-called "Home Live," which shows performances at home through real-time streaming of social media, is also active. Unlike concerts held at large concert halls, fans will respond to comments posted on the chat room and receive song requests. For fans, they can feel the cozy atmosphere where the singer quietly sings in his home.
Kwon Jung-yeol of the group 10cm held a "Phonecert" (a combination of mobile phones and concerts) live on Instagram on the 20th of last month. Kwon Jung-yeol also pointed to Ko Young-bae, the vocalist of the band Soran, as the next performer, saying, "It's a small cheer I can give as a gift, but I hope I can cheer up a little bit."
Henry also performed live on Instagram for a performance titled "Henry Live Show" on April 27. He said, "I know how much I want to go see good performances and go out to play. So I decided to send a gift to Henry's house," he explained.
Boy groups NU'EST and SEVENTEEN are transforming their team logos and encouraging "social distance." On the 2nd, they released a modified image that dropped shapes in the existing logo on their official social networking service (SNS) accounts and fan cafes.
BLACKPINK Tops The NEW K.ID's Weekly Chart With The Release of 'THE ALBUM'
NEW K.ID, the No.1 TV channel for all K-Pop entertainment and source (https://cutt.ly/NEWKID), announced its weekly chart for the 1st week of October.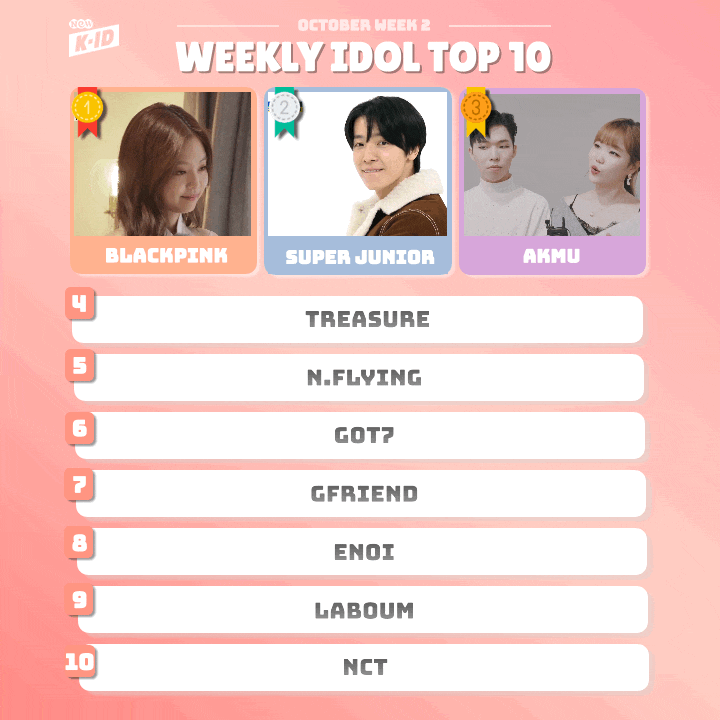 NEW K.ID, the No.1 TV channel for all K-Pop entertainment and source (https://cutt.ly/NEWKID), announced its weekly chart for the 1st week of October.
[Weekly Idol]
BLACKPINK is making history. BLACKPINK's first studio album that was released on October 6th, 'THE ALBUM', once again shattered both everyone's expectations and the sales record. The world's only music sales tracker that has big data on K-pop, Hanteo Chart, revealed that BLACKPINK sold more than 590,000 of their highly anticipated album since its release. This doesn't come as a huge surprise following 'THE ALBUM' surpassing one million in pre-order sales. Since its digital release, 'THE ALBUM' ranked #1 on the iTunes album chart in 57 different countries while landing 7th on the Apple Music album chart, showcasing their global popularity. Half of the songs featured on the album broke into the Spotify Chart Top 10 with 'Lovesick Girls' ranking 3rd, 'Bet You Wanna' ranking 4th, 'Pretty Savage' ranking 8th, and 'ICE Cream' ranking 10th. Furthermore, 'Lovesick Girls' Music Video also surpassed 100 million views on YouTube within only 75 hours since its release, becoming BLACKPINK's 22nd video to get more than 100 million views on YouTube.
[Weekly Hot News]
Ranked at #3, AKMU's Lee Su-hyun is finally making her long-awaited solo debut. AKMU's agency, YG Entertainment, revealed a poster teasing Su-hyun's solo debut on October 5th. The poster shows a space illustration with a UFO driver's license under Su-hyun's name. Last August, YG Entertainment announced that AKMU is preparing a comeback in 3 phases. Su-hyun's solo debut since AKMU's debut 6 years ago will be the first installation of their comeback. YG official remarked that Su-hyun's first solo single will be out of ordinary and will most definitely surprise the listeners with never heard sounds. The agency also commented that Su-hyun will be showcasing a side of her never seen before as a duo in AKMU and that the song will become a mainstream hit.
At the 5th place is TREASURE who released the Music Video of 'B.L.T' out of the blue. 'B.L.T (BLING LIKE THIS)', which is featured on TREASURE's second single album, 'THE FIRST STEP : CHAPTER TWO', is a song that tells the story of a shining galaxy and making memories while stargazing the endless space. Although 'B.L.T' was not a title track, it garnered similar popularity and reception as their title track, 'I LOVE YOU'. Fans fell in love with the upbeat sound and TREASURE's signature bright personality showcased in 'B.L.T'. Naturally, fans have been asking for a music video of 'B.L.T' ever since. The music video, which shows the 12 members candidly having fun among one another, is getting a great response from TREASURE MAKER. TREASURE is solidifying themselves as the super rookie of K-Pop with 'I LOVE YOU' topping iTunes top song chart in 9 different countries.
Ranked at #10, NCT is making a comeback on October 12th with 'NCT – The 2nd Album RESONANCE Pt.1'. The new album will capture NCT 2020's identity and their individual personalities and is expected to be one of the biggest NCT projects thus far. The album will include contributions from all 21 original members plus 2 new additional members. Furthermore, the album will include an afrobeat song, 'Music, Dance' from NCT 127, hip-hop dance music, 'Déjà vu' from NCT DREAM, catchy music with the synthesizer, 'Nectar' from WayV, and more. It is also anticipated to include more different genres of songs such as acoustic and R&B hip-hop. 'NCT – The 2nd Album RESONANCE Pt.1' will be releasing on October 12th at 6 PM KST.
NEW K.ID, the only TV channel that allows viewers to enjoy K-POP Idol-related content programming 24/7 and exclusive episodes curated from 10K+ videos, is available at CH 511 for free on LG Smart TVs and XUMO apps on all Internet-connected devices.
BTS 'DNA' music video has surpassed 1.1 billion views on YouTube
BTS's DNA music video YouTube views released three years ago exceeded 1.1 billion views.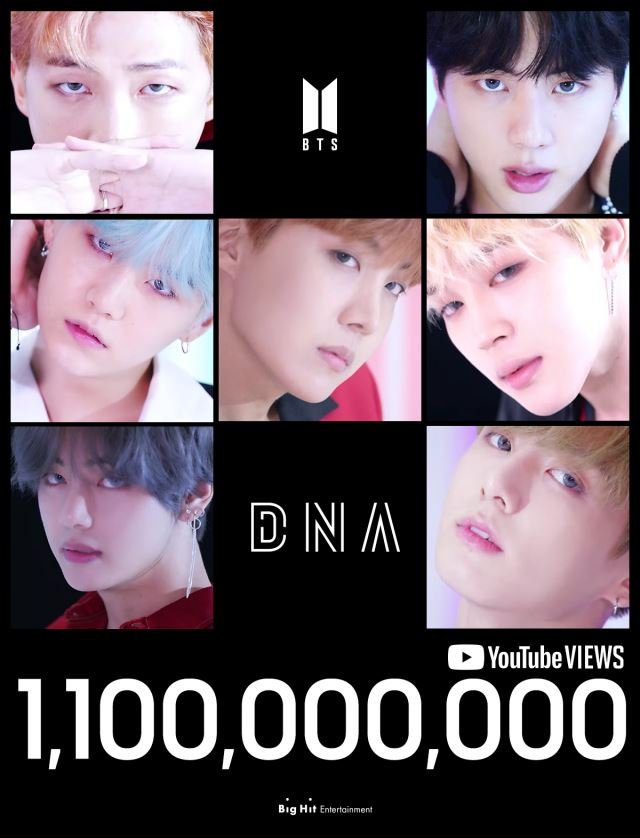 BTS's DNA music video YouTube views released three years ago exceeded 1.1 billion views.
Big Hit Entertainment said that the DNA music video exceeded 1.1 billion views for the first time among BTS music videos at 7:28 am on May 5.,DNA is the title song of BTS' mini album Love Yourself Seung (LOVE YOURSELF HER), released on September 18, 2017.
The music video visually expresses the message through virtual reality and scene transitions that seem to cross space, and the choreography of BTS across individuals, units and groups also fills the screen.,BTS is the first Korean singer to enter the Billboard main single chart Hot 100, and the album recorded simultaneously entered the main album chart Billboard 200.,DNA has been on the Hot 100 for four consecutive weeks, and the album has been on the Billboard 200 for six consecutive weeks.
BTS has 26 billion views and music videos including DNA.,Following DNA, Boy With Luv has exceeded 970 million views, and Fake Love, Idol and MIC Drop remixes have exceeded 700 million views.
Meanwhile, the music video views of BTS member Jay Hop's solo song Chicken Noodle Soup also exceeded 200 million views at around 3:08 a.m. on the same day.,Chicken Noodle Soup, released last September, is a re-created song by quoting a chorus in the same title song by Webstar and Young B.,He worked with American singer and actor Becky G. Jay-Hop in Korean, and Becky Z in Spanish.