YG's rookie group TREASURE presented chemistry among members through the new semester 'partner' episode. They not only showed off their perfect harmony while playing games, but also shared their deep thoughts that were hard to say in words, sharing real friendship.
On April 17 at 12 PM, YG Entertainment uploaded the 'TREASURE MAP'-Partner episode 2 through their official blog and TREASURE's official YouTube channel.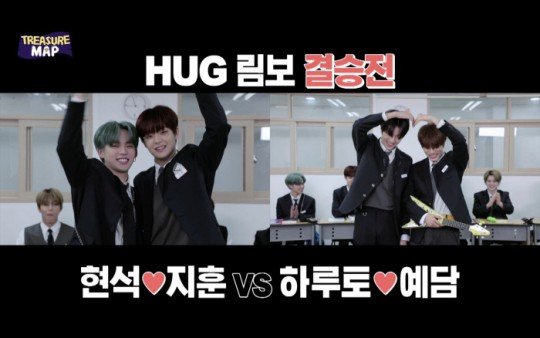 Following the partner scramble from the previous episode, TREASURE played various games to select the best partner. They first broke the suspense by playing a hug limbo game, which raised their favorability as well as presenting laughter for the viewers with their unique chemistry.
JIHOON, known as the muscle man of TREASURE, carried CHOI HYUN SUK with ease and showed off his aspects as the 'health boy'. HARUTO, who was expected to drop out due to his long height, survived until the end with his flexibility and strength, which allowed him to become the ace of the game.
Meanwhile, team DOYOUNG·YOSHI and MASHIHO·JEONG WOO showed clumsiness while competing against ace teams, which presented laughter. ASAHI who had a hard time carrying YOON JAE HYUK reminded the viewers of a paper doll with his slender physique, making the members laugh and cheer for him.
On the following lunch, members who chose the same lunch box became partners.
HARUTO made BANG YE DAM's heart flutter by stating, "I would've selected you regardless of the lunch box". ASAHI also presented friendship by selected YOON JAE HYUK even though he dislikes tomatoes. While all members seemed to be keeping their original partners, CHOI HYUN SUK chattily stated, "I'm fine as long as it's not JIHOON", making the people burst into laughter.
Through various games that made the members' affections and chemistry stood out, the time to select the final partner arrived. Prior to the final selection, the members shared affectionate messages during the appeal time to present their deepened friendship.
The members then put in the name tags in the safes of their selected partners. SO JUNG HWAN surprised everyone. SO JUNG HWAN, wo made the members' hearts flutter with his words, "The member who always cared for me and gave me strength", received 3 name tags and became the 'popular member among TREASURE'. BANG YE DAM·HARUTO, MASHIHO·PARK JEONG WOO, ASAHI·YOON JAE HYUK, and SO JUNG HWAN·DOYOUNG showed off their unchanging friendship and succeeded in the final partner match.
While currently on their full-scale debut project, TREASURE is communicating with the global fans by presenting their charms through various self-produced contents including 'TREASURE MAP' which covers the story of 12 creators, 'A 3 Minute TREASURE', 'TMI' which covers the behind scenes of TREASURE's schedules, 'Fact Check' which solves the fans' curiosities', and their profile photo series.