With the group BTS celebrating its seventh anniversary on the 13th, the last 2nd marked the seventh anniversary of member V's first release on BTS' official SNS. 

The other members of BTS were released early and actively communicated with fans even before their debut, while V was unveiled 10 days before his official debut. The first tweet posted by V, with his hat pressed and his face covered, only said "V," which caused fans to wonder. 

On June 3, 2013, V's teaser photo was first released on Big Hit Entertainment's official account, and BTS' official Twitter page announced that BTS' history began with a message saying, "Our secret weapon V was revealed."

V, who has excellent looks and skills at a young age, was officially called the "secret weapon" by making it public through dramatic disclosure without being exposed at all during his two-year trainee years.

As if to celebrate the day of V's release on the 2nd, V's solo songs decorated the music charts of each country. "Sweet Night" re-emerged as No. 1 on iTunes in Hungary and No. 9 on iTunes in the UAE, while in Singapore and Vietnam, the solo song "Stegma" released in 2016 topped iTunes, "Inner Child" entered No. 1 on iTunes in the UAE, the Philippines and Kenya, and Swaziland became the 20th country to have No. 1 on iTunes.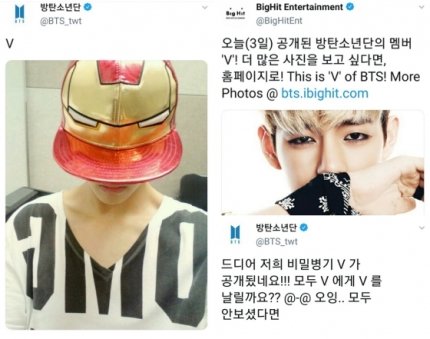 "Inner Child" has also re-entered Britain's iTunes Top Song Chart at 34th place, while Worldwide iTunes has been charting "Sweet Night" for five weeks and has also re-entered "Inner Child."

In addition, Amazon's digital music "Best Seller Song Chart" and "Best International Song Chart" ranked first, second and third respectively, setting up a line on the largest music and music sales sites in the U.S. as of 4 a.m. on the 3rd.

V, whose dream was to become a trainee, is now a world star traveling around the world. His long-awaited dream of even four words of self-composed songs by BTS came true by becoming a singer-songwriter who released 11 self-composed songs. "Sweet Night," which he wrote, composed, produced and sang, topped iTunes in 88 countries, holding the highest record for Korean artists. 

BTS fans were gripped by tension when the 2017 American Music Awards (AMAS), which BTS officially performed on the U.S. stage, was broadcast live on Mnet. An anecdote is famous that fans said, "Now it's done," as soon as V sang the first verse as he appeared leisurely in the introduction of "DNA."

It is expected that V, who is not only an excellent performer on stage, but is slowly building his own world for seven years in various ways, including writing and composing songs with distinct colors of his music, directing and acting music videos.