The American rapper Lil Nas X has given a lot to talk about with his new music video "Montero (Call Me By Your Name)". It is an exotic video that traverse a queer mythological fantasy and catholic symbolisms. Also, it has a deep meaning for the artists because it is a song dedicated to his 14 year old self. Therefore, let's analyze the 10 important points from the music video.
1. Some words for himself.
The video starts with Lil Nas X narrating a meaningful message where he expresses that people locks up themselves out of fear, but he is not doing so anymore in his reimagined world baptized as Montero. Before continuing, it is necessary to highlight that Lil Nas X's real name is Montero Lamar Hill. Therefore, it is understood that we are exploring his path to self acceptance in the music video. And in this way he let fans know that he is done hiding and he is ready to embrace his real self.
"In life, we hide the parts of ourselves we don't want the world to see. We lock them away, we tell them no. We banish them. But here, we don't. Welcome to Montero."
2. The Garden of Eden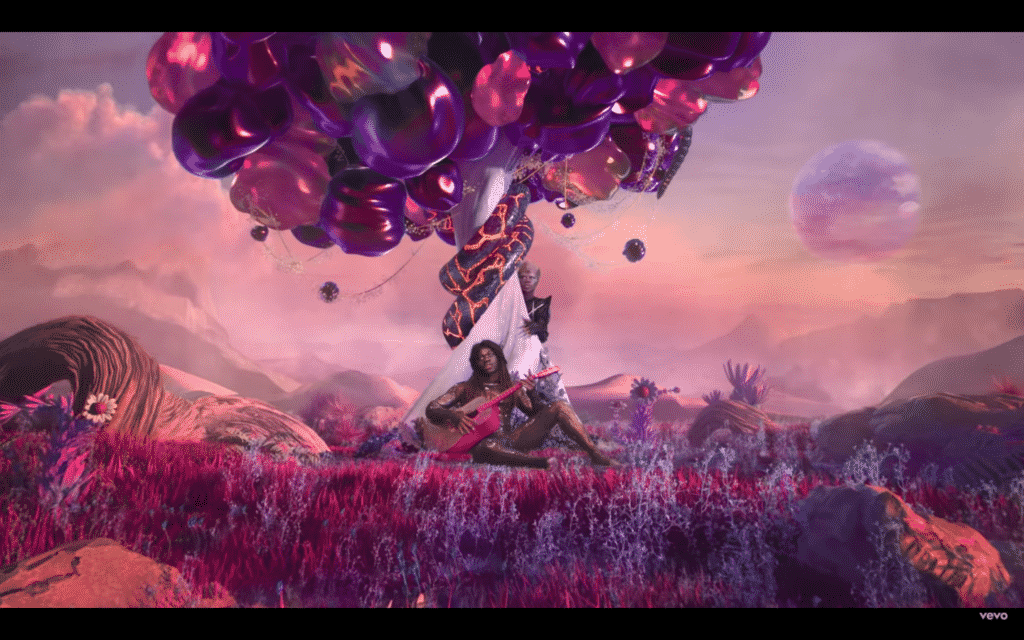 Lil Nas X appears playing calmly the guitar in a recreated scenario of The Garden of Eden. Seconds later, a serpent-human form appears, making a reference to Nachash, the serpent from the biblical story known as "Adam and Eve" that temps Eve to eat the prohibited apple. But in this narration, for Lil Nas X the fruit would be his love for the same sex, and the serpent is the lover that woke up this feelings.
3. Message written in Greek
Then we can appreciate a written message in Greek on the tree that Lil Nas X was leaning against previously in the video. The message is from Plato's Symposium, a philosophical text about a group of notable men attending a banquet to contest extemporaneous speeches. Between these men Socrates, Alcibiades and Aristophanes can be found. The speeches are to deliver praise to Eros, the God of Love and Desire. Eros is recognized as the erotic love and a phenomenon capable of vanquishing man natural fear of death. This last point is important for the end of the video.
""Because nature was cut/separated in pieces, each one attracts its other half"."
4. Multiple versions of himself judging himself.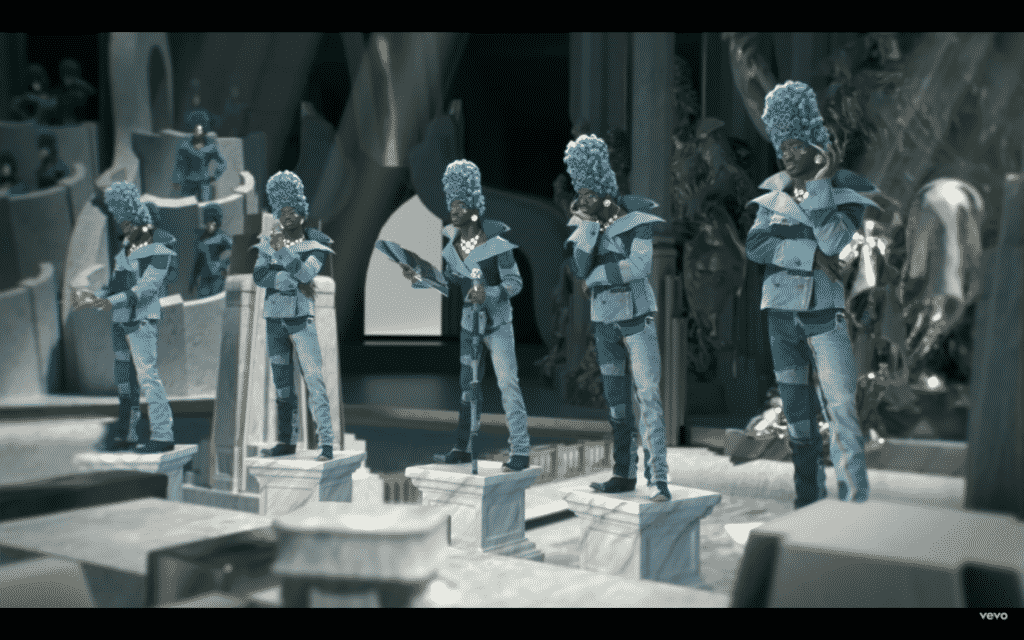 The next scene takes place in a Greek colosseum where Lil Nas X is taken by two queer versions of himself to the amphitheater. Then, five of them located in the prohedria, the seat of honor of officials, observe how he is being shout at by the crowd for committing unforgivable crimes. In this case, loving who he loves. This is a notorious critique to society for being so close minded about an emotion that comes from nature. But people would prefer to entertain themselves by making people feel miserable and ashamed.
5. Rejected from heaven.
After being judged on Earth and humans taking his life away, Lil Nas X levitates to heaven, but according to church's believes he cannot be part of such sacred place.
6. Going to hell for being who you are.
Lil Nas X is sent to hell after being rejected from heaven. For his ride to the underworld he takes a pole dance and accepts his fate in such a fashionable and queer way. Church sees homosexuality as an unforgivable sin that cannot be forgotten. Therefore, with this scene his truth self is portrayed as the road to damnation.
7. Message written in Latin.
Once Lil Nas X arrived to the gates he is received by an evil figure in a throne. Also, the message "They condemn what they do not understand" is written in Latin on the floor. It is obvious that it is a phrase that makes reference to the slurs that he has experienced for being a Black gay man, a great minority.
8. Dance with the Devil.
In the music video he dances with the evil figure, in other words, he dances with the Devil. Making his confession to the world and embracing his true self can be dangerous for him. But it is also a pretty open way to make fun of the believe that LGBTQA+ community is going to hell for just loving.
9. Dancing with death.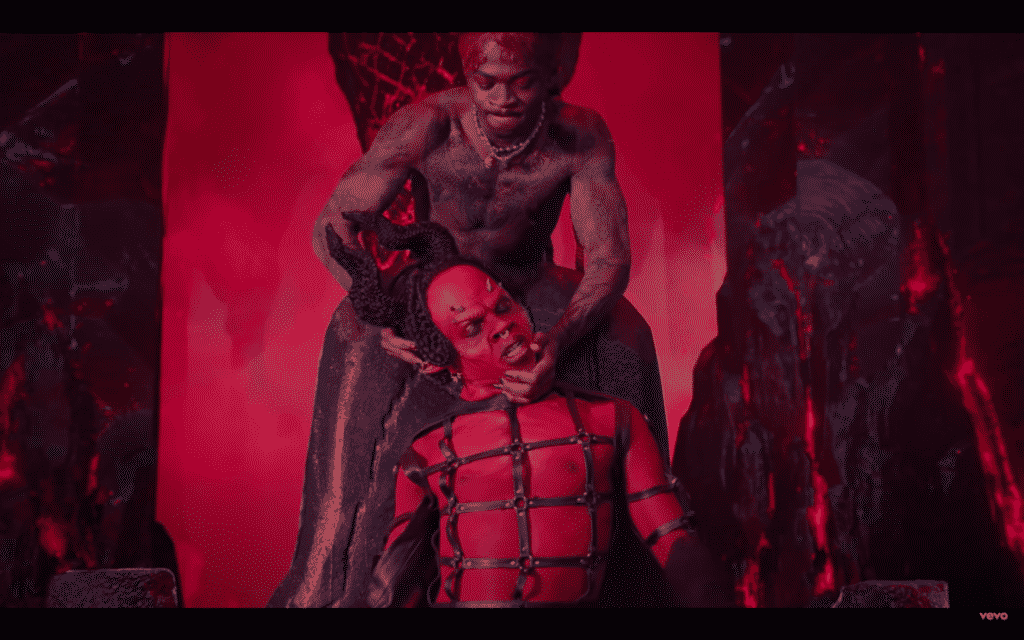 Here is where the Plato's Symposium takes place again. Eros is the God of Love and Desire, but also the one who vanquishes the natural fear of death from humans. Therefore, Lil Nas X is not afraid anymore of the dangers that can occur for being a minority, a gay Black man. The artists takes away the life of the evil figure and takes his horns to become the biggest sinner to exist by just embracing who he is.
10. A letter to his 14 year old self.
After publishing "Montero (Call Me By Your Name)", Lil Nas X tweeted a letter to his 14 year old self. In this letter he explains that he promised to himself to never come out publicly as a gay man, but he is conscious of the big platform he owns and wants to take advantage of it to help other queer people to exist and live their lives as happy as they can. That is why it is important to support artists who are aware of real issues and want to make a change.
Down below you can watch the video and enjoy the catchy chorus. Have a great time!