BTS to Hold Online Concert 'BANG BANG CON The Live' on the 14th
Up to 756,600 concurrent users
The average ticket price is estimated at more than 25 billion won in revenue.
(PRESSREELS) The group BTS has attracted more than 756,600 fans worldwide through online live performances.
BTS (RM, Jin, SUGA, J-Hope, Jimin, V, Jungkook) held an online live concert "BANG BANG CON The Live" (hereinafter referred to as "BANG BANG CON The Live") from 6 p.m. on the 14th.
Ticket prices for "BANG BANG CON The Live," which was a paid performance, were set at 29,000 won for members and 39,000 won for non-members. For members, the average price of offline concert tickets is about a quarter of 120,000 won. If the average number of viewers is 756,600, which is estimated to have earned at least 25 billion won in ticket revenue.
The concept of "BANG BANG CON The Live" was to invite fans to BTS' room. The stage design consisted of a total of five rooms and two stages, and the hall was even arranged to feel like entering a real room, giving a friendly and free-spirited feeling throughout the performance.
BTS moved from room to room, including 'Dope', 'Boyz with Fun', 'I Like It', 'Just One Day', 'Jamais Vu', 'Respect', 'Friend', 'Black Swan', 'Boy With Luv', 'Go Go with Luv', 'Anpanman' and so on. This is more lively with six multi-view screens.
"BANG BANG CON The Live" was conducted in collaboration with KISWE Mobile, an American live streaming solution company that recently signed a business agreement with Big Hit.
Big Hit and KISWE Mobile have established a multi-view streaming system so that fans can enjoy the performance in real time by selecting the screens they want to see among the six different multi-view screens that are played at the same time, not the set screens.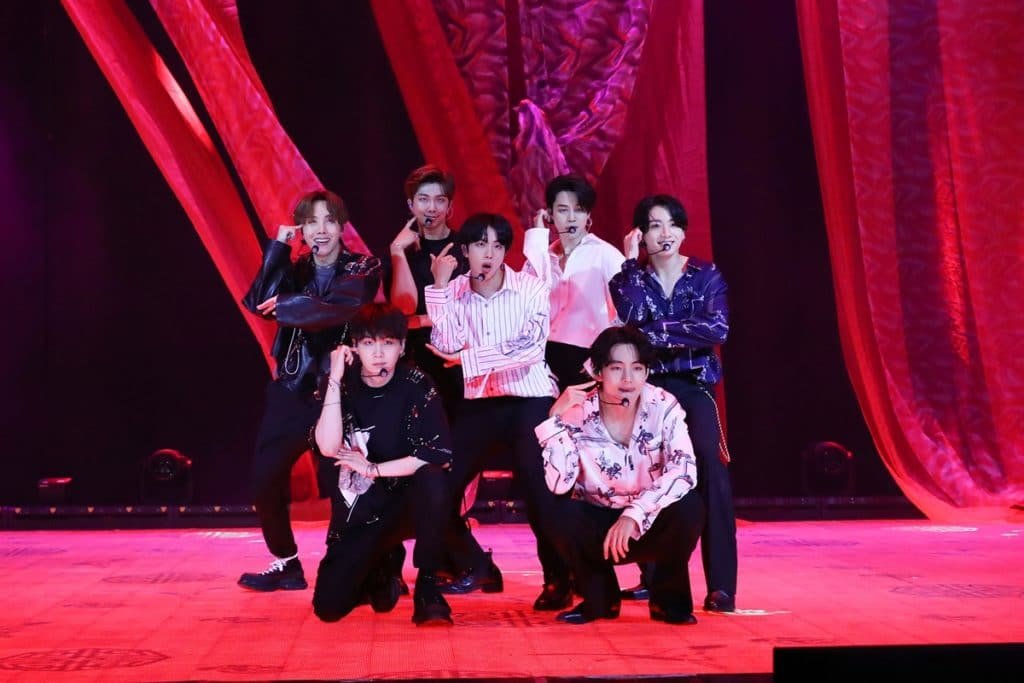 BTS prepared special gifts for fans who have been waiting for the concert for a long time. The members released their fourth full-length pre-released song "Black Swan" and "Boy With Luv," which were reborn with new performances, saying, "We prepared it as a preview of the tour performance."
In particular, ARMY is newly configured 'at the time for the little things' for the concert night colors change to work with choreographer frosting on the stage it adds up to be using the umbrella ledI made. Although the space is far away, it drew attention as a production to express that it is connected to fans through ARMYbam.
Wrapping up "BANG BANG CON The Live," BTS sent a message of thanks and support to Army around the world. J-Hope said, "I hope that our love for the stage will be conveyed as much as we prepared hard for it. I'm happy to be on stage and sweating," he said. Jimin said, "We're trying to grow up among ourselves and we're getting over it even when you're not around. "I hope you can find the times that will make you happier at this time and overcome them well, and meet them with a smile.
SUGA said, "Thank you for watching our performances and appearances from all over the world. "Let's meet again," he said. "I hope we can perform soon. I want to see the ARMY with my eyes. Jungkook said, "You gave us a lot of love from all over the world, so we did our best on stage, and I hope this stage will be another start for us." Jin and RM each said, "We were so happy together, and if we had a chance, we would definitely go see you," and "Spring Day of BTS and ARMY will definitely come back."