BTS is showcasing the Bangbang Concert in a year, where you can watch the existing concert for free in your homeroom.
According to Big Hit Music on the 12th, BTS will present 'BANG CON 21·BTS LIVE STREAMING' on YouTube's official channel 'BANGTANTV' from 3 p.m. on the 17th.
'BANG BANG CON 21' is a special gift that BTS has prepared for fans since last year. Fans around the world can enjoy BTS' existing concerts and fan meetings for free in the first row of their home.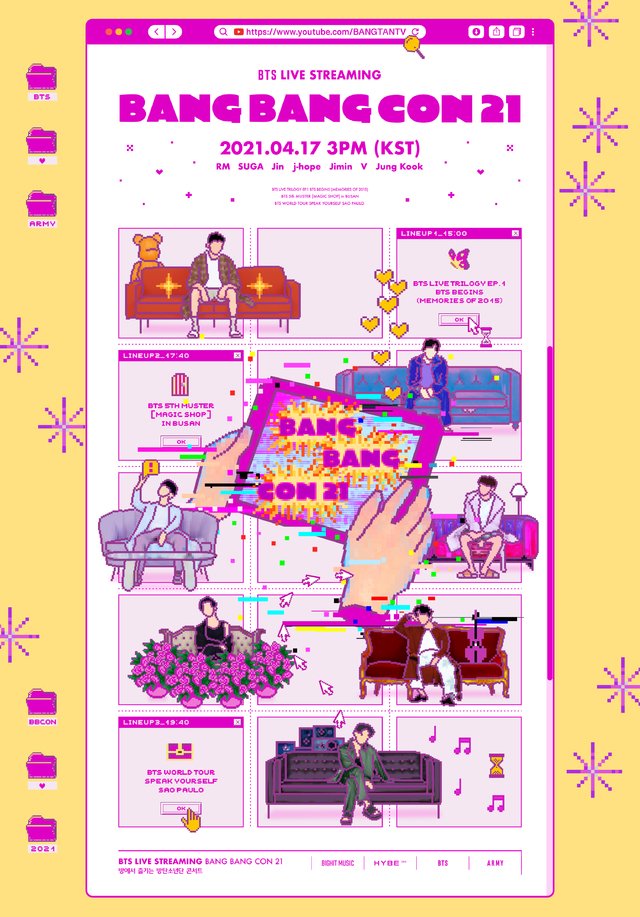 Starting with the '2015 BTS Live Trilogy: Episode 1. BTS Begins' concert stage, it will lead to being the first global fan meeting after 'BTS 5TH Muster [Magic Shop]' in Busan in June 2019, and the BTS World Tour 'Love Yourself: Speak Yourself' concert in Sao Paulo, Brazil in May 2019.
Earlier, BTS held an online streaming festival 'Bangbangcon' on April 18 and 19 last year. The performance recorded 50.59 million views in about 24 hours, and exceeded 2.24 million simultaneous users, which was evaluated as creating a new performance culture in the 'Untact era.'
BTS then held its first paid online concert 'Bang Bang Con The Live' on June 14 last year, communicating with fans around the world. 'Bang Bang Con The Live' has been watched in 107 countries and regions around the world. The number of concurrent users reached 756,600. It has been certified as the Guinness World Record for 'Live Streaming Music Concert with the Most Viewers.'
Meanwhile, BTS was nominated for the International Group award at 2021 The BRIT Awards, which will be held on the 11th of next month, making it the first Korean singer in the history of the BRIT Awards.
Also, they were nominated for three awards at the 2021 iHeartRadio Music Awards, a U.S. radio station that will be held on the 27th of next month.