(PRESSREELS) Jimin's soulful voice acting of the group BTS draws attention as the production team of "Zootopia" praised him.
Jimin's own entertainment show "Run BTS" released on the 21st. In the 2020-EP 109), he played a total of three characters, including "Zootopia" main character "Juddy."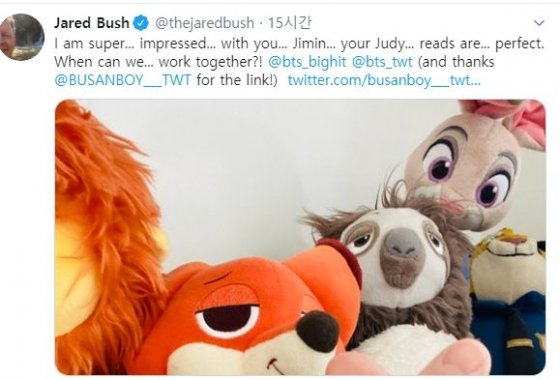 Jimin made a perfect dubbing of "not missing a single line" with his own color, heated up SNS, and became a hot topic with real-time trends in countries such as Australia and Brazil.
Jared Bush, who co-director of "Zootopia" and screenplay by, wrote on his social media, "I was deeply moved by Jimin. Jimin's Judy, reading was perfect. When can we work together?" he praised.
"Zootopia" is famous for its dubbing performance, in which Hollywood's leading actors and actresses put their all-out efforts into it. The main character, "Juddy," was played by Ginnifer Goodwin, who played his voice. It is noteworthy that Jimin, who has no experience in acting, is receiving rave reviews and love calls from the original animation crew.
Fans are hoping for a meeting between Jimin and Jared Bush, raising hopes for another glimpse of Jimin's charm shining.