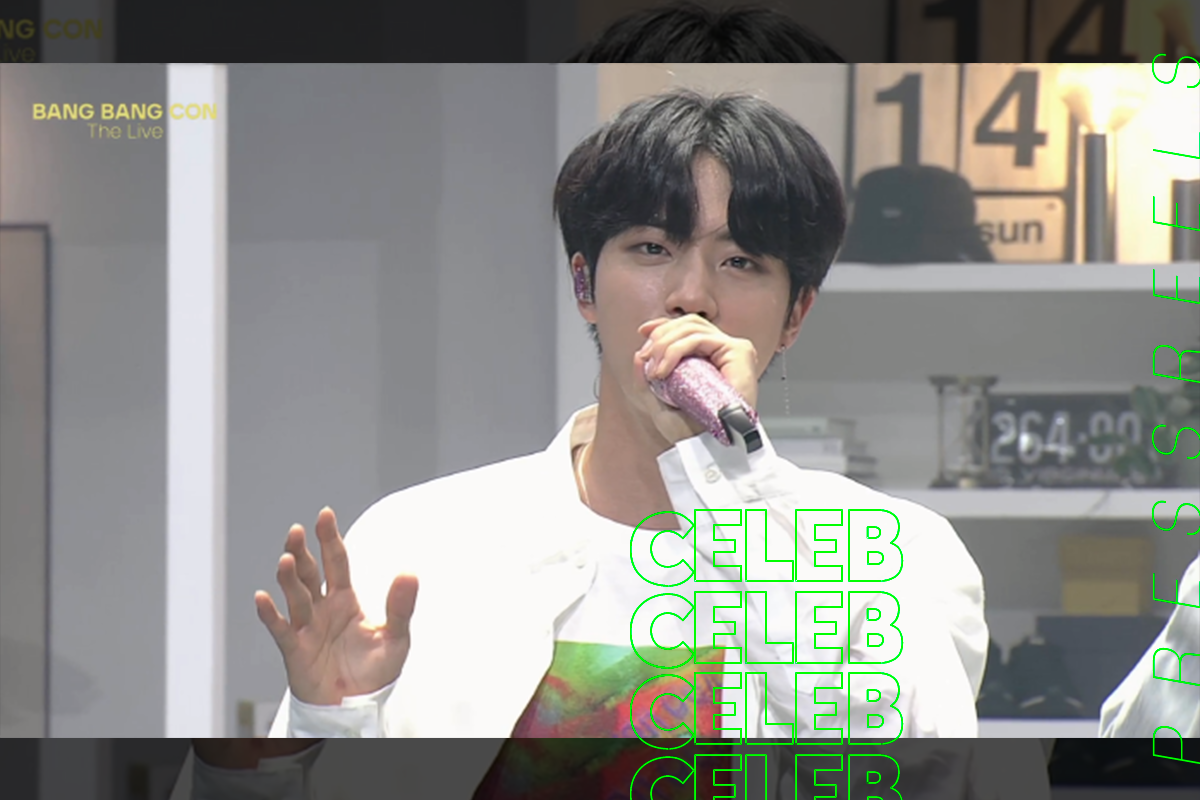 BTS 'New Music Starts with Global ARMY'
(PRESSREELS) Global artist BTS has expressed its intention to create a new music driving force with ARMY (fandom name) along with an online-contact performance.
(PRESSREELS) Global artist BTS has expressed its intention to create a new music driving force with ARMY (fandom name) along with an online-contact performance.
BTS Online-Contact concert "BANG BANG CON The Live" was held on Big Hit community platforms "Weverse" and "Weverse Shop" on the 14th.
"BANG BANG CON The Live" is an online performance that connects the streaming festival "BANG BANG CON, BTS ONLINE CONCERT WEEKEND" in April, and is the finale of the 7th anniversary LAN festival "2020 BTS FESTA."
It is also significant in that it is another delicate attempt for global K-pop fans and artists to communicate in the Corona 19 situation as an online live show where BTS's stage can be seen as real-life as possible by adding six multi-view systems and interactive solutions through cooperation with KISWE Mobile.
On the same day, BTS performed 12 songs selected from the representative songs through a 90-minute online stage, sharing close musical communication with fans.
◇BANG BANG CON The Live, a BTS Online-Contact performance, 'The Excitement and Emotion of Global Impression'
The beginning of "BANG BANG CON THE LIV," which began with the opening filled with movements of 2020 BTS FESTA animation characters, was filled with four songs: Dope, Boyz With Fun, I Like IT, and Just One Day.
The "Dope" stage, which features a set of pastel-toned colors and dark red lights, seemed to show a refined look of BTS, a passionate artist of fresh charm, based on a combination of rhythmical performances with saxophones and hip rapping.
The following performance of "Boyz With Fun" also showed a more trendy and refined tone of the newtro sense shown in "Dope," naturally recognizing "BTS's excitement."
The "I Like IT" stage was the highlight of the early stage. The stage showed each of the seven members one by one based on their connection with the Galaxy S20 BTS Edition along with the soft R&B sensation that unfolds smoothly against the backdrop of the electro sound, making the song more dramatic.
The "Just One Day" stage, which was held at the end of the first half, was a time to properly show the harmony of BTS' charming points. The contrast between the intense rapping of J-HOPE, RM, SUGA, and sophisticated vocals of Jungkook, Jimin, V, and Jin seemed to show the dreamy charm of the song as well as the sweet charm full of excitement.
In short, the beginning of "BANG BANG CON THE LIV" was a stage that showed BTS's newtro sense and emotional appeal naturally.
◇'BTS Online-Contact Performance by BTS Unit Group, 'BANG BANG CON The Live'
The middle part of "BANG BANG CON The Live" is filled with a unit stage where each member can see their own vocal and rap styles more deeply.
The first door in the middle was J-HOPE, Jin, and Jungkook, who chose the emotional charming vocal song "Jamis Vu." Their stage was accompanied by a dreamy melody line and the addition of J-HOPE's rapping, which adds strength and charm to Jungkook-Jin's vocal combination, giving the impression that it naturally shows a change in emotion. On top of that, the natural change in black-and-white tones and color instantly attracted the attention of the song's emotional flow of the song.
The RM and SUGA unit song "Respect" then made RM-SUGA attractive as a newtro hip-hop with sophisticated rapping added to the background of the 90s hip-hop feel. In particular, RM and SUGA's retro style in overall stage settings, such as costumes and video effects, were enough to give viewers fresh charm.
The end of the unit stage ended with "Friend" by Jimin and V. The "Friend" stage, set against the backdrop of a set reminiscent of a bus stop and student concept styling, drew explosive reactions from fans as it focused on the refreshing vocal combination of the two members.
As such, the middle part of "BANG BANG CON THE LIV" focused on the comeback charm of each member that evokes the global synergy of the entire group. This led to the release of dynamic hip-hop songs and some unreleased R&B songs with a fresh sense of vocals, raising expectations.
◇BANG BANG CON The Live, a BTS Online-Contact performance, 'The 7th Anniversary Finale for a New Start'
The second half of "BANG BANG CON The Live" was filled with performances of representative songs and new songs that left colorful global tracks such as GO and Annpanman rather than Black Swan and poetry and concerns for small things.
The "Black Swan," which was preface-to-face in the second half, drew attention by recreating the stage of artistic sense that touched the world. BTS' stage performance, which shows groove and moderation in the heavy flowing music with a background of natural feeling, captivated global audiences with its flexible and intense impact.
On top of that, the stage of "Go Go Go Over Concerns" filled with humorous chorus such as "Boyalayala" and "Tangjin Jam" against the backdrop of an umbrella performance reminiscent of ARMY Peak, along with a more sophisticated sense of space than the original song, and "BTS members' hearts that miss ARMY (fandom name) were felt flexibly.
On top of that, the ending line-up, such as Anpanman of soft and sophisticated hip-hop energy and deep emotional hip-hop "Spring Day," was meaningful as it made BTS members feel sorry for their new meeting and their willingness to continue their artistic efforts.
As such, the second half of "BANG BANG CON the Live" reveals its value as a stage that foretells the present and future of BTS, which misses global ARMYs.
◇BTS, "We will overcome our desperate longing for the stage and ARMY with our growth efforts."
Overall, 'BANG BANG CON THE LIV' seemed to be meaningful as a decennial party finale for BTS and ARMY for a new future. Of course, some of the limitations of the network and physical limitations of the sense of realism were exposed, but the value as a future alternative for active music communication between artists and global fans seemed sufficient.
J-HOPE said, "It seems like it's been a long time since I've done visual setting and been on stage. I missed the stage and ARMY so much. I've been waiting for a long time and I hope the stage will be delivered as much as I prepared. We will work harder so that we can show you more stages.
Jimin said, "I couldn't meet you in a bad situation, so I wanted to ask you first how are you doing. It is also true that we, who desperately need the stage, are having a hard time. However, we are trying to use this time as an opportunity for growth. I hope we can overcome Corona 19 well and meet with a smiling face.
RM said, "It was a little hard because I didn't have the support of the fans during the Anpanman performance. There is also fear that BANG BANG CON THE LIVE will become a trend of future performances. But as we have to give them the power and happiness to do something in any situation, we will try our best.
Jungkook said, "We've always been monitoring a lot. I missed each stage a lot. Although we couldn't be together in the field, we performed with the power sent from all over the world. I hope this stage will be a new beginning.
SUGA said, "I really wanted to perform. We also felt helpless in an unavoidable situation, but we worked hard in it. I'm sorry that it's not a concert with cheers, but I'm very happy that you're with me. I can't see it right now, but I'm sure I'll see it soon.
"It's been more than half a year since I've seen ARMY," V said. Although he made a public statement with confidence through Weverse when preparing for ON, there is a regret that he could not show the actual performance. I think it's a relief that we're performing as BANG BANG CON. I can't wait to feel the voices, eyes, and heat of ARMY.
"The contract ended yesterday on the occasion of the 7th anniversary of our debut, but we are able to stay together much longer," Jin said. Every day is precious. I want to see you guys soon, but I'm so sorry that the situation is not good. But I hope everyone will overcome it well and wait for the day we meet.
Family Rivalry Continues! TREASURE Regains The Lead in NEW K.ID's Weekly Chart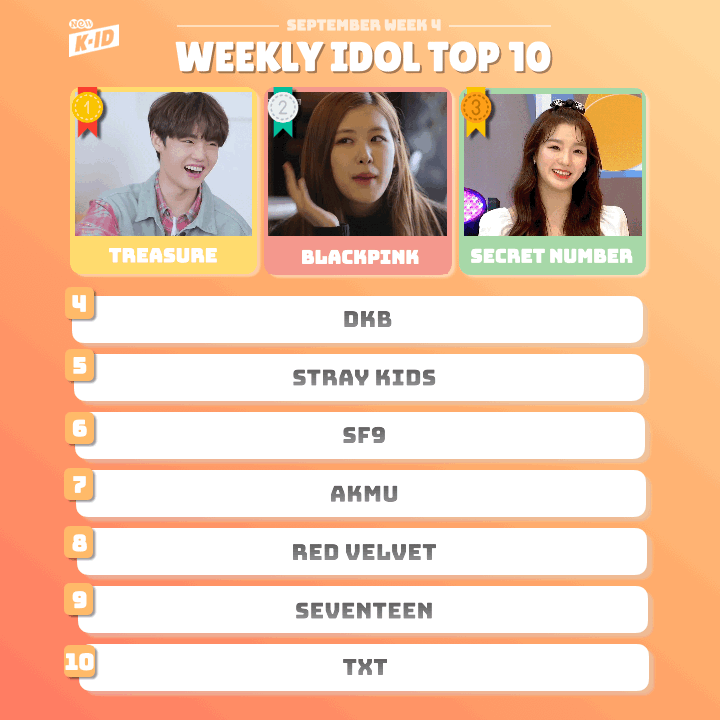 NEW K.ID, the No.1 TV channel for all K-Pop entertainment and source (https://cutt.ly/NEWKID), announced its weekly chart for the 4th week of September.
[Weekly Idol]
TREASURE is on a mission. After BLACKPINK reclaimed their throne in NEW K.ID's Weekly Idol Ranking last week, TREASURE rose to the top of this week's chart once again. Considering that TREASURE only officially made their debut last month, it is remarkable to see them go toe to toe with BLACKPINK so fast. YG fans will undoubtedly be happy as YG artists have won the last 11 NEW K.ID's Weekly Idol Rankings. TREASURE's new song, 'I LOVE YOU' is also attracting a lot of attention worldwide as it topped LINE MUSIC's Top 100 Chart, which is the biggest music platform in Japan. They also surpassed 200,000 in the album sales just in pre-order, having the best performance among all the newly debuted K-Pop idols this year. Furthermore, the 'I LOVE YOU' Music Video brought more than 10 million views on YouTube within 72 hours of its release. TREASURE's members commented that they do not wish to dwell on the numbers but would rather like to repay the fans with great music.
[Weekly Hot News]
Followed by TREASURE, BLACKPINK, SECRET NUMBER, DKB, STRAY KIDS, SF9, AKMU, RED VELVET, SEVENTEEN, and TXT got into this week's Idol Ranking. Coming in at the second place, BLACKPINK is releasing their first official studio album, 'THE ALBUM,' on October 2nd. YG Entertainment has been teasing the highly anticipated album with members' unique and individual pictures. The album will be released at 12 AM EST or 1 PM KST. 'THE ALBUM' already surpassed 800,000 sales in pre-order and is projected to shatter the records as the most sold K-Pop female artists' album in the history. With the pre-released singles such as 'How You Like That' and 'Ice Cream' having tremendous successes, fans are excited to see how 'THE ALBUM' will shake up the industry.
Ranked at #5, Stray Kids has been selected as the fastest-rising K-Pop artist in the world according to the joint data analytics done by Twitter and Space Oddity. With this year's K-Pop Analysis and #KpopTwitter 2020 World Map, Twitter showcased various infographics from the 'most mentioned K-Pop artist by market' to 'Top 10 most mentioned K-Pop songs in the world'. Stray Kids was the only artist debuted in 2018 to break into 'Top 10 fastest-rising K-Pop artists in the world'. Stray Kids also was placed 10th on 'Top 10 most mentioned K-Pop artists in the world', buttressing their status as a rising global artist. Stray Kids' new album 'Life' exceeded 230,000 in sales and topped the album chart in 23 different countries, breaking their previous records.
At the 6th place is SF9 who is planning a new project called 'FANTASY RACE' in a celebration of their 4th debut anniversary. It has already been 4 years since SF9 made its debut with a single album, 'Feeling Sensation,' in 2016, and gained immense popularity throughout their career. FNC Entertainment announced that fans could expect in a total of 4 different race courses as they can experience a variety of content, including a unique album, 'SF9 Corp 2', VLIVE, and an offline pop-up store. SF9 is also performing an online late-night concert, NOOB CON-SF9, on October 10th via VLIVE.
Ranked at #10, TXT is making a comeback on October 26th with refreshed and never seen looks. Big Hit Entertainment released album motion graphics through its official platform, Weverse. This third mini-album will capture TXT's small stories as they transition from the 'The Dream Chapter' series into a new installation. TXT's 'minisode1: Blue Hour' will showcase a changed TXT like fans have never seen before with a new concept. Meanwhile, TXT was also nominated in Radio Disney's Song of the Summer as the only Korean artist alongside global artists like Lady Gaga, Ariana Grande, Sia, and Dua Lipa.
NEW K.ID, the only TV channel that allows viewers to enjoy K-POP Idol-related content programming 24/7 and exclusive episodes curated from 10K+ videos, is available at CH 511 for free on LG Smart TVs and XUMO apps on all Internet-connected devices.
BLACKPINK Reclaims Their Throne in NEW K.ID's Weekly Chart in The BLINK of an Eye
NEW K.ID, the No.1 TV channel for all K-Pop entertainment and source (https://cutt.ly/NEWKID), announced its weekly chart for the 3rd week of September.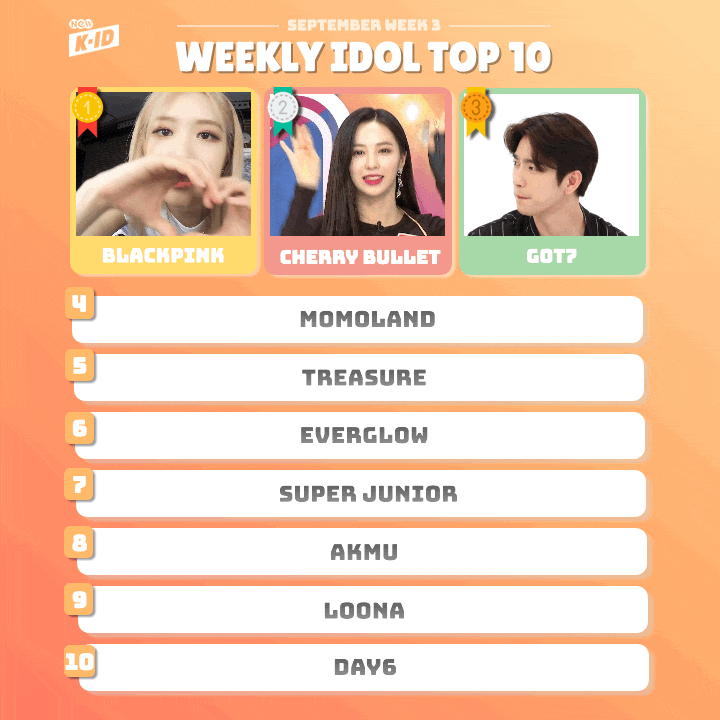 NEW K.ID, the No.1 TV channel for all K-Pop entertainment and source (https://cutt.ly/NEWKID), announced its weekly chart for the 3rd week of September.
[Weekly Idol]
The queens are back again. After TREASURE's surprise rise to the top of NEW K.ID's Weekly Idol Ranking last week, BLACKPINK reclaimed their throne, solidifying themselves once again as the most popular idol group in NEW K.ID. BLACKPINK takes 6th win in the chart and will certainly not be the last. BLACKPINK also recently topped the September Girl Group Brand Reputation Rankings carried out by The Korean Business Research Institute. The rankings were determined through a bigdata analysis on media coverage, participation rate, and community indexes of the female idol groups to determine which female idol group has the best brand image in public. As the ranking suggests, BLACKPINK is insanely popular not only in South Korea but also worldwide. Their recent releases like 'Ice Cream' that was on Billboard's The Hot 100 for two consecutive weeks and 'How You Like That' that won 'Song of The Summer' on MTV Video Music Awards, helped BLACKPINK secure the #1 spot in both NEW K.ID's Idol Ranking and Brand Reputation Chart.
[WEEKLY HOT NEWS]
Followed by BLACKPINK, CHERRY BULLET, GOT7, MOMOLAND, TREASURE, EVERGLOW, SUPER JUNIOR, AKMU, LOONA, and DAY6 got into this week's Idol Ranking. Ranked at #4, MOMOLAND's Nayun starred in a web-series, 'The Police', developed by The Korean National Police Agency. She took on the role of 'Ah-jin Suh', a virtuous college student who helps the cyber investigation team. The web drama follows the cyber investigation team as they tackle crimes such as, phone frauds, online scams, and more. Nayun also starred in Naver V originals 'Anniversary Anyway' as a leading actress, taking on the role of 'Cha Sei'. She was praised by her fans and the public on her acting skills and put herself in the spotlight as the next up-and-coming idol-turned-actor in the industry.
Coming in at #6, EVERGLOW is making their comeback on October 21st with a second mini-album, '-77.82X-78.29'. In the teaser trailer of the title track, 'LA DI DA', EVERGLOW showcased a powerful charisma as they appealed to the girl crush image. 'LA DI DA' will have a combination of an up-tempo electric pop and retro genre, satisfying the fans with a new sounds that they have never heard of. EVERGLOW topped the iTunes K-Pop chart and surpassed a hundred million views on YouTube with 'DUN DUN' and 'Adios' within only one year of their debut, solidifying themselves as the new super rookies in K-Pop.
At the 7th place is SUPER JUNIOR-D&E who is releasing a deluxe edition of the beloved 4th mini-album 'BAD BLOOD' on September 28th. 'BAD BLOOD' that was released on September 3rd gained huge success as it broke into the iTunes top chart in 25 different countries. A new concept image of the special mini-album teased that the new tracks will mirror the dark imagery as shown in the image. The special edition will include two additional tracks, a cover poster, a photo book, and photo cards.
Ranked at #9, LOONA is also making a comeback with their third mini-album 'Midnight' (12:00) which will be released on October 19th. This is their new album in 8 months since their successful second mini-album, '#'. '#' not only was the #1 iTunes Album in 56 different countries worldwide but also broke into Top 4 in Billboard World Albums Chart. The official LOONA YouTube channel released a teaser trailer of 'Midnight', showing a KST clock hitting midnight in various time zones around the world. The powerful and dynamic soundtrack in the teaser made fans excited for LOONA's new and upcoming mini-album.
NEW K.ID, the only TV channel that allows viewers to enjoy K-POP Idol-related content programming 24/7 and exclusive episodes curated from 10K+ videos, is available at CH 511 for free on LG Smart TVs and XUMO apps on all Internet-connected devices.