Are you one of the many who have become insanely addicted to Brussels sprout nowadays? There are abundant reasons why you should try eating them. First of all, they are rich in fiber, folate, Vitamin A, K, and C. Not only that, they are absolutely easy to prepare. You can prepare them as a main dish or a side-dish, your choice.
There is only one way to cook Brussels sprouts, and that is to roast it in the oven to bring out their nutty flavor and add texture to it. The slightly burnt edges of the Brussels sprouts adds crunch to every bite which makes it even more enjoyable to eat.
Easy Brussels Sprouts Recipes
If you cannot wait to try eating Brussels sprouts at home, well here are 2 easy variations of cooking Brussels sprouts in the oven.
Plain and Simple.
Prepare your Brussels sprouts by trimming, cutting them in half and washing them thoroughly.
Allow the excess liquid to drain by putting it on a strainer.
Once the excess water has been drained, mix it with olive oil, and salt and pepper to taste.
Place it on a baking sheet.
Put it in a pre-heated oven to 425 degrees for 30 minutes.
Check every 7 minutes to see if you have achieved the desirable caramelized color before mixing them to change positions.
2. Cheezy and Yummy.
Prepare your Brussels sprouts, cut them in half, wash, and drain.
In a bowl, mix parmesan cheese, garlic powder, olive oil, salt and pepper. You can also use fresh minced garlic instead of garlic powder for a more fresh garlic smell.
Place it in a baking sheet and make sure that there are spaces in between each halved Brussels sprout.
Pop it into a pre-heated oven at 420 degrees for 16 to 18 minutes.
These recipes are so easy to prepare and the ingredients like olive oil, salt, and pepper, are also easy to find. You probably already have them in your kitchen. There is really no way you cannot make this dish for you and your family.
The first variation of the cooking Brussels sprouts is possibly the simplest recipe you will ever do. Preparation will only take 5 minutes maximum and the result will definitely get you hooked on eating the dish over and over again.
As for the second variation, it is ideal if you would like a picky child to try eating vegetables like Brussels sprouts. Adding cheese will attract more children into trying one. Of course, adults would absolutely go crazy for this dish, too. After all, who doesn't like cheese, right?
Tips To Make Your Brussels Sprouts Perfect
If you are worried about making a mistake while making these seemingly very simple recipes, here are more tips to help you ace these Brussels sprouts dish.
Do not use parchment paper when you are roasting the Brussels sprouts. The reason behind this is that the vegetable won't be able to caramelize and get those crispy edges when there is a parchment paper in between the baking sheet and the vegetable.
Do not crowd the baking sheet. Crowding the baking sheet, or putting too much Brussels sprouts in a single baking sheet will result to mushy sprouts. If you are wondering why you got a mushy Brussels sprouts despite the following the instructions carefully, then here is the reason you are looking for. Apparently, roasted vegetables release a little bit of steam when they are roasted so they need a little bit of space. If there are no spaces in between the vegetables or there are multiple layers of vegetables on top of each other, then the moist get stuck thus, resulting to mushy vegetables. To prevent crowding your baking sheet, make sure that the sprouts are only one layer thick and all the cut sides are touching the base of the baking sheet.
Be patient. You may get over excited and constantly mix your Brussels sprouts but that is not going to help you. Be patient and wait for the cut sides of the Brussels sprouts to caramelize first before flipping or mixing it. This will ensure the crunchy texture and it will also release the nutty flavor of the vegetable.

China: Luckin Coffee Shares Fall After $310M Potential Fraud
Luckin Coffee has disclosed on Thursday that they made an internal investigation, and its chief operating officer fabricated their sales in 2019 by 2.2 billion yuan ($310 million).
The shares plummeted by 80% after they released the filing.
The Chief Operating Officer, Jian Liu, and other employees who were reporting to him were engaging themselves in misconduct and are now suspended. 
The company will be taking legal action for people who took part in it and are responsible for those conducts. Jian could not be found anymore for an interview.
Luckin is a two and a half-year-old company and has goals to overtake Starbucks in China, the top coffee chain currently in the country.
The investors are not relying on their previous financial statements and earnings, which were released for nine months. They announced earlier that heir net sales for the first nine months of 2019 were 2.9 billion yuan ($413 million).
In their statement, "As a result, investors should no longer rely upon the company's previous financial statements and earnings releases for the nine months ended September 30, 2019, and the two quarters starting April 1, 2019, and ended September 30, 2019, including the prior guidance on net revenues from products for the fourth quarter of 2019, and other communications relating to these consolidated financial statements.
The company said that its investigation is still at its initial stage, and its independent auditor does not verify estimates of the fabrication of sales. Kirkland & Ellis will do their counseling and FTI Consulting for forensic accounting expertise.
Back in January, the Muddy Waters Research said that they found something fraudulent with their business.
On its official Twitter page, it said, MW is short $LK. We received an unattributed 89-page report alleging $LK is a fraud: "number of items per store per day was inflated by at least 69% in 2019 3Q and 88% in 2019 4Q, supported by 11,260 hours of store traffic video" We view the work as credible. 
However, Luckin replied and said that the seller's report was false and misleading. The founder of Muddy Waters said Luckin shows precisely why we need short sellers in the market. We believed this report was credible when we read it, and that's why we took a position.
This is again a wake-up call for U.S. policymakers, regulators, and investors about the extreme fraud risk China-based companies pose to our markets."
In May, Luckin started its trade on the Nasdaq, and since then, making it to the public market, it gave the company a market value of $1.3 billion. Furthermore, the company has tried a customer-based format and offering excellent discounts to the market.
For January of this year, it already has more than 4,500 branches in China, a few hundred more than Starbucks in the country. Starbucks, on the other hand, responded to its competitiveness and opened more cafes in China for quick picks and delivery and less on seating capacities in their cafes.
Read More: Shenzhen: First City in China to Ban the Sale of Dog, Cat Meat
Horrible Coronavirus Prank: Woman Coughs at Fresh Produce in Pennsylvania Supermarket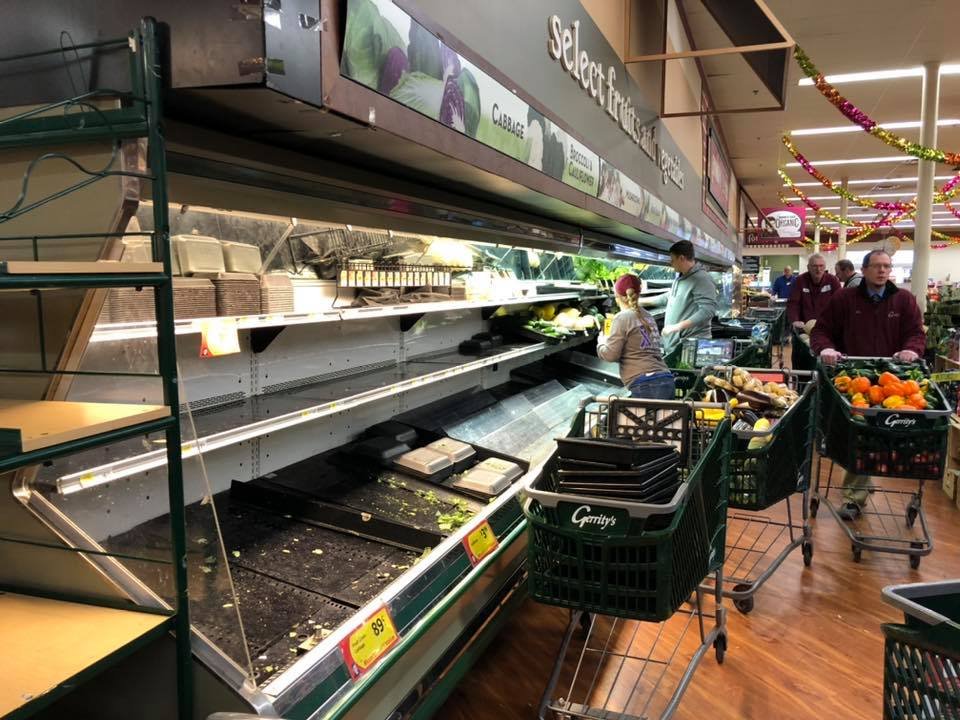 Despite the different challenges, the novel coronavirus has gotten to people; some still lack empathy and are unthoughtful over the welfares of others.
A woman doing her shopping yesterday at the Gerrity's Supermarket at the Hanover Township, Pennsylvania, coughed all over the store's fresh produce, at that time many believe they have a coronavirus and has resulted in a lot of food waste and rotten.
The owner believes that this is a twisted prank of her.
The store has to throw everything she came in contact with, including the bakery and meat case for safety and health reasons.
This nuisance and wastage cost about $35,000 and not to mention the workforce disinfecting the area together with a health inspector.
The good part was that they were able to take out the prankster from the store and contacted the authorities.
The owner said they would fill numerous charges to her. It is unclear yet if the woman is infected with the novel coronavirus.
Here is the whole post from Gerrity's Supermarket on their Facebook page:
The post has 4700 comments, 11,000 shares, and 10,000 emoji reactions.
One Facebook user said, "Please sue her personally. Make an example of people like her so that maybe they'll be a little more afraid to be the sorry excuses of human beings that they are. Thank you for taking precautions."
Another one said, " Causing or risking a catastrophe, reckless endangerment, criminal mischief and disorderly conduct -just to name a few charges she should be charged with! And TOTAL RESTITUTION!"
Read More: More than 3 Million People Filed for Unemployment in the US