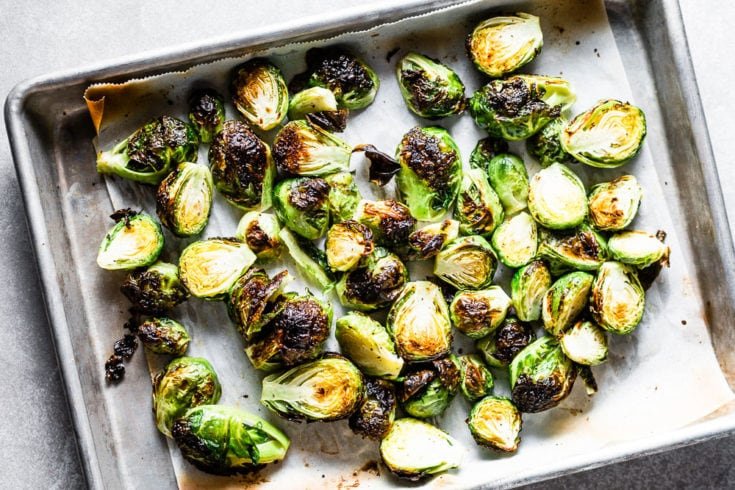 Are you one of the many who have become insanely addicted to Brussels sprout nowadays? There are abundant reasons why you should try eating them. First of all, they are rich in fiber, folate, Vitamin A, K, and C. Not only that, they are absolutely easy to prepare. You can prepare them as a main dish or a side-dish, your choice.
There is only one way to cook Brussels sprouts, and that is to roast it in the oven to bring out their nutty flavor and add texture to it. The slightly burnt edges of the Brussels sprouts adds crunch to every bite which makes it even more enjoyable to eat.
Easy Brussels Sprouts Recipes
If you cannot wait to try eating Brussels sprouts at home, well here are 2 easy variations of cooking Brussels sprouts in the oven.
Plain and Simple.
Prepare your Brussels sprouts by trimming, cutting them in half and washing them thoroughly.
Allow the excess liquid to drain by putting it on a strainer.
Once the excess water has been drained, mix it with olive oil, and salt and pepper to taste.
Place it on a baking sheet.
Put it in a pre-heated oven to 425 degrees for 30 minutes.
Check every 7 minutes to see if you have achieved the desirable caramelized color before mixing them to change positions.
2. Cheezy and Yummy.
Prepare your Brussels sprouts, cut them in half, wash, and drain.
In a bowl, mix parmesan cheese, garlic powder, olive oil, salt and pepper. You can also use fresh minced garlic instead of garlic powder for a more fresh garlic smell.
Place it in a baking sheet and make sure that there are spaces in between each halved Brussels sprout.
Pop it into a pre-heated oven at 420 degrees for 16 to 18 minutes.
These recipes are so easy to prepare and the ingredients like olive oil, salt, and pepper, are also easy to find. You probably already have them in your kitchen. There is really no way you cannot make this dish for you and your family.
The first variation of the cooking Brussels sprouts is possibly the simplest recipe you will ever do. Preparation will only take 5 minutes maximum and the result will definitely get you hooked on eating the dish over and over again.
As for the second variation, it is ideal if you would like a picky child to try eating vegetables like Brussels sprouts. Adding cheese will attract more children into trying one. Of course, adults would absolutely go crazy for this dish, too. After all, who doesn't like cheese, right?
Tips To Make Your Brussels Sprouts Perfect
If you are worried about making a mistake while making these seemingly very simple recipes, here are more tips to help you ace these Brussels sprouts dish.
Do not use parchment paper when you are roasting the Brussels sprouts. The reason behind this is that the vegetable won't be able to caramelize and get those crispy edges when there is a parchment paper in between the baking sheet and the vegetable.
Do not crowd the baking sheet. Crowding the baking sheet, or putting too much Brussels sprouts in a single baking sheet will result to mushy sprouts. If you are wondering why you got a mushy Brussels sprouts despite the following the instructions carefully, then here is the reason you are looking for. Apparently, roasted vegetables release a little bit of steam when they are roasted so they need a little bit of space. If there are no spaces in between the vegetables or there are multiple layers of vegetables on top of each other, then the moist get stuck thus, resulting to mushy vegetables. To prevent crowding your baking sheet, make sure that the sprouts are only one layer thick and all the cut sides are touching the base of the baking sheet.
Be patient. You may get over excited and constantly mix your Brussels sprouts but that is not going to help you. Be patient and wait for the cut sides of the Brussels sprouts to caramelize first before flipping or mixing it. This will ensure the crunchy texture and it will also release the nutty flavor of the vegetable.