Your vote determines the fate of V!
The virtual survival program "VRODUCE 101 Season 4," which seeks 11 "V to debut" for 101 Vs at their favorite moments, ended the first round of voting amid keen interest from fans and 66 Vs were chosen. 
Every year, BTS fans vote to debut their favorite moment, V, an 11-member idol group. Among the 33 members who entered the finals through the third round of voting for a month, 11 members of V with various appearances will be composed of members who will make their debut as idol groups.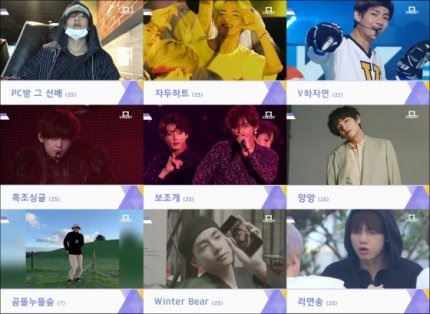 Fans around the world are enthusiastically participating in the event to select 'Virodus 101' this year. Fans are also actively promoting their favorite V to debut. The 11 debuting V is not the only one chosen for "The Great Moment." Fans know that idol groups need members in various positions.
V of "ON," who captivated fans with his performance, and V of his dimples were expected to win the championship. Performance V is No. 1 civil servant V, legendary Roppamcon V. Black Swan V is drawing attention, and as a visual member, he's the senior V. a heavenly ending man Introduction fairy V. They are handsome in the 21st century, high-teen Nam Joo V, innocent V, and goblins. As a member in charge of entertainment, Aya Jjang. Unoiled egg potato V. Bear Noodle Forest V and others are competing. 
The most intense field is V, who takes control of the stage with his performance as a performance master with outstanding visuals. V, a visual member, is a strong candidate, so it is hard to tell who is better. In season 3, "Singularity V," who performed on the stage that cheers every five seconds, topped the list, beating the visual "The Fact Taehyung," which was sure to win the championship.
The biggest upset this year is definitely the Unooh egg potato V. The member, who is playing with a dirty look, rose to the top ninth place thanks to the active promotion of fans. Fans say they can't believe it. SNS is hot as "Unoohy Egg Potato V," beating out members with perfect looks and performance masters, promoted.
This event is meaningful in that fans who love V's every moment are reminded of V's activities and express their love for V to their heart's content.