Attention to the idol rankings, TOP3 entries, and EVERGLOW

Attention to the program rankings and unrivaled TOP 3, REAL HIGH SCHOOL ROMANCE, and LET'S ROLL' N.FLYING SEUNGHYUB'S WINTER CAMP'

In the second week of May, NEW K.ID U.S. ratings are notable for its new entries into idol and program rankings.
If you look at the top 10 idol groups, they are all newly ranked first through third. [G]I-DLE proudly entered the chart as number 1, the new TOP 3 idol entries such as B1A4 played an excellent role, and the total number of musicians from BRAND NEW MUSIC were notable.
Despite the large number of changes on the chart together with the emergence of various K-Pop artists, EVERGLOW not only maintained TOP 10 ratings for two consecutive weeks, but it is also special that it is on the verge of entering TOP 3 by rising two notches. In addition, there have been heated reactions to both the successive stages of N.FLYING, HIGHLIGHT+VICTON+OH MY GIRL+GOT7, HINAPIA, LABOUM, ATEEZ, and LOVELYZ+LOONA+DREAMCATCHER and each member's joint stage.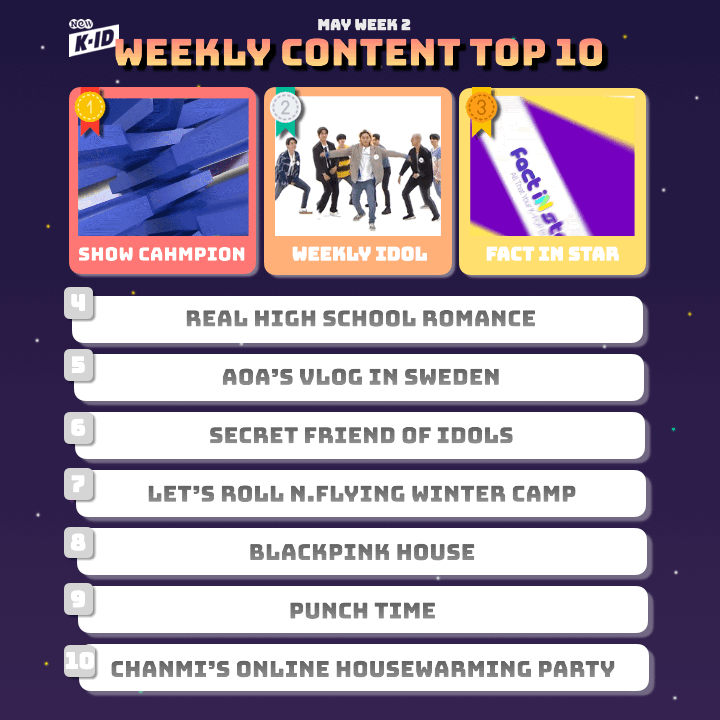 In the case of popular program rankings, new entry programs within the top 4 to 10 are notable.
Following the last week, SHOW CHAMPION, WEEKLY IDOL and FACT IN STAR are ranked first, second, and third in the chart. It is noteworthy that REAL HIGH SCHOOL ROMANCE in the K-Variety genre not only maintained its TOP 10 ranking this week continuing the last week, but also rose one notch to the fourth place, while LET'S ROLL' N.FLYING SEUNGHYUB'S WINTER CAMP' rose two notches from the ninth last week to the seventh. AOA'S BLOG IN SWEDEN content is ranked fifth as soon as it was listed, followed by SECRET FRIEND OF IDOLS, BLACKPINK HOUSE, PUNCH TIME, and CHANMI'S ONLINE HOUSEWARMING PARTY.
NEW K.ID weekly ratings are aggregated by adding real-time broadcasting and on-demand service viewing time from the viewers in the U.S. 
NEW K.ID is the only 24/7 streaming TV channel to enjoy K-POP idol-focused programming together with on-demand TV content which are curated from a huge streaming library of 10K+ episodes. Tune in to NEW K.ID CH511 for free via LG Channels on LG Smart TVs or the XUMO on any device connected to the Internet.