(PRESSREELS) Celebrating the seventh anniversary of his solo debut, singer Kang Seung-yoon presented live guitar videos for music fans.
Kang Seung-yoon posted a video on his official SNS at midnight on July 16, along with the words "It Rains #0716."
The released video shows Kang Seung-yoon singing "It Rains" enthusiastically while playing the guitar. His unique emotional vocals and exceptional voice stand out.
"It Rains" is Kang Seung-yoon's solo debut song released at noon on July 16, 2013. It is a rock ballad genre song that expresses the pain of loss through lyrics such as "It rains in my heart/It rains coldly." "It's Raining," which was released in the form of a digital single at the time, topped nine domestic music charts, including Melon, Bugs, Mnet and Soribada, shortly after its release.
Kang Seung-yoon appeared in 2010's "Superstar K" season 2 and made it to the top four with Huh Gak, John Park and Jang Jae-in, who stood out for their guitar playing skills and attractive vocals. Kang Seung-yoon, who spent three years as a trainee after the end of the program, held a solo initiation ceremony in July 2013 by releasing a total of three singles, including his first solo single "It Rains" and "Wild And Young."
He then debuted as the leader of the group WINNER in August 2014 after a survival show "WIN: WHO IS NEXT." In addition to "REALLY REALLY," he personally wrote and composed WINNER's representative songs, which topped music charts such as "LOVE ME LOVE ME," "EVERYDAY," "MILLIONS" and "AH YEAH," and was recognized for their musical capabilities.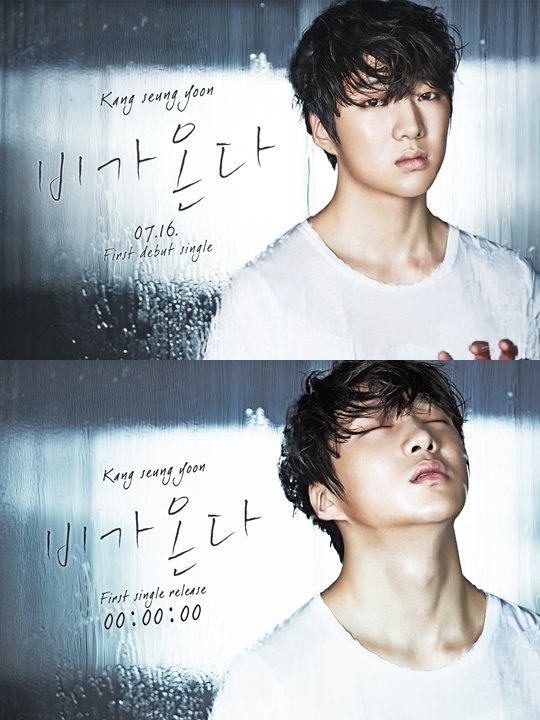 Kang is focusing on filming "KAIROS," a new Monday-Tuesday drama scheduled to air in October. This is his first return to acting in three years after appearing on tvN's "Prison Playbook" in 2017.
In the second half of the year, the company also plans to release its long-pending first solo album. Expectations are high on what changes and growth Kang Seung-yoon, who made a strong impression through the final stage of "Superstar K" competition "naturally," will show through his first solo album in 10 years.