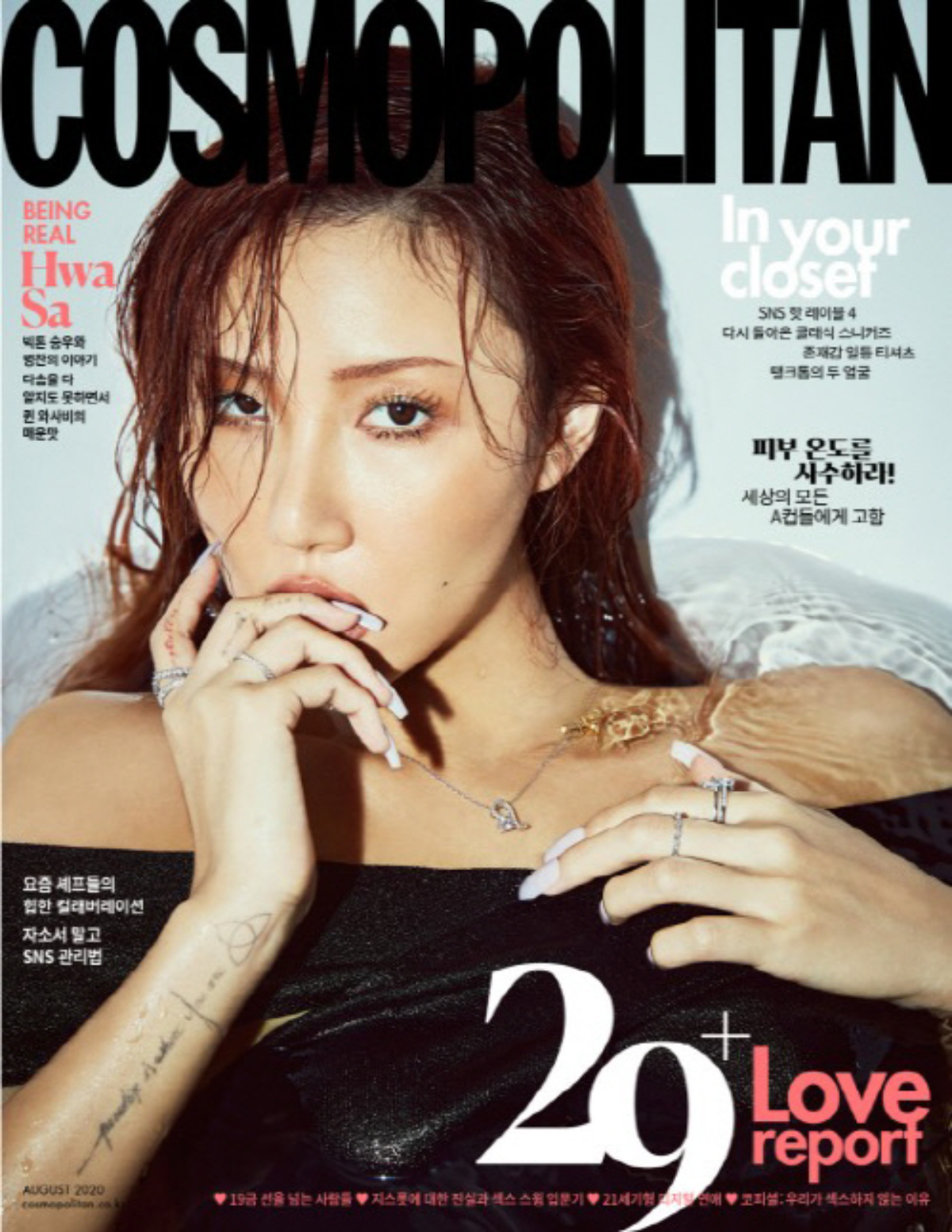 (PRESSREELS) Singer Hwasa (26), who returned with her second solo album "Maria" last month, decorated the cover model for the August issue of "Cosmopolitan."
On the day of the shooting, Hwasa completed a full-blown pictorial by taking photos of the concept of falling into the water without hesitation.
As soon as the teaser video was released, Hwasa said, "I wanted many people to think, reflect, and be comforted by various interpretations," adding, "The theme in 'Maria' contains exactly what I thought and what 26-year-old Hwa Sa thinks."
When the lyrics of the songs in this album seemed to reflect on Hwasa's past six years in the entertainment industry, Hwasa said, "I felt it was very hard to do my job calmly. I'm still sensitive because I don't feel at ease, but I think I'm getting better.
Hwa Sa is working with Han Hye-jin and Park Na-rae through the digital spin-off "Women's Secret Party-Yeoeunpa" of MBC's entertainment program "I Live Alone."
He said, "It's been a long time since I've seen you, and Narae and Hyejin just said, 'You did a great job.' I think they recognize me even if I don't speak for a long time, which is more supportive than other words of comfort," he said, expressing his special affection.
While working as a solo artist, we meet with MAMAMOO members and share our concerns about the future and the present. "There's a hideout where only we gather. I talk and listen to a lot there. I think that's why the four of us got closer.
Also, she expressed her desire to continue to do music until she had no regrets. "Whenever I wake up in the morning, I think, 'I can be fucked right now.' It's my determination and determination to not lose my initial commitment. My popularity cannot last forever, so I'm going to live hot for a given time."
Recently, Hwasa released a teaser video for her music video for "Lost My Mind," a track in the album.
Detailed interviews with Hwasa are available on the August 2020 issue of Cosmopolitan and on the Cosmopolitan website.