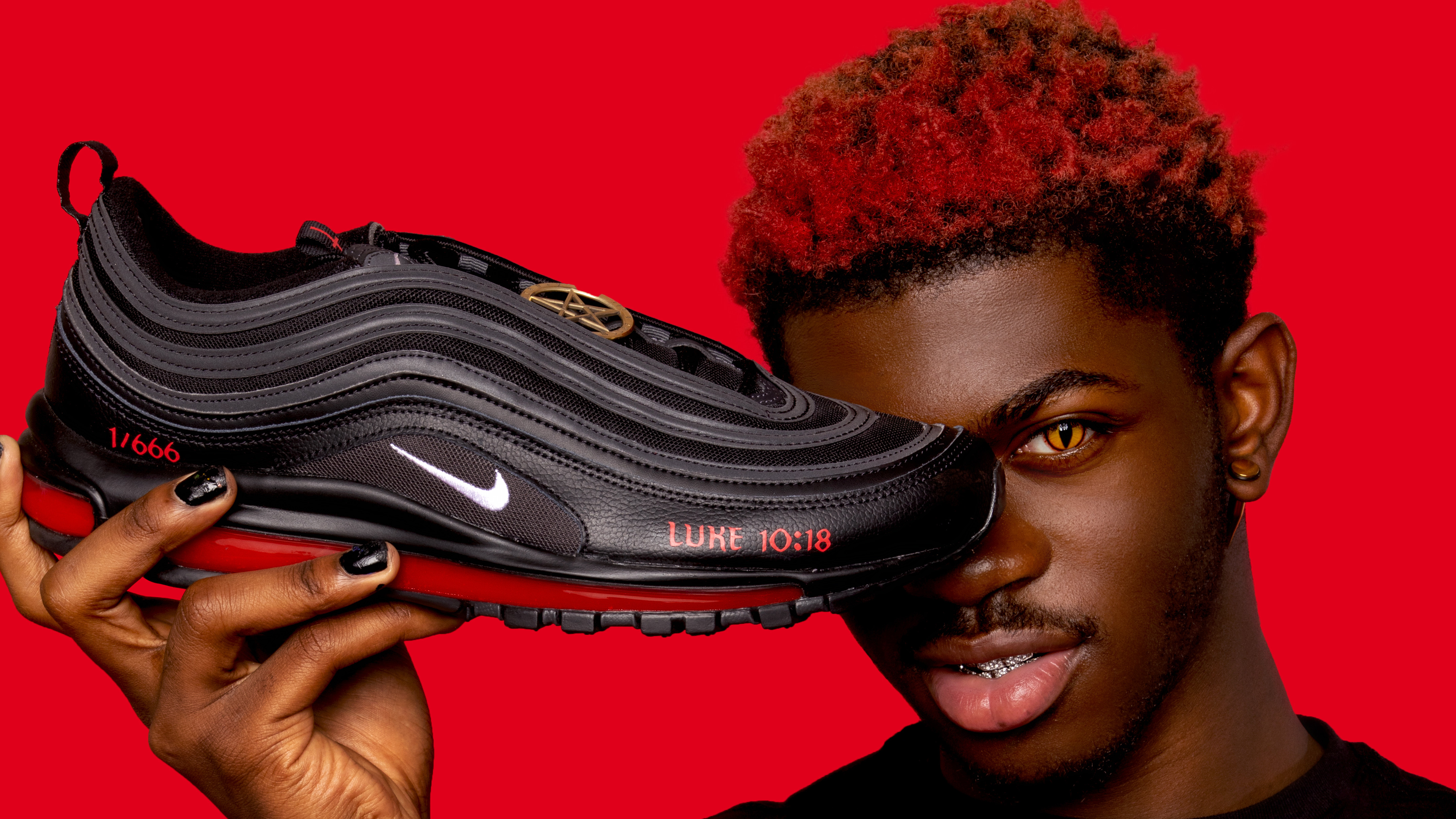 The release of Lil Nas X's music video "Montero (Call Me By Your Name)" gave a lot to talk about with his devil lap dance, but apparently, the artist adores when eyes are on him. Therefore, he launched his own controversial design of the Nike Air Max 97s along the American art collective, MSCHF. The "satanic sneakers" did not make Nike happy at all, therefore, on Monday March 29th, 2021 the big brand Nike filed a federal trademark infringement lawsuit against Lil Nas X for sing the brand's company without any approbation.
The 666 pairs make a biblical reference to Luke 10:18, which is a verse about Satan's fall from heaven: "He replied, "I saw Satan fall like lightning from heaven" (Luke 10:18)". Also, it includes a pentagram pendant that represents the five wounds of Jesus, and the number 1/666 besides the shoes. Plus, at the back you can read the names of both artists, Lil Nas X and MSCHF. But as if it was not enough, MSCHF confirmed that the soles contain a drop of human blood. All these priced at $1,018 USD.
None of these symbolisms and unauthorized design made Nike happy at all and immediately released a statement making clear that Lil Nas X's project had nothing to do with the brand. "In fact, there is already evidence of significant confusion and dilution occurring in the marketplace, including calls to boycott Nike in response to launch of MSCHF's Satan Shoes based on the mistaken belief that Nike has authorized or approved this product", the lawsuit said.
Later, Lil Nas X replied later with his recognizable humor on a tweet addressing a SpongeBob SquarePants video where Squidward says "I was just kidding. Come on, come on! You guys know I was just kidding, right?".
Later, Lil Nas X uploaded a 47 seconds video on YouTube titled "Lil Nas X Apologizes for Satan Shoe" where the clickbait is the performer holding a sneaker. In order to watch the video it is necessary to be +18, but long story short, the artists begins speaking and before getting to the apology the video cuts to the clip from "Montero (Call Me By Your Name)" of him giving the lap dance to the Devil.

Finally, if you want these limited sneakers, but do not feel like spending money, you can go on Twitter and quote Lil Nas X's las tweet where he saying he is doing a give away. All you need to do is to quote the tweet down below with the hashtag #satanshoes . Thursday is pretty close, but the winner has not been chosen.
Finally, Lil Nas X put an instrumental version of "Montero (Call Me By Your Name)" on Spotify, but with a funny tittle: "MONTERO (Call Me By Your Name) But Lil Nas X is Silent The Entire Time".
This story is just starting. Therefore, let's see how it ends. It will be entertaining because it is obvious Lil Nas X is not feeling apologetic at all and he will make this funny with his unique humor. Go and see if you can win the shoes, if not, just keep enjoying the new most recent music video!