The group NU'EST (JR, Aron, Baekho, Minhyun, Ren) unveiled its group and individual official photo Ver. 2.
The agency Pledis Entertainment released NU'EST's 8th mini-album "The Nocturne (The Nocturne)" personal photo ver. 2 in a sequence on the 26th, and released the group's official photo for the first time today (27th), raising expectations for a comeback.
Min-hyun in the first released private official photo Ver. 2, stared into one place as if he was lost in thought, creating a dreamy mood and at the same time showing off his better-looking appearance with colorful blonde hairstyles, overwhelming the eye. Aaron gave off his deadly charm with a deep look and exuded a deep masculinity with restrained charisma.
Ren perfectly digested a colorful style, appealing his unrivaled personality to the fullest, completing his sophisticated visuals with drowsy eyes, and JR, who attempted a bold pose, gave off an unusual aura, left a strong presence and drew attention by showing off his beautiful profile. Baekho, who stands out for his strong physique, showed his strong yet soft charm and reached the peak of his sexiness.
In particular, the official photo Ver.2 was released during the night designated by NU'EST, adding to its speciality, and the reason why each member chose the time zone was also seen, not only building a new time for NU'EST but also making them wait for every night with them.
In addition, the first group official photo, which was released for the first time, is receiving explosive responses from fans as it can capture NU'EST's more mature side at a glance, and the attractive visuals of each member are harmonized, making it impossible to take your eyes off. In addition, the impenetrable force amplified the curiosity of what NU'EST will tell through its eighth mini-album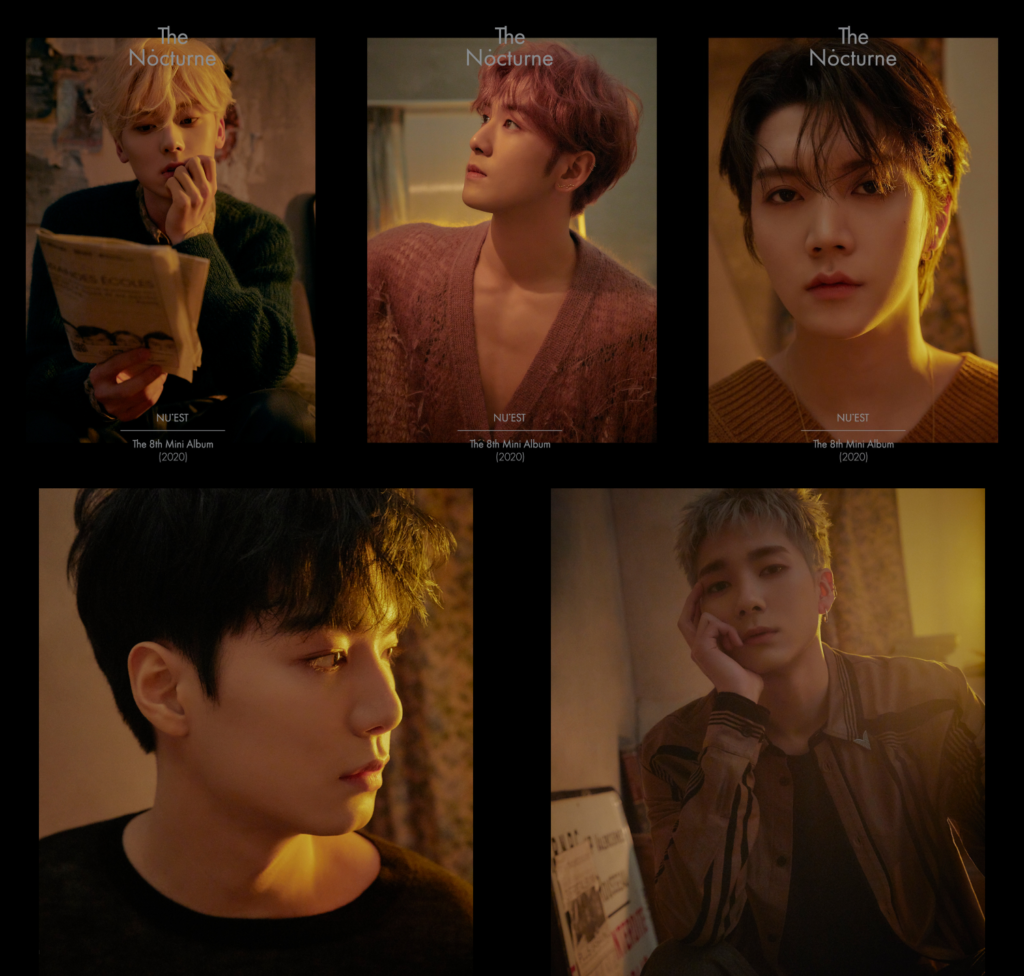 While NU'EST made headlines by releasing various promotions such as comeback trailer videos, concept pages, and official photos, various interpretations of the concept of the new album are pouring in with its suspenseful visual beauty, heavy narrative and picturesque visuals.
Above all, the album creates a contrasting atmosphere with the sweet charm shown in the previous work, raising interest in another upgraded musical transformation of NU'EST.
Meanwhile, NU'EST will release its eighth mini album "The Nocturne" at 6 p.m. on May 11.
RECOMMENDED VIDEO
READ MORE?
NU'EST-SEVENTEEN encourages "to keep social distance due to COVID19" with its logo…good influence