NEW K.ID, the No.1 TV channel for all K-Pop entertainment and source
(https://cutt.ly/NEWKID), announced its weekly ratings for the 3rd week of July.
Winner has seized the throne for this week's Idol Chart two weeks in a row, proving their undying popularity.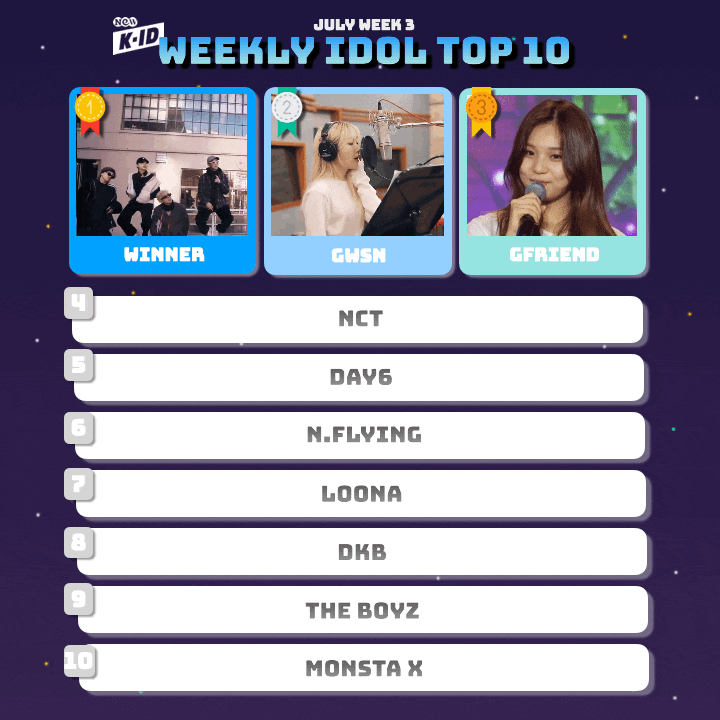 Recently, the leader of Winner, Kang Seung Yoon has marked his presence in the K-pop industry by making appearances in popular television shows.
On the 4th of July, he appeared in a music variety show 'Musicians Tales', in which he displayed chemistry with his fellow group member Song Minho. On the same weekend, he came out on 'Masked Singer', where earlier this year, he proved his incredible vocal skills by remaining in the throne for 12 weeks, the longest record for idol vocalists.
However, this time, he was one of the panels, so the viewers were able to see a different side of him—his sense of humor and observational skills.
Among K-Pop boy groups who take up seven out of ten rankings, GWSN and GFRIEND, having recently made a comeback, was ranked second and third respectively, proving their strong foothold among North America K-pop fans.
IDOL ratings from fourth to tenth are NCT, DAY6, N.Flying, LOONA, DKB, THE BOYZ, and MONSTA X, respectively. Coming in at number 9, THE BOYS recently rejoiced over their victory in a boy idol group survival show 'Road to Kingdom', while MONSTA X ranked at 10th has an upcoming online concert 'MONSTA X LIVE FROM SEOUL WITH LUV' on August 9th.

K-Rush, a newcomer to the Content chart, stands out among the rankings. K-Rush is a content that offers the opportunity for idols and global fans to interact with each other by inviting the fans to the studio or arranging a video call between idol groups and their fans.
The Weekly Content ratings for the third week of July is SHOW CHAMPION, W-LOG, Real High Romance S2, GWSN: Behind the scenes of 'BAZOOKA!' Recording Sessions, 0to1 CAM, K-Rush, WE K-POP – GFRIEND, WEEKLY IDOL – NCT2018, 2IDIOTS, Fact iN Star, respectively.
NEW K.ID, the only TV channel that allows viewers to enjoy K-POP Idol-related content programming 24/7 and exclusive episodes curated from 10K+ videos, is available at CH 511 for free on LG Smart TVs (US, Canada) and XUMO apps on all Internet-connected devices.