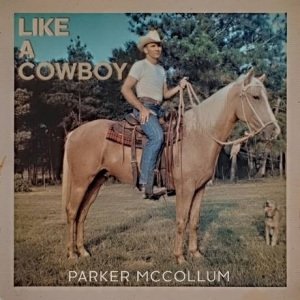 MCA Nashville's exciting newcomer Parker McCollum has released a new track titled "Like A Cowboy" today, listen HERE. Written by Chris Stapleton and Al Anderson, "Like A Cowboy" marks the first outside cut for the Austin, Texas native.
"When I first heard 'Like A Cowboy' I probably listened to it 15 times in a row," shares Parker. "It made me think of my Grandpa who would have loved this song. He was one of my best friends and he believed in me so much that I know he'd be happy to see everything that's happened in my career."
Parker credits his Grandfather, Bobby Yancey, as a major inspiration and recently shared with Billboard (click HERE) how their special bond shaped his work ethic, persistence and determination while pursuing his dreams. After hearing "Like A Cowboy," Parker felt a deep connection to the song as if it was a snapshot of his personality and upbringing.
Parker just announced that his first official single to country radio will be the nostalgic "Pretty Heart," which has already garnered 25 million streams and cracked Top 40 on the Billboard Country Airplay chart before it goes for adds on April 27. Parker recently released the music video for "Pretty Heart" which can be viewed HERE.
2020 is poised to be a breakout year for Parker who has been named an Artist to Watch by CMT, Rolling Stone, SiriusXM, MusicRow and Sounds Like Nashville. Fans and media alike continue to praise Parker with famed critic Bob Lefsetz noting, "this guy is for real. He's writing his own songs and he built his own fan base" while Rolling Stone highlights, "he's a no-holds-barred confessional singer-songwriter for fans of John Mayer and Jason Isbell."
In just a few short years, Parker has toured extensively throughout the US most recently with his first sold-out stop at Nashville's Exit/In including special guest Kylie Morgan. Additional recent sold-out shows include Billy Bob's in Fort Worth, TX, Grizzly Rose in Denver, CO, George's Majestic in Fayetteville, AR, Cain's Ballroom in Tulsa, OK, Stubb's in Austin, TX, The Jones Assembly in Oklahoma City, OK and White Oak Music Hall in Houston, TX.
Recommend Video