SCMP posted the interview under the title, "ONF talk about art, new album ONF: MY NAME, their single Beautiful Beautiful, the creative process."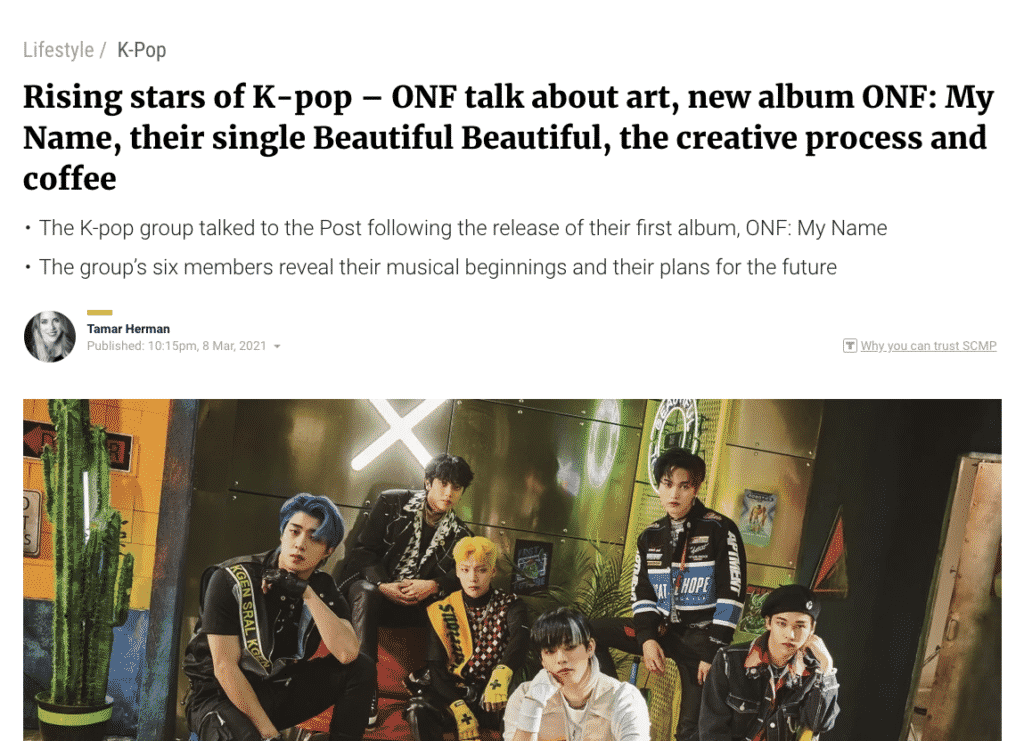 'The Hot Potato' ONF is emerging as a global trend, drawing attention from foreign media.
Last month on the 9th, Hong Kong's leading daily newspaper South China Morning Post (SCMP) posted an interview with K-pop rising star – ONF under the title "Rising stars of K-pop – ONF talk about art, new album ONF: MY NAME, their single Beautiful Beautiful, the creative process" and highlighted ONF's new album.
SCMP said, "ONF has been steadily gaining popularity and are loved by many with their first full-length album, 'ONF: MY NAME' since they debuted in 2017." "The album includes ten tracks, and the title track is, 'Beautiful Beautiful,' a highly addictive funky hyper pop-style song. Which shows ONF's energetic style through the futuristic music video."
In the subsequent interview, SCMP asked why they chose 'Beautiful Beautiful' for their title. J-US answered, "it's a song that shows the energy of ONF. We hope the listeners would gain positive energy from our song because the melody and the lyrics are catchy and easy to listen to. We want to deliver hopeful messages."
ONF rose to prominence on various overseas charts upon the release of their new album. Their new song 'Beautiful Beautiful' topped the iTunes Top K-Pop Songs chart on the 27th of last month. Their album 'ONF: MY NAME' was also ranked in the top 10 in seven countries and regions, including No.1 in two countries on the iTunes All Albums chart and No.10 in twelve countries and regions. They recently made the cover of the British magazine 'FAULT' in March, proving their keen interest abroad.
Meanwhile, ONF broke its own record by topping the music charts in Korea, topping the music broadcasts for the first time, following the highest record sales since their debut. ONF is becoming the next-generation popular boy group with a solid fandom and popularity. They will continue with their performances.