Fashion magazine "COSMOPOLITAN" Indonesia focused on the charming hair transformation of group BTS Jimin.

Among the hairstyles that make Jimin, dubbed the "fashion icon," stand out more, the title of "Sexy and Cool BTS Jimin's Hair Color No. 14" was discussed, paying particular attention to the color change.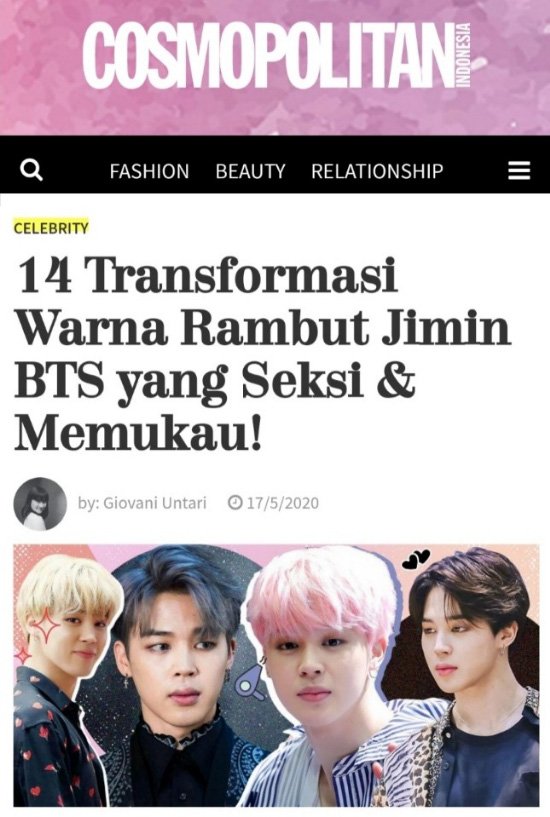 "Jimin, who is in charge of the main dancer and lead vocalist of BTS, is showing the most diverse hair colors among the seven members," Cosmopolitan said. "Jimin's hair colors are diverse, including red, blue, blonde, pink and silver, and Jimin's hair colors make Jimin look attractive," and selected a total of 14 hair colors along with photos.

The selected hair colors include "Baby Pink" color and "Map of Soul: 7" color, which Jimin showed during his "Baby Pink" and "RUN" activities in 2017 and "Spring Day" activities in 2020, and "Map of Soul: 7" during his second mini-album "Skool Luv Affair" activities in 2013.

In addition, "Hia Magazine" a prominent Arab women's magazine, said that Jimin, who succeeded in singing and dancing, has become a fashion icon not only in Asia but also around the world, and that Jimin's hair and all fashion issues are shared on social media.