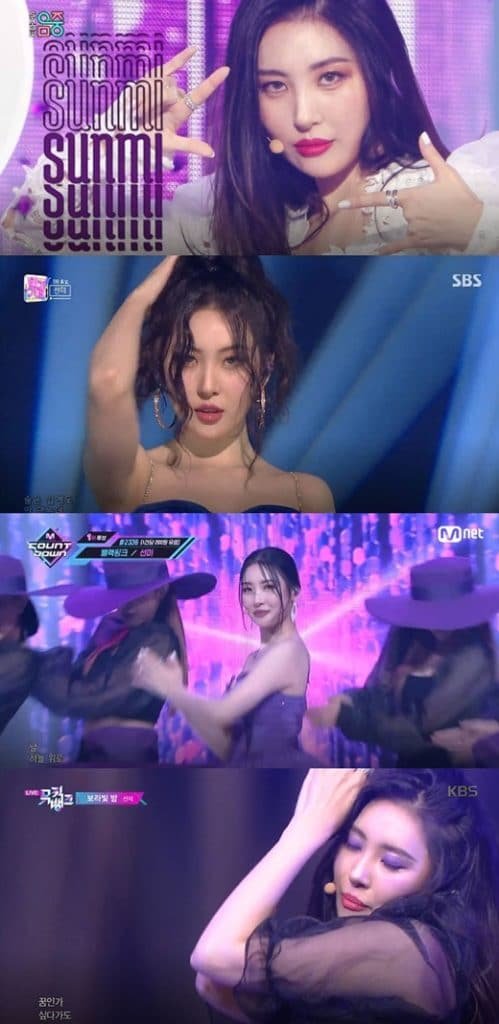 (PRESSREELS) Sunmi, who made a comeback with "Pporappipam" on June 29, wrapped up her music broadcast activities with SBS' "Inkigayo," which aired on 11th.
For about two weeks, Sunmi exuded all-time charm with all-time visuals. Sunmi not only wore a dress made only for Sunmi by designer Kevin Germanier, but also attracted attention with her colorful styling. In particular, Sunmi showed off her upgraded visuals by perfectly performing her purple eye makeup like the title of her new song.

The title track "Pporappipam" is a sound that comes from reading the Korean title, "보라빛 밤." '보라빛 밤' means purple night.

Sunmi also showed a performance queen-like side with a stage reminiscent of a musical. Sunmi, who performed a more complete stage with perfect collaboration with dancers, also caught the eye with point dances such as "hypnosis dance" where Sunmi turns her finger hypnotically and dances that bite her fingers.

The new song "Pporappipam" was written by Sunmi herself and co-written with FRANTS, drawing attention even before its release. "Pporappipam," which topped various music charts upon its release, showed Sunmi's growth as an artist, receiving favorable reviews from critics and listeners.

Sunmi's dreamy short stories about love, "pporappippam," sensibly depicts all aspects of love and is a city-pop genre song about love that stimulates seductive imagination.