The Oscars is an event that offers movie-like moments, and the red carpet is never an exception. Here, movie stars and big names of the industry serve gorgeous outfits that deliver the fantasy that we all expect in the Academy Awards. Everyone is beautiful and everyone has a unique stye, but some gowns made social media explode due to the way the celebrities wore it.
1. Zendaya
Zendaya is paving her way as a fashion icon in this generation. She is always the one who makes everyone talk about how beautiful and elegant she is. All the stares are on her, and just to appreciate her walk and hypnotizing eyes. It was obvious that the public was expecting for her because she always serve.
In this event she got her inspiration from the one and only Cher in her Valentino gown. She also paired it with a huge collection of Bulgari diamonds. Valentino said on instagram that the chiffon dress was custom designed by its creative director, Pierpaolo Piccioli, and took 300 artisans 300 hours to produce. Plus, the dress has its own name, Force de beauté.
2. Margot Robbie
Margot Robbie has a sweet look that can melt anyone with just a wink, she needs no more to steal someone´s heart. Therefore, her beauty and her glamorous gown made everyone forget how to breath. She was not directly nominated for an Oscar, but she produced the movie nominated for Best Picture, "Promising Young Woman". Thus, Margot Robbie wore a floral sleeveless Chanel dress with her hair in a low ponytail and debuted blunt bangs.
3. Viola Davis
The loved actress, Viola Davis, was praised on social media due to her great attitude and fashionable decisions on the red carpet. The "How To Get Away With Murder" star wore a neon trail in custom dresses by talented Black designers from Duro Wolowu to Lamine Kouyaté, and transportive prints that honor the actor´s African-American heritage.
The designer Stewart explains that the design of the gown has a breathtaking conceal-and-reveal effect of the beaded corset top, against a light chiffon skirt that took hours to execute. The dress gives the illusion of showing skin throgh it, but it is a dyed corset that matches Viola Davis´ skin tone. This was achieved by trying about 20 swatches with the help of her make-up artist, Autumn Moultrie, who gave the atelier the base colors.
4. Amanda Seyfried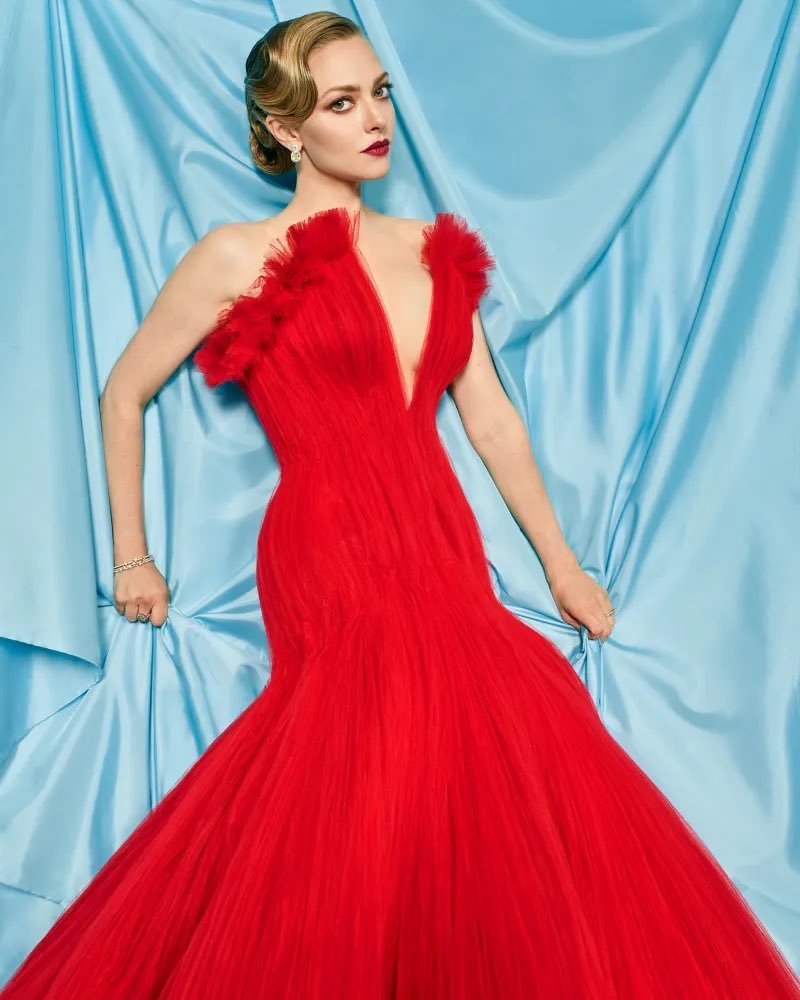 Amanda Seyfried arrived at the Oscars wearing a red tulle Armani Priveé gown. The dress was made of plissé tulle and had multiple ruffles at the neckline. Her make up made this amazing outfit pop on the red carpet. She had popping red lips with her hair up. Also, Ferevermark jewelry completed the look.
5. Carey Mulligan
The Best Actress nominee, Carey Mulligan, wore a gold Valentino Couture crop top and skirt with her hair up. She had accessories by Cartier jewelry and Sofia Webster heels. She has such a cute look that makes everyone smile. During the whole event she behave elegant and enjoyed her husband´s company, Marcus Mumford. All this gave modern princess vibes. Definitely, her character in "Promising Young Woman" is not like her real life-self.