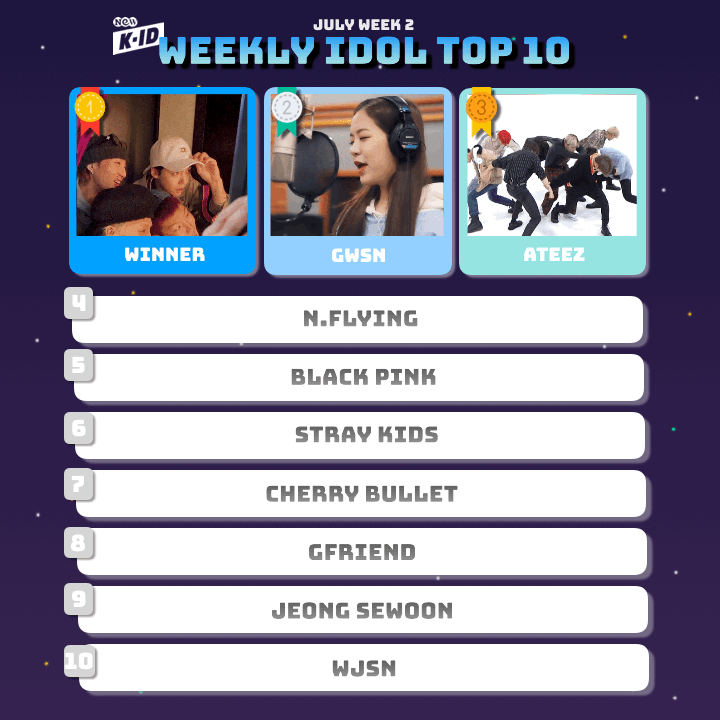 WINNER ranks NO. 1 on NEW K.ID's Weekly Ranking for the Second Week of July
NEW K.ID, the No.1 TV channel for all K-Pop entertainment and source (https://cutt.ly/NEWKID), announced its weekly ratings for the second week of July.
Along with W-LOG, which documented their world tour, ruling the Programs Chart, WINNER seized the throne for this week's Idol Chart, becoming the "WINNER" for all rankings.
ATEEZ proved its popularity by remaining third place two weeks in a row, followed by their comeback announcement on July 29th.
IDOL ratings from second to tenth are GWSN, ATEEZ, N.Flying, BLACKPINK, Stray Kids, Cherry Bullet, GFRIEND, JEONG SEWOON, and WJSN respectively.
"Real High School Romance S2" stands out, sitting in second place for Weekly Content Top 10. The Romance-Reality entertainment show has also claimed first place on the Top 100 Popular Content on Naver TV, South Korea's leading online platform, scoring over 10 million views.
Newly added programs for July have been also introduced to the Top 10 list.
"2IDIOTS," starring Kim Jae-hyun and Cha Hun from N.Flying, presents the two stars putting heads for the most bizarre competitions. The challenges include Artistic Gymnastics, Flying Yoga, eating cold food in the winter, eating hot food in the summer, and more.
Hosted by the Korean-American Joon Park, "Wassup Man: At All the Hot Places" follows the former GOD member visiting the hottest places and hosting Mukbang shows (eating broadcast). Park has also gained a large following in Korea with his humorous and carefree comments.
"We K-pop" is a "K-Pop Idol Global Showcase," presented by KBS World. The show is hosted by Kim Shin-young, Nichkhun from 2PM, Seungmin from Stray Kids, and In Seong from SF9. Billboard columnist Jeff Benjamin will also be making an appearance in each episode.
NEW K.ID, the only TV channel that allows viewers to enjoy K-POP Idol-related content programming 24/7 and exclusive episodes curated from 10K+ videos, is available at CH 511 for free on LG Smart TVs and XUMO apps on all Internet-connected devices.