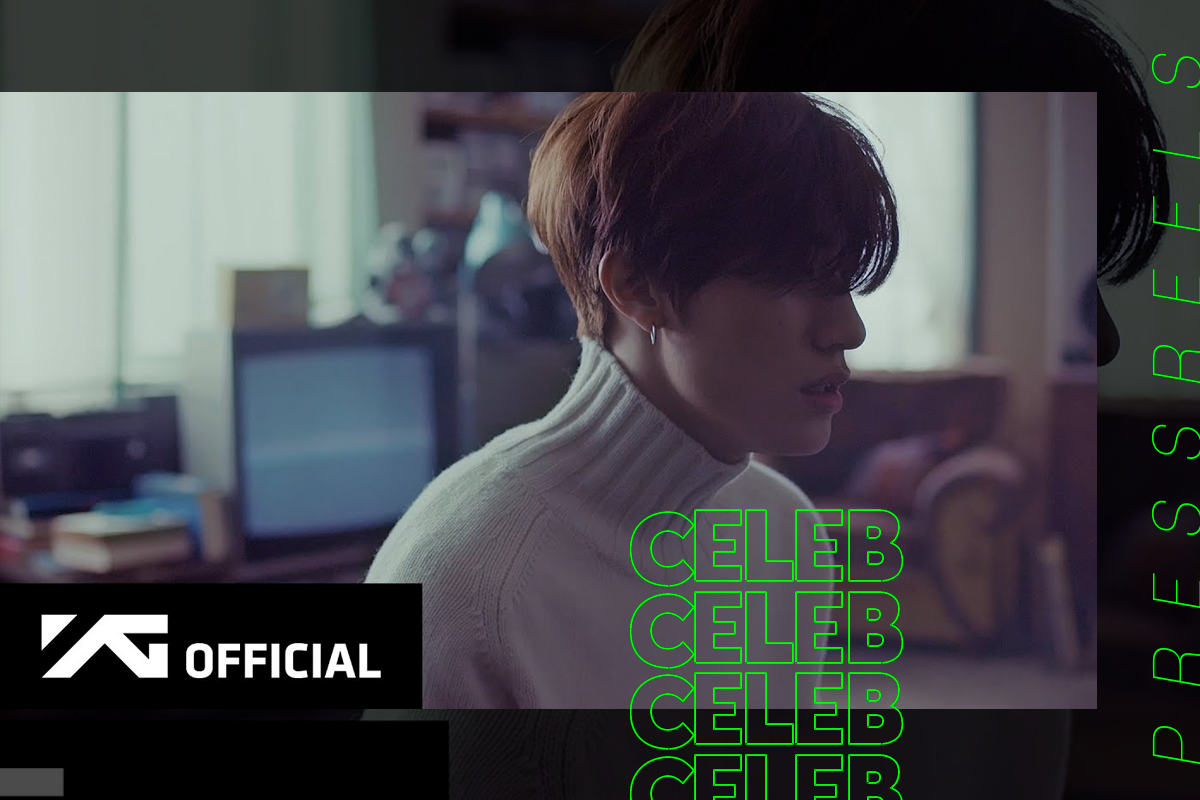 Bang Yedam, No.1 on the charts – 'Why' MV making film Positive Reaction
YG Bang Yedam's first solo song "WAYO" has been well received by fans and topped the charts. G Entertainment posted a video making film of Bang's digital single "WAYO" on its official blog
YG Bang Yedam's first solo song "WAYO" has been well received by fans and topped the charts.
YG Entertainment posted a video making film of Bang's digital single "WAYO" on its official blog (www.yg-life.com) at 9 a.m. on June 6. It was proved to be a hot topic by topping iTunes in eight countries.
Bang Yedam said, "I will do my best to go there," at the music video set for "WAYO." He explained the concept calmly, saying, "The music video touches the emotional line of frustration, frustration, anger, and frustration about love that I haven't achieved."
The video also showed TREASURE members making a surprise visit to the scene. "Bang Yedam, I can only see you," they said in one voice, showing their close friendship. Bang Ye-dam expressed gratitude to the members for their encouragement, saying, "I was able to do well on the rest of the shoot because I received a lot of support."
At the end of the video, he said, "Please watch the music video 'WAYO', listen to the song, and look forward to future activities." Lastly, "Please show a lot of love for Treasure Bang Yedam and the members of Treasure."
"WAYO," released at 6 p.m. on the 5th, topped iTunes charts in a total of eight countries around the world, sending off a spectacular flare before the debut of the entire Treasure.
"WAYO" is a minimal arrangement that allows you to focus on Bang Ye-dam's unique sweet vocals. Bang Ye-dam's vocal expressed mournfully the empty and lonely question of being unable to accept the situation of parting. WINNER's Kang Seung-yoon wrote and composed the song and AKMU's Lee Chan-hyuk participated in the songwriting, drawing attention.
YG talent producer FUTURE BOUNCE will be in charge of writing, composing and arranging the song, while Andrew Choi will join the composer's team to increase the level of perfection.
BLACKPINK Tops The NEW K.ID's Weekly Chart With The Release of 'THE ALBUM'
NEW K.ID, the No.1 TV channel for all K-Pop entertainment and source (https://cutt.ly/NEWKID), announced its weekly chart for the 1st week of October.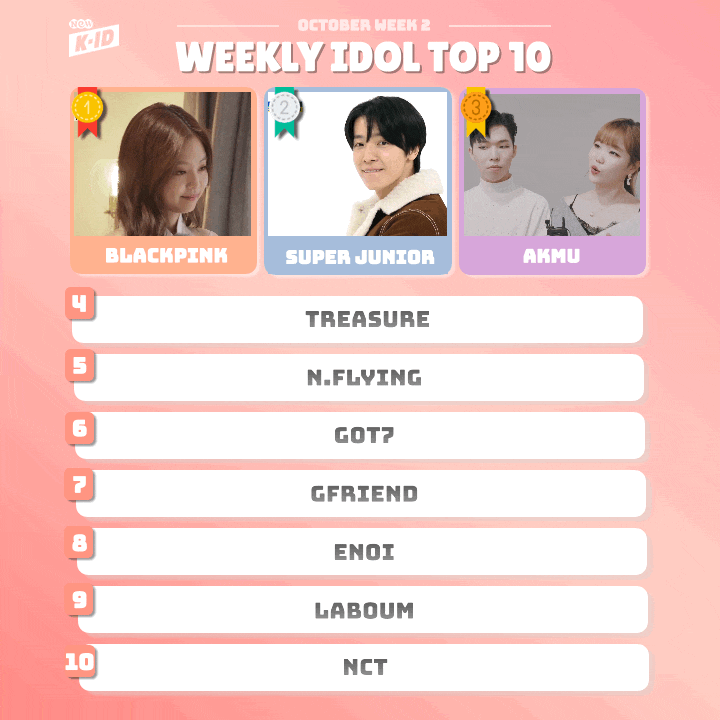 NEW K.ID, the No.1 TV channel for all K-Pop entertainment and source (https://cutt.ly/NEWKID), announced its weekly chart for the 1st week of October.
[Weekly Idol]
BLACKPINK is making history. BLACKPINK's first studio album that was released on October 6th, 'THE ALBUM', once again shattered both everyone's expectations and the sales record. The world's only music sales tracker that has big data on K-pop, Hanteo Chart, revealed that BLACKPINK sold more than 590,000 of their highly anticipated album since its release. This doesn't come as a huge surprise following 'THE ALBUM' surpassing one million in pre-order sales. Since its digital release, 'THE ALBUM' ranked #1 on the iTunes album chart in 57 different countries while landing 7th on the Apple Music album chart, showcasing their global popularity. Half of the songs featured on the album broke into the Spotify Chart Top 10 with 'Lovesick Girls' ranking 3rd, 'Bet You Wanna' ranking 4th, 'Pretty Savage' ranking 8th, and 'ICE Cream' ranking 10th. Furthermore, 'Lovesick Girls' Music Video also surpassed 100 million views on YouTube within only 75 hours since its release, becoming BLACKPINK's 22nd video to get more than 100 million views on YouTube.
[Weekly Hot News]
Ranked at #3, AKMU's Lee Su-hyun is finally making her long-awaited solo debut. AKMU's agency, YG Entertainment, revealed a poster teasing Su-hyun's solo debut on October 5th. The poster shows a space illustration with a UFO driver's license under Su-hyun's name. Last August, YG Entertainment announced that AKMU is preparing a comeback in 3 phases. Su-hyun's solo debut since AKMU's debut 6 years ago will be the first installation of their comeback. YG official remarked that Su-hyun's first solo single will be out of ordinary and will most definitely surprise the listeners with never heard sounds. The agency also commented that Su-hyun will be showcasing a side of her never seen before as a duo in AKMU and that the song will become a mainstream hit.
At the 5th place is TREASURE who released the Music Video of 'B.L.T' out of the blue. 'B.L.T (BLING LIKE THIS)', which is featured on TREASURE's second single album, 'THE FIRST STEP : CHAPTER TWO', is a song that tells the story of a shining galaxy and making memories while stargazing the endless space. Although 'B.L.T' was not a title track, it garnered similar popularity and reception as their title track, 'I LOVE YOU'. Fans fell in love with the upbeat sound and TREASURE's signature bright personality showcased in 'B.L.T'. Naturally, fans have been asking for a music video of 'B.L.T' ever since. The music video, which shows the 12 members candidly having fun among one another, is getting a great response from TREASURE MAKER. TREASURE is solidifying themselves as the super rookie of K-Pop with 'I LOVE YOU' topping iTunes top song chart in 9 different countries.
Ranked at #10, NCT is making a comeback on October 12th with 'NCT – The 2nd Album RESONANCE Pt.1'. The new album will capture NCT 2020's identity and their individual personalities and is expected to be one of the biggest NCT projects thus far. The album will include contributions from all 21 original members plus 2 new additional members. Furthermore, the album will include an afrobeat song, 'Music, Dance' from NCT 127, hip-hop dance music, 'Déjà vu' from NCT DREAM, catchy music with the synthesizer, 'Nectar' from WayV, and more. It is also anticipated to include more different genres of songs such as acoustic and R&B hip-hop. 'NCT – The 2nd Album RESONANCE Pt.1' will be releasing on October 12th at 6 PM KST.
NEW K.ID, the only TV channel that allows viewers to enjoy K-POP Idol-related content programming 24/7 and exclusive episodes curated from 10K+ videos, is available at CH 511 for free on LG Smart TVs and XUMO apps on all Internet-connected devices.
BTS 'DNA' music video has surpassed 1.1 billion views on YouTube
BTS's DNA music video YouTube views released three years ago exceeded 1.1 billion views.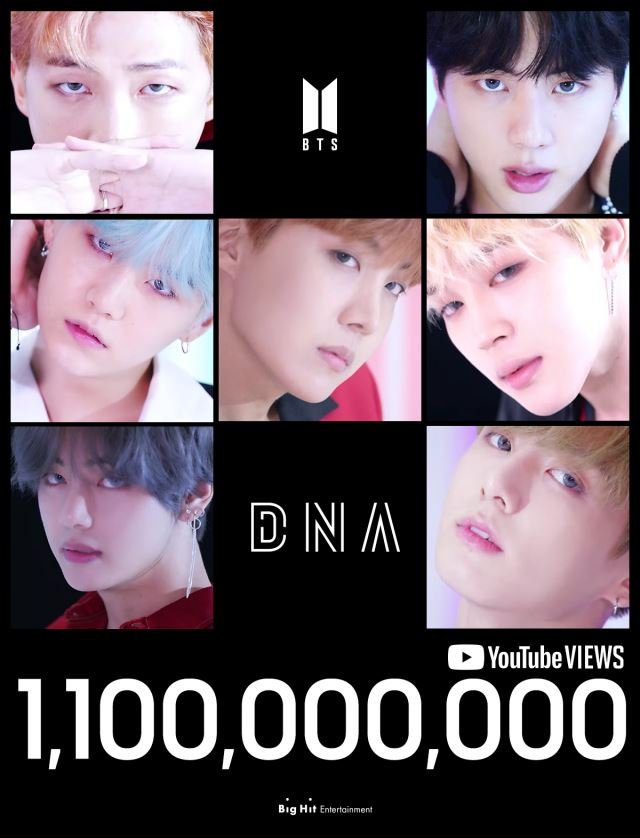 BTS's DNA music video YouTube views released three years ago exceeded 1.1 billion views.
Big Hit Entertainment said that the DNA music video exceeded 1.1 billion views for the first time among BTS music videos at 7:28 am on May 5.,DNA is the title song of BTS' mini album Love Yourself Seung (LOVE YOURSELF HER), released on September 18, 2017.
The music video visually expresses the message through virtual reality and scene transitions that seem to cross space, and the choreography of BTS across individuals, units and groups also fills the screen.,BTS is the first Korean singer to enter the Billboard main single chart Hot 100, and the album recorded simultaneously entered the main album chart Billboard 200.,DNA has been on the Hot 100 for four consecutive weeks, and the album has been on the Billboard 200 for six consecutive weeks.
BTS has 26 billion views and music videos including DNA.,Following DNA, Boy With Luv has exceeded 970 million views, and Fake Love, Idol and MIC Drop remixes have exceeded 700 million views.
Meanwhile, the music video views of BTS member Jay Hop's solo song Chicken Noodle Soup also exceeded 200 million views at around 3:08 a.m. on the same day.,Chicken Noodle Soup, released last September, is a re-created song by quoting a chorus in the same title song by Webstar and Young B.,He worked with American singer and actor Becky G. Jay-Hop in Korean, and Becky Z in Spanish.