Billy Porter awed people during Oscar's Awards last night.
This "Pose" actor and also a Grammy winner maintained his status as one of the best dressed from last year's Oscars.
He wore a creation from Christian Siriano, a tuxedo on another fiery outfit.
This year, for the Oscars 2020, he again went out of his way wearing a Cupola gown that was custom made by a famous designer too, Giles Deacon Couture.
The ensemble was so stunning as it is made out of foil of 24-karat gold feather top and an orange printed skirt.
The stylist of Porter, Sam Ratelle, then partnered it with a Jimmy Choo boots in gold with a customized platform. Another custom-made handbag on him by Judith Leiber Couture with Atelier Swarovski gems on his bracelet and topped it off with embellished glasses by Dita and Mercura NYC.
People were stunned by his whole outfit, and Porter could only say, "The Oscars are Hollywood royalty's biggest night of the year, and this look is all about royalty.
As a black man and a member of the LGBTQ community, I am beyond proud to stand on the red carpet at the Oscars in a gorgeous gown. … Representation matters, and I hope that my look encourages people to wear what they want to wear, be who they want to be, and take chances in life."
According to Deacon, the creator of the gown, it was conceptualized based on the Kensington Palace's Cupola room in the UK, "A place of music, theater, and art-adorned pilasters by the artist William Kent, I wanted the piece to evoke the ethereal sense of beauty," he said in a statement. "The skirt, printed on silk duchess, is a manipulated artwork of the striking elements that adorn the walls."
Ratelle was speechless when he got a random call from the Kensington Palace and was invited to take a private tour of it, "I left completely awestruck and inspired. It dawned on me that the Oscars is a royal event – Hollywood Royalty. I immediately had the idea to collaborate with Giles and use my visit to Kensington Palace as the starting point for the design."
In 2019, Porter shook the red carpet too when he had a sartorial statement for his dress, "My goal was to start a conversation," in his high voltage looking gown that made a gender binary outcome, and it did.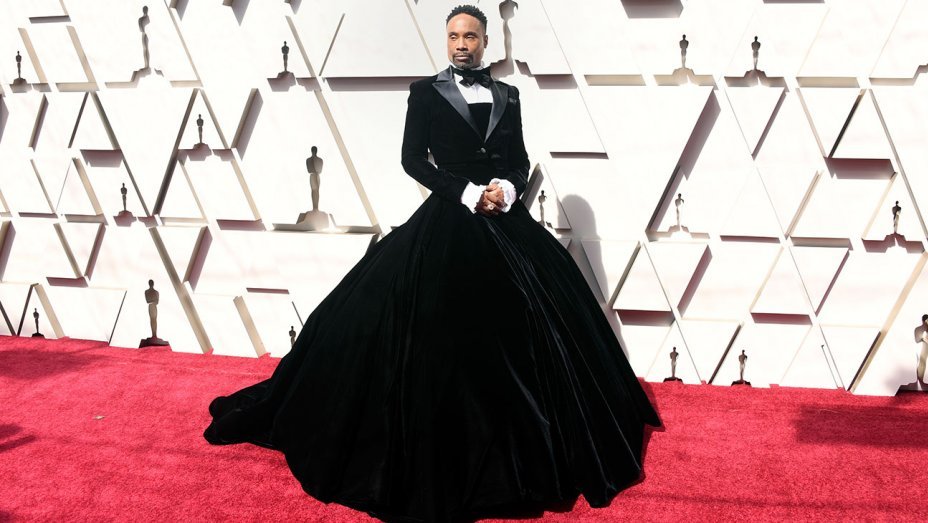 At the Emmys in 2019, he wore a Michael Kors suit bearing 130,000 crystals and diamonds amounting so exuberantly, $55,000 to be exact.
For the Globes in 2020, he wore another tuxedo with 4,000 crystals and this time, a whopping $2 million of diamonds, including a 40-carat Tiffany & Co. This ensemble took 465 hours to do.
Billy Porter has won several awards from THR's fashion list and is the only actor. So far, he had received – Best Red Carpet Looks of the Decade, Best Fashion Looks of 2019, Wildest Fashion Looks of 2019, and Wildest Red Carpet Looks of the Decade.
Read More: All the 2020 Oscars Winners; The 92nd Academy Award