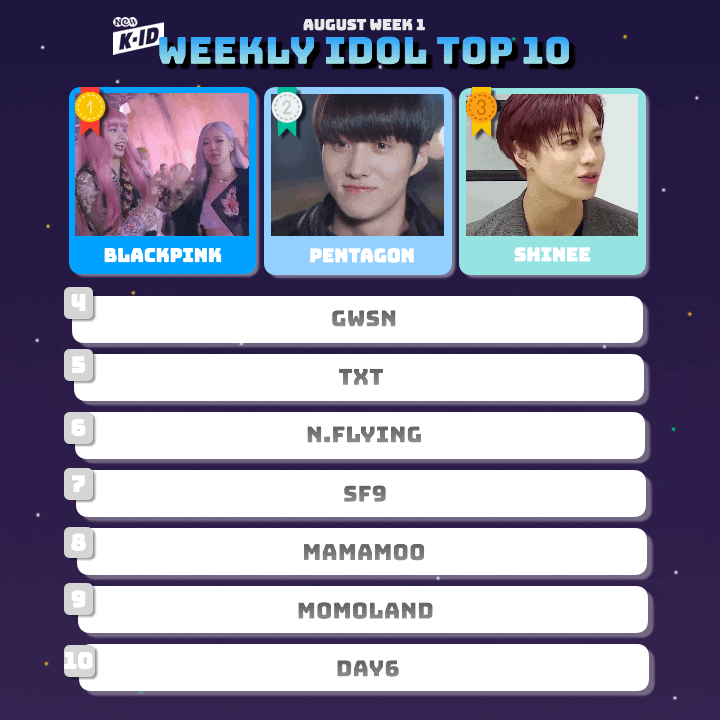 NEW K.ID, the No.1 TV channel for all K-Pop entertainment and source (https://cutt.ly/NEWKID), announced its weekly ratings for the 1st week of August.
Watch Out! BLACKPINK retained 1st place in this week's NEW K.ID IDOL ranking, threatening to tie with Winner's record of three consecutive wins.
Coming off from their massive success of 'How You Like That,' BLACKPINK teased their next single dropping on August 28th with a collaboration of a world-renowned artist.
It has been revealed that the highly anticipated, speculated artist would be a popular actress, producer, and singer, Selena Gomez, so keep an eye out for that!
Along with BLACKPINK, a group that has secured a #2 spot for a second week in a row is PENTAGON.
Congrats! Amidst the pandemic, PENTAGON is organizing a virtual fan meeting, 'PENTAG-ON AIR', in an effort to communicate and interact with their fan base, UNIVERSE. Following the global trend of holding virtual gatherings and meetings for K-Pop fans, PENTAGON is once again showcasing their love and appreciation for their fans.
Coming in at #5 is TXT. Since July 24th, TXT's main vocalist, rapper, and leader, SOOBIN, has been thriving in his new role as a music program host alongside OH MY GIRL's ARIN. Debuted last year, TXT showcased their first album, <The Dream Chapter: Magic>, which steamrolled in various music platforms, seizing 1st place in iTunes' 'Top Album' in 50 different countries and placing 1st place in iTunes' 'Top Song' in 10 different regions.
Ranked at No.6, N.Flying recently showcased a special event for their fans who missed out on their online late-night concert, NOOB CON. On 8/2 11:11 AM, N.Flying live-streamed another performance in front of their global fans who have been desperately waiting to see them.
SF9, ranked at No. 7, became the new brand ambassador of America's leading fragrance body care firm, 'BODY FANTASIES'. BODY FANTASIES' representative remarked, "SF9's multifaceted and energetic image perfectly paralleled our company's vision and brand which led to our decision of partnering with SF9."
Securing their place at No.10, DAY6 is expected to make their return with their first unit album in late August. Releasing a new album since their release of 6th mini-album <The Book of Us: The Demon> in May, Young K, Wonpil, and Dowoon are forming a sub-unit.
IDOL Rankings from 1st to 10th are BLACKPINK, PENTAGON, SHINee, GWSN, TXT, N.Flying, SF9, MAMAMOO, MOMOLAND, and DAY6, respectively.
The Weekly Content ratings for the first week of August are SHOW CHAMPION | 302th, 24/365 with BLACKPINK, The Witch Store, K-Rush | SHINee, GWSN : 0 to 1 cam, WE K-POP | TXT, 2IDIOTS, WEEKLY IDOL | MAMAMOO, SHOW CHAMPION Behind, and Sellev. Interview.
NEW K.ID, the only TV channel that allows viewers to enjoy K-POP Idol-related content programming 24/7 and exclusive episodes curated from 10K+ videos, is available at CH 511 for free on LG Smart TVs and XUMO apps on all Internet-connected devices.