NEW K.ID, the No.1 TV channel for all K-Pop entertainment.  Stream LIVE HERE! Now available on The Roku Channel, Xumo, VIZIO, THETA.tv, LG Channels and Samsung TV Plus. 
Tune into NEW K.ID to see your favorite idols all day, all week for everything K-POP! Here are the top 10 idols on K-pop channel NEW K.ID for the first week of August.
BLACKPINK starts of the week at #1 on NEW K.ID's Idol Chart. This Sunday marks the group's 5th debut anniversary and in celebration, they have released "BLACKPINK THE MOVIE" globally across 100 countries. The film highlights live performances of hit songs and interactions with fans and BLINK fandom throughout their five-year journey. Performances from "IN YOUR AREA" in 2018 and this year's "THE SHOW" and never before released interviews reveal the group's love for performing live for their fans.
At #2 is ENHYPHEN. The group will be launching a daily Vlog "En-log" where each member will share their daily lives and hobbies. Each member's day will be revealed on Wednesday and Sunday for three weeks starting on the 8th. The seven members will give out special gifts to their ENGENE fan club members as they use the Vlog to get closer to their fans.
Up next at #3 is ONF. The boys have released the highlight medley video for their upcoming new album "POPPING." The video includes previews for five of the new album tracks including the title song "POPPING", "Summer Poem," "Summer Shape," "Dry Ice," and "Summer End." ONF's summer album "POPPING" is scheduled to be released on August 9th.
EPEX takes the #4 spot this week. The rookie group's agency C9 Entertainment announced that after releasing more than 50,000 copies of their EPEX's debut album 'Bipolar Pt.1 Prelude of Anxiety', only a very few retailers currently have albums in stock. EPEX released the album on July 8th, making their official debut and dominating Israeli and Thai iTunes Pop charts. The group also recorded the highest number of album sales among idol groups debuting this year.
Following in at #5 is Brave Girls and STAYC. Brave Girls member Yujeong is set to appear in the new variety entertainment program MBC's "Extreme V Wild Idol." The program is the first survival audition program set in the wild and will air in September. Yujeong will be appearing as a panelist alongside Kim Jongkook and Cha Taehyun.
According to Hanteo Chart's "Hanteo Global K-pop Report," the group STAYC has shown 10 times more growth in the digital music sector than the previous year. The point choreography of the group's song "ASAP," released April of this year, was trending on social and sites, proving the group's rising popularity.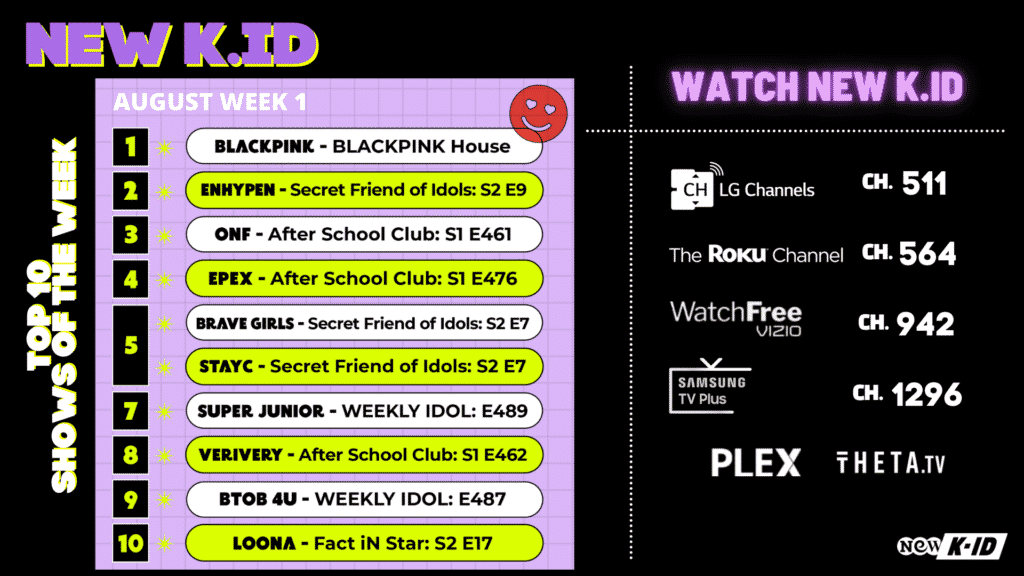 SUPER JUNIOR comes in at #7. SUPER JUNIOR's hit song "Mr. Simple" music video has reached 200 million views on YouTube. The song was originally released in August 2011. Now, including "Mr. Simple," SUPER JUNIOR now has a total of five music videos with over 1 million views on YouTube. The other four videos include "Bonamana," "Sorry, Sorry," "No Other" and "MAMACITA."
Moving in at #8 is VERIVERY. VERIVERY released a coming soon teaser video for their 6th mini-album "SERIES 'O' [ROUND 2: HOLE]." The group will be making a comeback on August 23rd.
BTOB 4U takes the #9 spot. With LOONA following at #10 spot on this week's NEW K.ID's Idol Ranking.
NEW K.ID is your only K-POP TV channel! Watch and interact with your favorite artists with various giveaways now! Enjoy NEW K.ID- completely free- now on THE ROKU CHANNEL (#564), Samsung TV Plus (#1434), XUMO (#511), LG Smart TVs, VIZIO Free Channels (#942), on all connected devices. Tune in now!