NEW K.ID, the No.1 TV channel for all K-Pop entertainment and source (https://cutt.ly/NEWKID), announced its weekly chart for the 3rd week of September.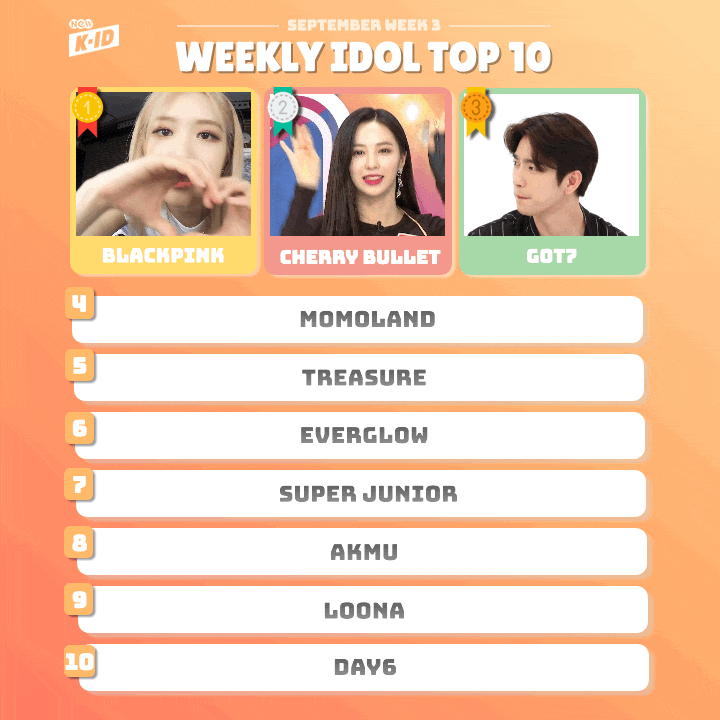 [Weekly Idol]
The queens are back again. After TREASURE's surprise rise to the top of NEW K.ID's Weekly Idol Ranking last week, BLACKPINK reclaimed their throne, solidifying themselves once again as the most popular idol group in NEW K.ID. BLACKPINK takes 6th win in the chart and will certainly not be the last. BLACKPINK also recently topped the September Girl Group Brand Reputation Rankings carried out by The Korean Business Research Institute. The rankings were determined through a bigdata analysis on media coverage, participation rate, and community indexes of the female idol groups to determine which female idol group has the best brand image in public. As the ranking suggests, BLACKPINK is insanely popular not only in South Korea but also worldwide. Their recent releases like 'Ice Cream' that was on Billboard's The Hot 100 for two consecutive weeks and 'How You Like That' that won 'Song of The Summer' on MTV Video Music Awards, helped BLACKPINK secure the #1 spot in both NEW K.ID's Idol Ranking and Brand Reputation Chart.
[WEEKLY HOT NEWS]
Followed by BLACKPINK, CHERRY BULLET, GOT7, MOMOLAND, TREASURE, EVERGLOW, SUPER JUNIOR, AKMU, LOONA, and DAY6 got into this week's Idol Ranking. Ranked at #4, MOMOLAND's Nayun starred in a web-series, 'The Police', developed by The Korean National Police Agency. She took on the role of 'Ah-jin Suh', a virtuous college student who helps the cyber investigation team. The web drama follows the cyber investigation team as they tackle crimes such as, phone frauds, online scams, and more. Nayun also starred in Naver V originals 'Anniversary Anyway' as a leading actress, taking on the role of 'Cha Sei'. She was praised by her fans and the public on her acting skills and put herself in the spotlight as the next up-and-coming idol-turned-actor in the industry.
Coming in at #6, EVERGLOW is making their comeback on October 21st with a second mini-album, '-77.82X-78.29'. In the teaser trailer of the title track, 'LA DI DA', EVERGLOW showcased a powerful charisma as they appealed to the girl crush image. 'LA DI DA' will have a combination of an up-tempo electric pop and retro genre, satisfying the fans with a new sounds that they have never heard of. EVERGLOW topped the iTunes K-Pop chart and surpassed a hundred million views on YouTube with 'DUN DUN' and 'Adios' within only one year of their debut, solidifying themselves as the new super rookies in K-Pop.
At the 7th place is SUPER JUNIOR-D&E who is releasing a deluxe edition of the beloved 4th mini-album 'BAD BLOOD' on September 28th. 'BAD BLOOD' that was released on September 3rd gained huge success as it broke into the iTunes top chart in 25 different countries. A new concept image of the special mini-album teased that the new tracks will mirror the dark imagery as shown in the image. The special edition will include two additional tracks, a cover poster, a photo book, and photo cards.
Ranked at #9, LOONA is also making a comeback with their third mini-album 'Midnight' (12:00) which will be released on October 19th. This is their new album in 8 months since their successful second mini-album, '#'. '#' not only was the #1 iTunes Album in 56 different countries worldwide but also broke into Top 4 in Billboard World Albums Chart. The official LOONA YouTube channel released a teaser trailer of 'Midnight', showing a KST clock hitting midnight in various time zones around the world. The powerful and dynamic soundtrack in the teaser made fans excited for LOONA's new and upcoming mini-album.
NEW K.ID, the only TV channel that allows viewers to enjoy K-POP Idol-related content programming 24/7 and exclusive episodes curated from 10K+ videos, is available at CH 511 for free on LG Smart TVs and XUMO apps on all Internet-connected devices.