(PRESSREELS) As the group BTS is hosting the "2020 BTS FESTA" to celebrate the seventh anniversary of its debut, it unveiled the music video for its 11th gift "We are Bulletproof: the Eternal" for its fans.
On June 12, BTS uploaded a music video for "We are Bulletproof: the Eternal," a track from its fourth full-length album "MAP OF THE SOUL: 7," on its official YouTube channel BANGTANTV. It is an animation format featuring characters of BTS members, focusing on the lyrics.
"We are Bulletproof : the Eternal" is a song that follows BTS' "We are Bulletproof Pt.1" made during their trainee years and "We are Bulletproof Pt.2" in their debut album "2 COOL 4 SKOOL," which is the end of the series.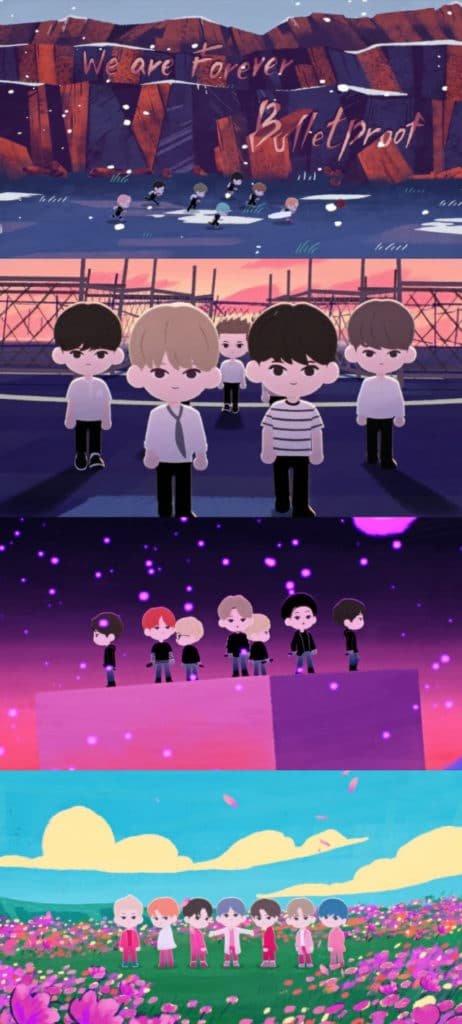 If the previous two songs are intense hip-hop genres, "We are Bulletproof: the Eternal" is a stadium-based EDM genre with a grand energy, and you can feel BTS' desire to breathe with the audience and become one. The lyrics refer to part of "We are Bulletproof Pt.2," which means that we endure trials and become stronger and harder than seven years ago.
The music video was produced under the concept of "BTS Timeline" to reflect on the seventh anniversary of their debut. From the past to the present, it has increased the pleasure of visually expressing BTS' important moments, and with a simple but clear image, it has been organized to make it feel like passing through an illustration book one by one. Above all, it gives fans the fun of discovering hidden symbols and scenes.
Starting with the summer version music video of "Airplane pt.2" on the 1st, BTS is continuing its spectacular festival of "2020 BTS FESTA" by unveiling a variety of content, including family photos, Jungkook's self-composed song "Still With You," unit interviews, profiles written by the members and "BTS Singing Room." The final content of "2020 BTS FESTA" will be released on the 13th.