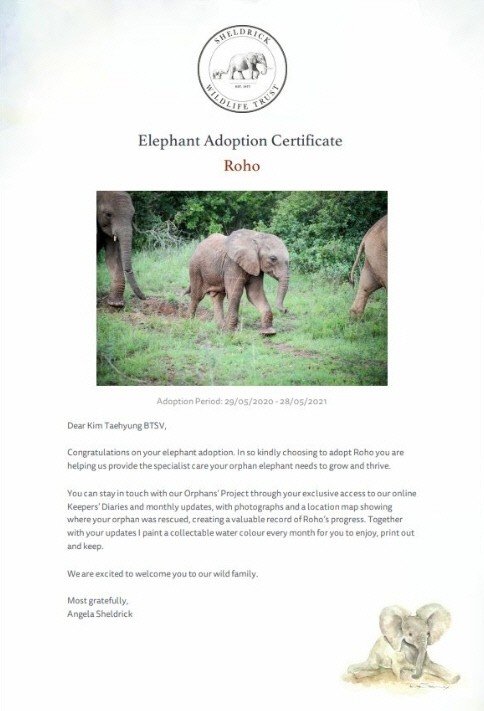 A series of donations from V fans of the global super group BTS are drawing attention. Celebrating the seventh anniversary of V's debut on the 2nd, he is once again drawing attention for his beautiful deeds voluntarily carried out throughout the world.
V Fan Base of Africa has donated money to Kenya's Rhino and Elephant Rescue and Rehabilitation Program. They adopted a young elephant who lost his mother in illegal hunting by illegal smugglers and provided a new home and food. The new name "Roho" will be given to V, but baby Kogiri now makes friends and enjoys the cuteness of his trainers.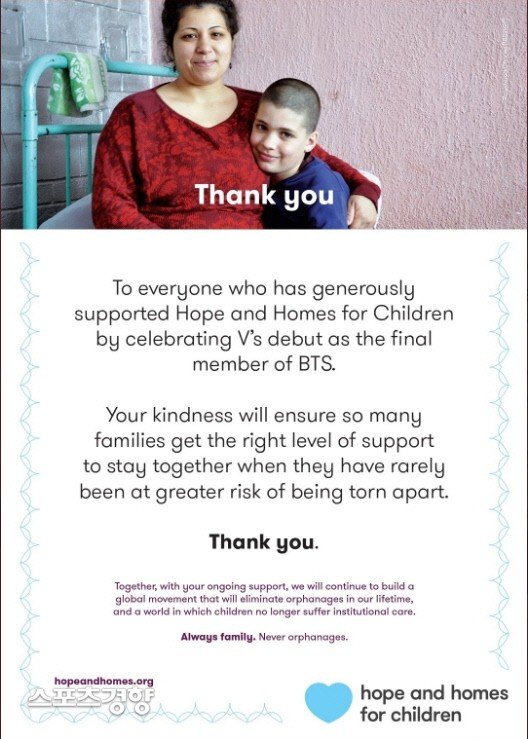 India's V Fan has donated donations to the Disaster Management Agency for disaster recovery from Cyclone Amphan. At least 95 people have been killed in India and Bangladesh because of cyclone Ampan, which recently hit the Bay of Bengal region. V fans in India have appealed to many people to pay attention to the disasters in India and Bangladesh, and the Ami have created a warm scene in response.
The British V project fan account launched a fund-raising project under a hashtag called #SpreadLoveWithTaehyeong to help vulnerable children at risk of losing their homes and support orphanages facing unfortunate circumstances, and raised funds to donate funds to Hopeland Homes.
In particular, the fund will be used to protect children who are at risk of losing their health due to 'COVID19.'
Global fans of BTS member V are also exemplified as one of the leading philanthropists on the Korean idol fan base list, which has contributed the most to society.
With V's U.S. fan base "BTS V USA," global fanbase "V Union," "Scene for Tae," "Taehyeong Facts," "ReportForV," fan sites "WinterStrawberry" and "Sailor V" are actively trying to collect fans' attention, including offering condolences to victims "George Floyd" and urging them to sign autographs.
Meanwhile, V's fandom has also been actively participating in the recent intensifying campaign to improve human rights in the U.S., including promising not to use hashtags on social networking sites on June 2 and 3, the seventh anniversary of V's debut.