(PRESSREELS) The group BTS V is showing great performances in commercials with a variety of concepts that go back and forth between sexiness and innocence.
Foreign media such as All-K-Pop and Somag reported on V's performance as a model, which has been gaining top stock prices through articles such as "V's Modeling Skills" and "V's Outstanding Modeling Capability," which have been praised in recent commercials.
The media commented that V has been praised by netizens for delivering an intense impact in the recent advertisement, and that he was gifted with talent as a model not only for his outstanding visual but also for his "midas effect."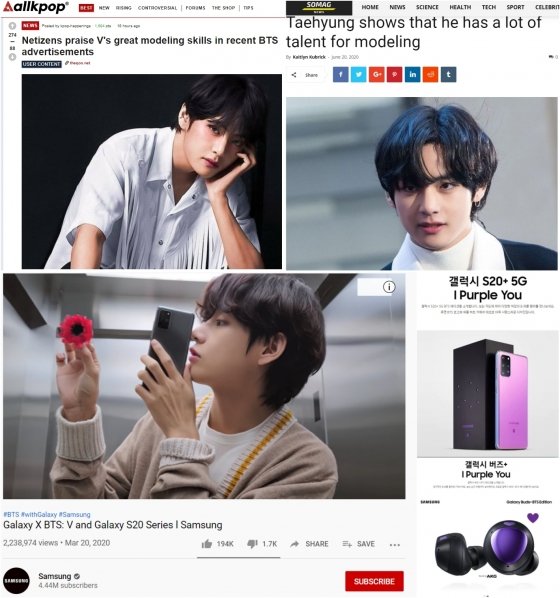 V's video in the Galaxy S20 X BTS ad, which was released on YouTube by Samsung's official account, currently has more than 2 million views, the highest number of views among all advertising videos.
Samsung's "Galaxy S20 Plus BTS Edition Package," which was released on the 19th in a global collaboration with BTS, sold out in one hour after booking, and BTS Edition Package has details of BTS and Fandom ARMY's iconic phrase "I PURPLE YOU" in addition to its purple color.
"I PURPLE YOU" is a newly coined term created by V with the meaning of "Let's believe and love until the end like purple, the last index of rainbow," and it has also gained huge popularity in China, where V is gaining huge popularity by using the phrase "I PURPLE YOU."
At the "Samsung Galaxy Unpack 2020" event in February, V wearing Buzz Plus appeared on the presentation screen, drawing attention to V's all-weather performance.
V expressed a clean image of hydrogen energy, a future clean fuel, with his beautiful appearance in Hyundai Life's advertising campaign, while Lotte Duty Free's Star Avenue ad video showed a strong and provocative image using a red turtleneck shirt and chair, perfectly digesting various concepts.
In the Bodyfriend ad, which showed fantastic chemistry with Suga, and Chilseongsaida ad, where comic dance was excellent, they also appealed with lovely and refreshing images.