NEW K.ID is your only K-POP TV channel! Watch your favorite idols all day, all week and get them ranked on NEW K.ID's Idol Chart every week!
Here are the top 10 idols NEW K.ID's Idol Chart for the third week of August.
Dreamcatcher takes the #1 spot on NEW K.ID IDOL CHART this week with Weeekly and TO1 following in the top 3. The rest of the idols in the top 10 are (in order) TXT, CIX, ONEWE, ENHYPEN, ONF, SECRET NUMBER and STAYC.
Dreamcatcher tops to the #1 spot this week on the NEW K.ID's Idol Chart! These girls made a comeback last month with their special mini album "Summer Holiday" and promoting their title song "BEcause." The song portrays the concept of love when it crosses over the line and becomes obsessive in Dreamcatcher's uniquely dark style. Dreamcatcher broke their record with their music video, which surpassed 10 million views in just two days after its release and 20 million views in nine days. After about a month of promotional activities, the group wraps up official album activities with their performance on MBC's Show Champion on the 18th.
At #2 this week is Weeekly! The seven-member girl group have just showed off their personal sides on their own web series 'Wee:mergency.' The group's agency PLAY Entertainment released the first episode on the 19th, with positive response from fans. The first episode shows Weeekly members arriving at a "Holiday Party," in lieu of their recent song's title, while they enjoy recreational activities such as badminton and board games. Weekly's Weee:mergency is released every Thursday on their official YouTube channel.
Coming in at #3 is TO1. It has been announced that TO1 will be joining the "KCON:TACT HI 5"
Lineup. KCON:TACT HI 5 runs from September 18 to 26, and will connect the hearts with K-pop fans around the world regardless of the place and time. TO1 confirmed their appearance in KCON's 2nd LINEUP along with Dreamcatcher, Highlight, J01, Kim Jae Hwan, Rain, THE BOYZ, and WOODZ.
TOMORROW X TOGETHER comes in at #4. The group's "LO$ER=LO♡ER" music video has hit 10 million views. This huge feat was achieved just two days after TXT released their title song "LO$ER=LO♡ER" from their second full-length repackage album "The Chaos Chapter: FIGHT OR ESCAPE" on the 17th. The music video shows five boys who feels helpless in a world that shows no signs of improvement, fighting the world in their own ways and wanting to escape the world.
At #5 and completing the Top 5 is CIX. CIX has topped charts with their first full-length album "OK' Prologue: Be OK." According to CIX's agency C9 Entertainment, "Confession," a track from CIX's first full-length album topped the Bugs real-time chart at the same time as its release. The album's other tracks "20," "BAD DREAM," title songs "WAVE" and "Off My Mind" were ranked at No. 2 to No. 5 on th/e Bugs chart. In addition, the album ranked third on iTunes album charts in globally, including the Philippines, Thailand, Vietnam, and Turkey, and the song "WAVE" has been at the top of the iTunes Top Song charts in Peru, the Philippines, and Thailand.
Coming up this Wednesday, August 25this NCT DREAM DAY!
NEW K.ID celebrates NCT Dream's fifth anniversary on August 25th with a 24-hour TV marathon "NCT DREAM DAY!"
Centered around the seven members' journey in the KPOP world, join in and reminisce back to the early days of NCT Dream with "Dunk Show", "1,2,3", and "WE GO UP," appearances on Weekly Idol, and a mashup of live stage performances.
For details and the NCT DREAM DAY lineup check NEW_KID_twt!
Also check out the latest episodes of After School Club and I'm LIVE next week!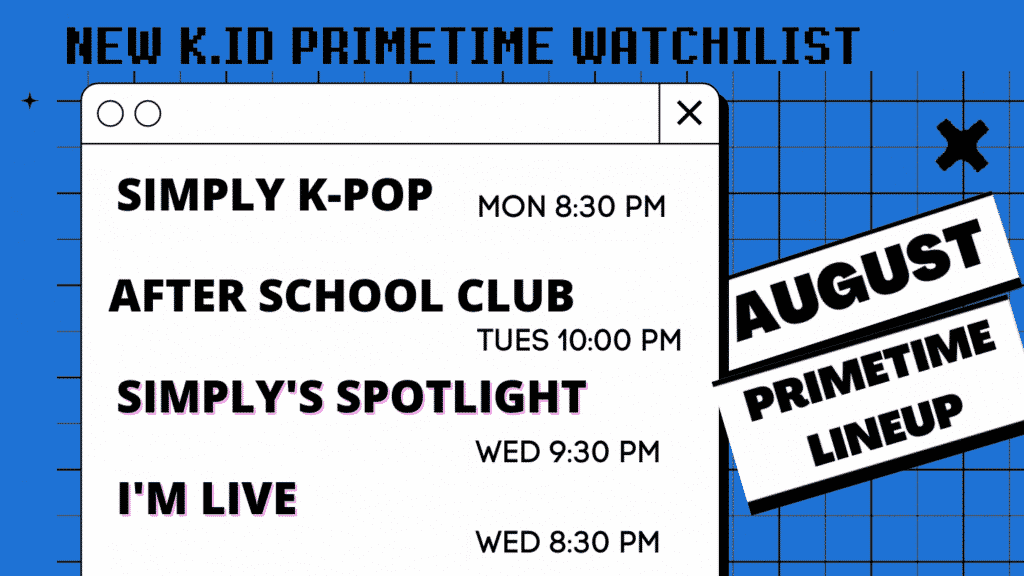 Don't miss rising stars ONEUS show off their dance moves on After School Club on Tuesday at 10 PM.
Also, tune in for 10CM's breathtaking live performance on I'm LIVE this Wednesday at 8:30 PM.
Plus, watch a new episode of After School Club with ONF this Sunday at 10:30 PM!
Enjoy NEW K.ID- completely free on The Roku Channel(#564), Samsung TV Plus (#1296), Xumo(#511), LG Channels (#511), Plex, VIZIO WatchFree+ (#848) on all connected devices, and THETA.tv.
Stream NEW K.ID LIVE HERE!