Golden Child has transformed into a high school student at "Crazy Mate Reunion," giving off a sense of entertainment.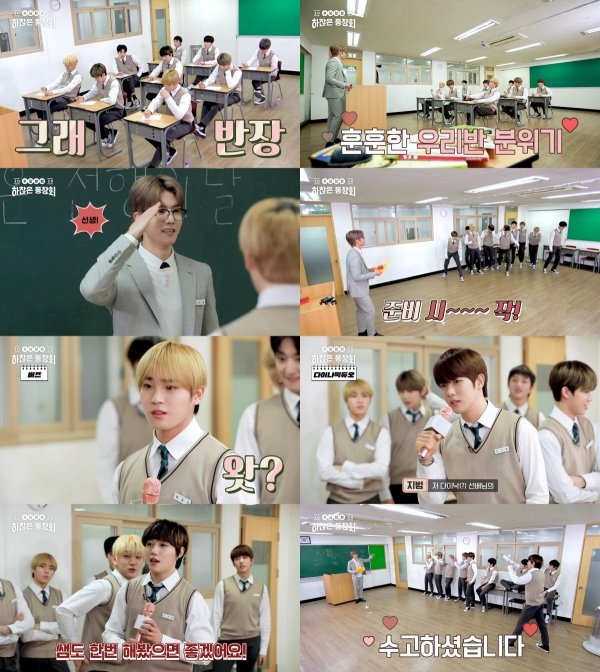 Golden Child released its second episode of the Web entertainment show "Crazy Mate Reunion" on its official Naver V LIVE on April 24.
Returning to his school days a decade ago, Golden Child wrote good deeds that each could do in April, the month of good deeds. Dae-yeol appeared as a teacher and announced that a test would be carried out to receive a leading note.
As the class began in earnest, Golden Child, a first-stage music class in the first class, sang a hit song by its seniors and took a test to guess the answer. Every time the word came out, the members couldn't hide their excitement and passionately took the test, making it a sea of laughter.
It was followed by a two-stage music test that was upgraded from the first stage. In the second stage, they had to sing and dance together when they spoke the word. Golden Child, who showed all-time excitement by covering the dance of BTS and INFINITE, is rumored to have impressed the scene with its tireless steel stamina over time.
In particular, the member Dae-yeol received applause from the members for his perfect performance of "Come Back Again" by INFINITE, a group that includes his brother Sung-yeol.
At the end of the video, the music test will end safely and the sports test will begin, which will further highlight the entertainment of "Web sitcom idol" Golden Child, raising expectations for the third episode to be released next week.
"Golden Child's Crazy Mate Reunion" is a new concept web sitcom entertainment that combines various situational plays and games while holding an alumni meeting under the guise of having become an office worker.
Meanwhile, the second episode of Golden Child's web entertainment show "Crazy Mate Reunion" will be available on its official YouTube channel at 8 p.m. April 25.
Recommended video for reading and viewing this article
READ MORE: Road to Kingdom, first round singers vote "Shock"