Netflix has acquired global rights to The Starling from Limelight, Entertainment One (eOne) and Boies Schiller Entertainment
Director: Two-Time Academy Award Nominee Theodore Melfi (Hidden Figures, St. Vincent) 
Writer: Matt Harris (Madame Black, Snooze Time, 43,000 Feet)
Producers: Limelight's Dylan Sellers and Chris Parker; Theodore Melfi and Kimberly Quinn
Executive Producers: Boies Schiller Entertainment Zack Schiller and David Boies; eOne's Jen Gorton and Zev Foreman; Alex Dong; Gabby Revilla Lugo
Cast: Two-time Academy Award and Golden Globe Nominee Melissa McCarthy (Can You Ever Forgive Me?, St. Vincent, Spy, Bridesmaids), Emmy Award Nominee Chris O'Dowd (State of the Union, Bridesmaids, The Sapphires), Academy Award Winner Kevin Kline (Dave, Beauty and the Beast, A Fish Called Wanda, Wild Wild West, In & Out), Emmy Award Nominee Timothy Olyphant (Justified, Go, A Perfect Getaway), Tony Award Winner Daveed Diggs (Blindspotting, Wonder, Hamilton), Skyler Gisondo (Booksmart, Vacation, Night at the Museum: Secrets of the Tomb), Emmy Award Nominee Loretta Devine (Grey's Anatomy, Family Reunion, Crash), Laura Harrier (BlackKklansman, Spiderman: Homecoming, Hollywood), Rosalind Chao (Just Like Heaven, Freaky Friday, The Joy Luck Club) and Kimberly Quinn (Hidden Figures, El Camino Christmas, St. Vincent)
Logline: In the heartwarming dramady THE STARLING, after a married couple suffers a hardship, Jack heads off to deal with grief while Lilly remains in the "real" world, dealing with her own guilt and a crippling internal struggle to live with a dark secret. As if Lilly's troubles weren't bad enough, a starling bird that has nested in her backyard begins to harass and attack her. This starling comes to represent all of Lilly's problems, and she becomes comically obsessed with killing it. Lilly eventually finds guidance from Larry, a quirky psychologist-turned veterinarian with a troubled past of his own. The two form a unique and unlikely friendship as both help the other to explore, acknowledge and confront their problems.
PENINSULA Unveils World's First Official 8K Main Trailer!
(PRESSREELS) CONTENTS PANDA(Next Entertainment World), which presents PENINSULA released the world's first official main trailer of 8K image quality at noon (Korean time) on June 16, 2020.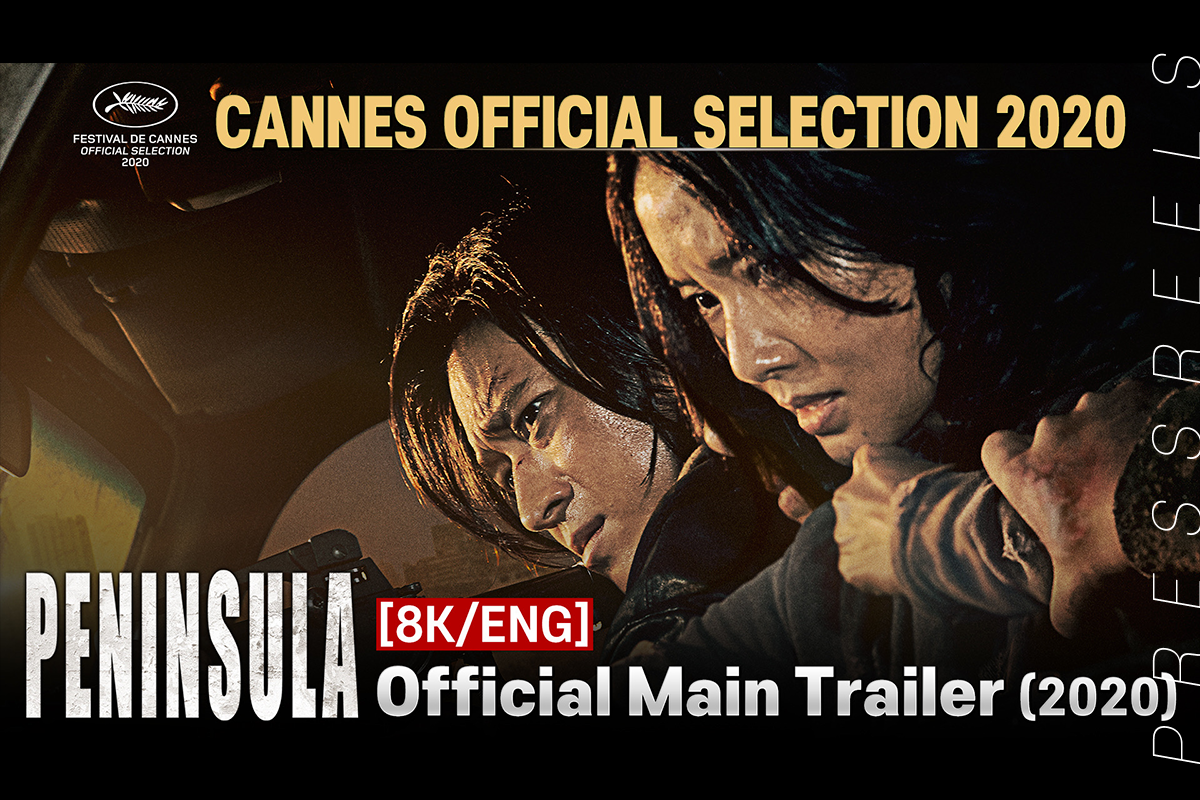 Four years after 'TRAIN TO BUSAN', Connect with the survivors of the 'PENINSULA'!
(PRESSREELS) CONTENTS PANDA(Next Entertainment World), which presents PENINSULA released the world's first official main trailer of 8K image quality at noon (Korean time) on June 16, 2020. The trailer of PENINSULA, a 2020 Cannes Film Festival's official invitation film, depicts the struggles of those who have survived in different ways for four years after TRAIN TO BUSAN.
PENINSULA is an action blockbuster depicting the last battle for survival between the people left behind in the ruins of the Korean peninsula four years after Train to Busan. The upcoming PENINSULA trailer ahead of its worldwide premiere release in the summer of 2020 is full of such big scale action sequences and explosive thrills together with fast-sounding gunfights and car-chasing scenes.
In particular, the official trailer of PENINSULA, which has 8K image quality for the first time in the world, meets the technical specifications of all digital devices and delivers a high level of visual completeness to moviegoers around the world. The 8K trailer, which is 16 times clearer than the FULL HD image quality and 4 times clearer than the 4K image quality, can be enjoyed in 8K, 4K and HD according to the device's specifications if the 8K main trailer via the NEW's official channel on YouTube is selected as the highest specification (4320p 8K). Especially, viewers can watch them with a perfect picture quality without an extra setup from the YouTube app on Smart TVs that support either 4K or 8K.
This super high-definition trailer was created through the collaboration of NEW's digital business corporation NEW ID and SK TELECOM. Among the media-focused core technologies of AI-based Post Production, a joint enterprise between the two companies, the technology called Supernova is a media upscaling solution (up to 8K) to improved quality of image and sound source based on the AI's deep learning algorithms while maintaining the quality level of the original.
Movie Information
– Title: PENINSULA
– Director: YEON Sangho (Psychokinesis | Seoul Station | Train to Busan)
– Genre: Disaster, Zombie
– Cast: GANG Dongwon (Illang: The Wolf Brigade | A Violent Prosecutor)
LEE Junghyun (Love, Again | The Battleship Island)
– World Sales: CONTENTS PANDA (NEW)
– Production: REDPETER FILMS (Birthday | Psychokinesis | Train to Busan)
– Expected Release Date: Summer 2020
– Logline: 4 years after the inexplicable disaster, they're returning to the godforsaken land!
– Synopsis
: Jung-seok barely managed to escape from the unprecedented disaster in Korea 4 years ago and lives in exile in Hong Kong by himself. He is given a lucrative chance to return to Korea to retrieve large bags of cash left abandoned in the streets of Seoul. His mission is infiltrated ruined city of Seoul and secure the target truck before the sunrise, then return to Hong Kong unscathed. But he and his team are ambushed by a militia known as Unit 631 and vicious zombie hordes. During his desperate struggle to survive, Jung-seok experiences a moment of deus ex machina as survivor Min-jung and her family save him from brink of death. Together, they formulate one last plan to escape the peninsula for good. The prodigal son, the survivor and the deranged, their bloody battle begins!
NEW K.ID TV : K-POP Entertainment Channel has released TOP 10 weekly rankings, 4th week of May
iKON is the new champion of the weekly idol chart in the fourth week of May, with their new appearance.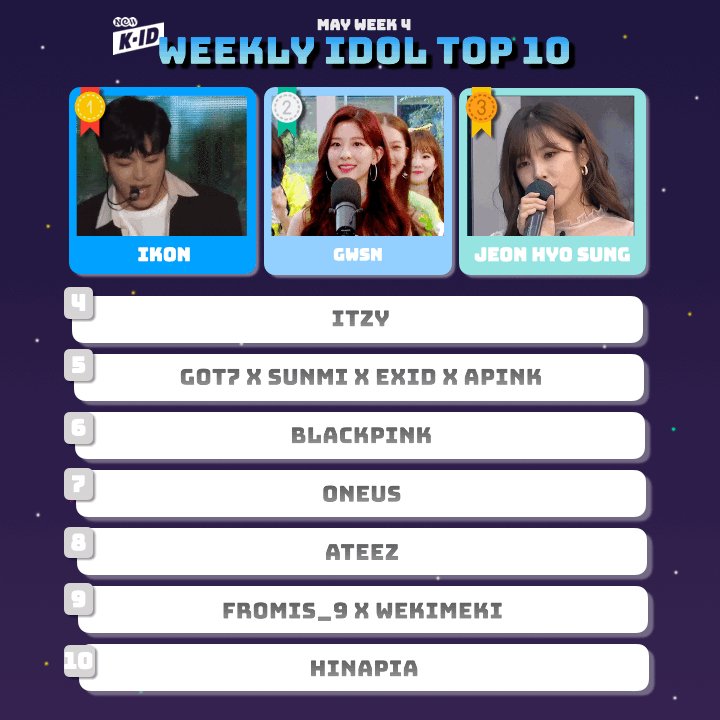 Coming hot: iKON, new number one if the idol chart

Rising of K-Drama news and School attack programs.

Weekly best: YG Ent.' (iKON, BLACKPINK, and Treasure)
NEW K.ID, the only provider of K-POP idol content for 24/7, released its weekly chart for viewers rating based on accumulated watching hours of both live-streaming and on-demand services from fans around the U.S. Wide variety of exclusive episodes and more than 10,000 K-idol programs are available on CH 511 of LG Smart TVs and XUMO apps for free
iKON is the new champion of the weekly idol chart in the fourth week of May, with their new appearance. GWSN, the winner of last week, was a runner-up and JEON Hyo Sung secured the last spot in the podium
The rest of Top 10s are ITZY, GOT7X SUNMI X EXID X APINK stage compilation, BLACKPINK, ONEUS, ATEEZ, fromis_9 X Weki Meki, and HINAPIA in order. YG Entertainment's artists such as iKON and BLACKPINK were still shown as they always do, and TREASURE, a YG's pre-debut trainee group also showed up in Top 10 with their V-log episode.
SHOW CHAMPION, Fact iN Star, and WEEKLY IDOL remained on the podium of the Program chart. N.Flying and SF9 keep their popularity for four (4) consecutive weeks. The rise of strong new contenders shows the increasing attention for K-Drama and Reality shows, enjoying their huge popularity throughout Asia with distinctive originalities.
Secret Friend of Idols, a reality show featuring idol groups from the SHOW CHAMPION stage and mysterious character in the studio was ranked 6th. 15min K-Drama NEWS Special from KStarLive, a news report introducing the newest trends in K-Drama newly appeared in the 8th place.
Tardiness Prevention Live(MOMO X), a school attack program that allows only students who attended on-time to enjoy the performance of their favorite artists, was in the 9th place.