NEW K.ID, the only K-Pop TV channel that airs an unrivaled blend of K-Pop star-studded 24/7 stream curated from 10K+ episodes in all genres, released a special programming guide and promotional event in May to comfort K-Pop fans amid COVID-19 outbreak.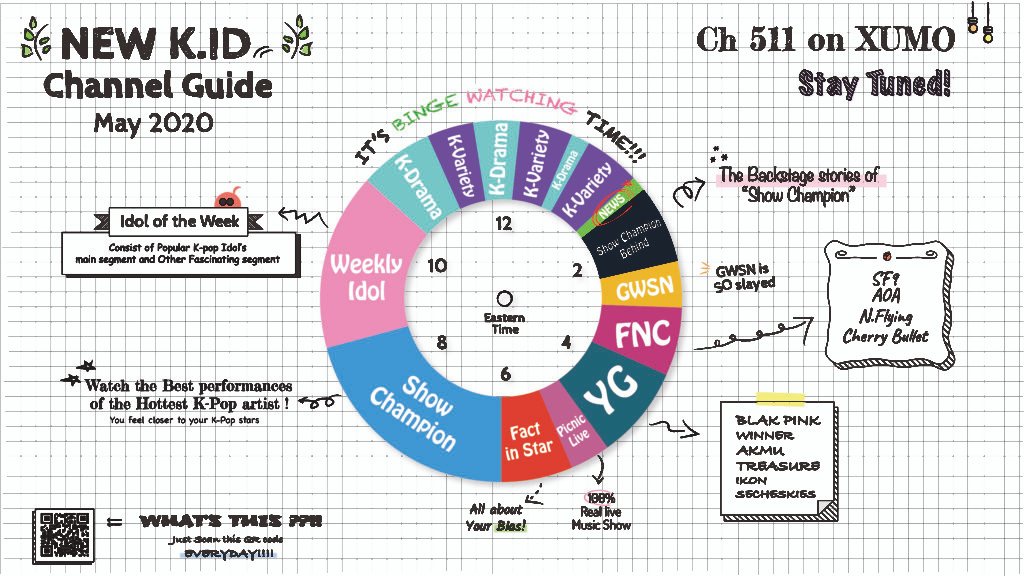 According to the released schedule, 11 K-Pop-related genres will be diversified around the clock, including the latest episodes of Black Pink, Winner, Treasure, N.Flying, AOA, Cherry Bullet, Weekly Idol, K-Pop Idol Drama, K-Pop News, and more. NEW K.ID channel offers live streaming K-POP content as well as a catalog of on-demand playlists for free and holds a variety of viewing-verification events and gifts to commemorate the exclusive programming update.
Event 1) Scan the QR Code on the Channel Guide!
The NEW K.ID timetable is divided into 12-hour wheels based on a 24-hour window and shows an extraordinary programming that allows unlimited enjoyment of unique content 24/7. In particular, if you print out the Channel Guide with a special QR code on it and put it on your room, you can participate in a content-verification event whenever you scan the QR code every day. A how-to guide can be downloaded from either NEW K.ID official Twitter or Instagram.
Event 2) Find the Hidden Treasure in Your Content!
NEW K.ID holds a series of special events with selected K-Pop artists of "Hong Eunki, TOO, and BUSTERS" to celebrate their comeback and hot debut stages for May. To participate this special event, you need to follow the simple steps below:
Download Whosfan mobile application, find a QR code at a different time of the day (among five programming blocks), and scan the QR code immediately.
Participate on event and enter for a chance to win a signed polaroid by Hong Eunki, TOO, and BUSTERS.
Post messages on Whosfan Hong Eunki, TOO, and BUSTERS pages.
Various events, which will be held daily for the whole of May, will be available at NEW K.ID official Twitter and Instagram (new_k.id.)
YOUR K-POP TASTE BUDS, NEW K.ID (Ch 511 on XUMO) Enjoy a 24/7 free K-POP TV channel, full of new, premium 10K+ episodes!