A lively design with purple hearts and the logo of BTS is completed.
Providing a theme exclusively for BTS, pre-boarding of Weverse, a global fan community platform
Prior to the official launch on July 9, pre-sale will begin on June 15.
(PRESSREELS) Samsung Electronics will work with BTS to showcase the Galaxy S20+ BTS Edition and the Galaxy Buzz+ BTS Edition. The official release date is July 9. It is expected to boost sales of the Galaxy S20 series, which did not meet expectations.
The "Galaxy S20+ BTS Edition" is a purple color with a matte haze technique, which shows various colors depending on the angle of view. There is a purple heart on the rear camera and a BTS band logo on the bottom.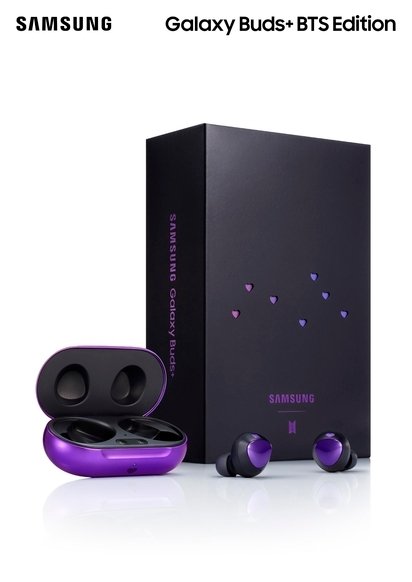 In addition, the Galaxy S20+ BTS Edition is equipped with a dedicated theme that applies to lock screens, home screens, AODs, and icons, as well as a global fan community platform called Weverse.
The "Galaxy S20+ BTS Edition" package, designed with seven purple hearts symbolizing BTS members, includes stickers for BTS members to decorate smartphones and photo cards for collection.
"Galaxy S20+ BTS Edition" will be released in South Korea as a 5G model and cost 1,397,000 won.
Pre-booking will be held from July 1 to July 7 at online and offline stores of three mobile telecommunication businesses, Samsung Electronics' website, and Samsung Digital Plaza across the country. Pre-booked customers will be provided with a wireless charger BTS edition, specially-made cases and BTS bromide.