K-Pop Entertainment TV channel, NEW K.ID, Has Released
SF9, Weki Meki, Red Velvet, BLACKPINK and other K-pop groups are joining the great summer comeback battle now!
(NEW K.ID) In the second week of June, SF9 was the No. 1 idol in the NEW K.ID's viewer ratings. SF9 is scheduled to make a comeback stage in early July, six months after its first full-length album "FIRST COLLECTION" released in January this year.
Following SF9, Weki Meki, ranked second, is famous for its energetic stage and choreographed dance. They will make a comeback stage on June 18 with their title song 'OOPSY'. 3rd-ranked Red Velvet's first unit, "Red Velvet-Irene & Seulgi," will also make a comeback stage in early July with its first mini-album "Monster."
BLACKPINK, ranked sixth on the idol chart and twice on the content chart, will make a comeback stage with its pre-released title track "How You Like That" on June 26. Following the release of its second new song over July and August, its first full-length album will be released in September. BLACKPINK was ranked 10th on the Digital Song Sales Chart after its first 33rd place on the Billboard Hot 100 with its latest collaboration song "Sour Candy" with Lady Gaga. This is the highest record among K-pop girl groups.
The 4th to 10th places were Celeb Five, MAMAMOO, BLACKPINK, EVERGLOW, HINAPIA, LABOUM and DREAMCATCHER X VICTON (Back-to-Back Stage) in order.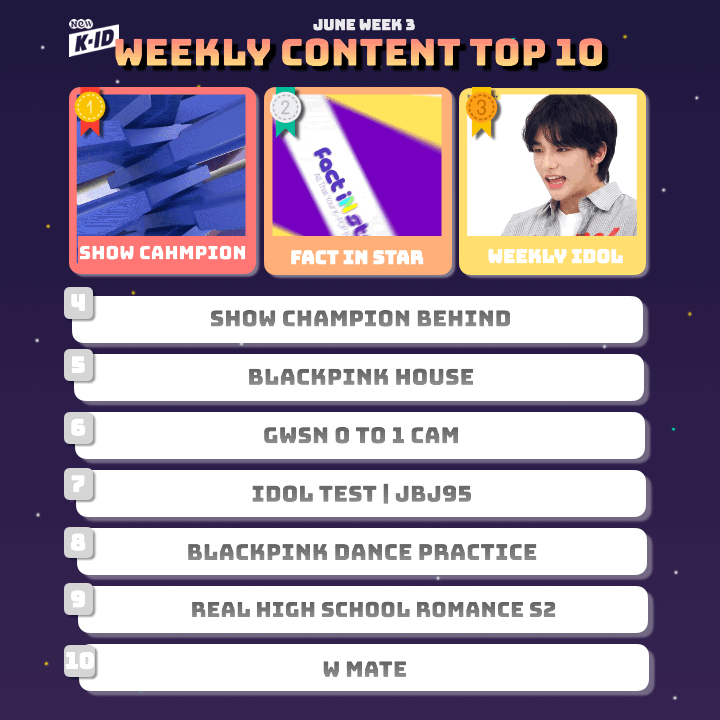 Show Champion, Fact iN Star and WEEKLY IDOL still maintain the Top 3 on the Weekly Content Chart, while the fourth to tenth places are SHOW CHAMPION BEHIND, BLACKPINK HOUSE, GWSN 0 to 1 CAM, IDOL TEST | JBJ95, BLACKPINK DANCE PRACTICE, Real High School Romance S2 and W Mate: Making Global Friends Project in order.
The new entry content "W mate: Making Global Friends Project" is a K-Reality & Variety show premiered on KBS World where Vietnamese and Korean celebrities (including Yukyung of ELRIS) become tour guides to each other, explore tourist attractions, and select the best hot places. Season 1 travels to hidden attractions in Seoul.
NEW K.ID Weekly Audience Rating is calculated by adding the total watched time of both live streaming and on-demand services from U.S. viewers.
NEW K.ID, the only TV channel that allows viewers to enjoy K-POP Idol-related content programming 24/7 and exclusive episodes curated from 10K+ videos, is available at CH 511 for free on LG Smart TVs and XUMO apps on all Internet-connected devices.
If you want to cheer for your favorite K-pop star, just Click on NEW K.ID Channel here!