The feud between Taylor Swift and Scooter Braun is becoming more intense.
Last Friday, the office of Braun in Nashville, Tennessee closed because of the said threats from fans of Swift. This was due to the singer not being allowed to sing her old hits at the American Music Awards and refused to permit her songs to be used in Netflix doc.
What's happening between Taylor Swift vs. Big Machine?
The Big Machine Label Group, Braun's company denied Swifts allegations.
She was extremely upset over Braun and Borchetta and made a public cry to her fans. She wrote "I've been planning to perform a medley of my hits throughout the decade on the show. Scott Borchetta and Scooter Braun said that I'm not allowed to perform my old songs on television because they claim that would be re-recording my music before I'm allowed to next year."
The singer added, "Scott Borchetta told my team that they'll allow me to use my music only if I do these things- If I agree to not re-record copycat versions of my songs next year (which is something I'm both legally allowed to do and looking forward to) and also told my team that I need to stop talking about him and Scooter Braun."
Fans took her plea literally "This is WRONG. Neither of these men had a hand in the writing of those songs. They did nothing to create the relationship I have with my fans. So, this is where I'm asking for your help." 
There were some threat calls in Big Machine offices and there was even one voicemail for an employee with the same exact address and threatening to kill them at home, a source shared. 
A fellow songwriter said that this was an outrageous abuse of power and completely unforgivable.
Big Machine however denied her accusations and made a statement telling Swift the "narrative you have created does not exist" and claimed that she owes them "millions of dollars and multiple assets."
#IStandWithTaylor – Celebrities Supporting Swift
On the other hand, many of the co-artists stand by Swift. Hashtags like #IStandWithTaylor #FreeTaylor are now trending in the social media.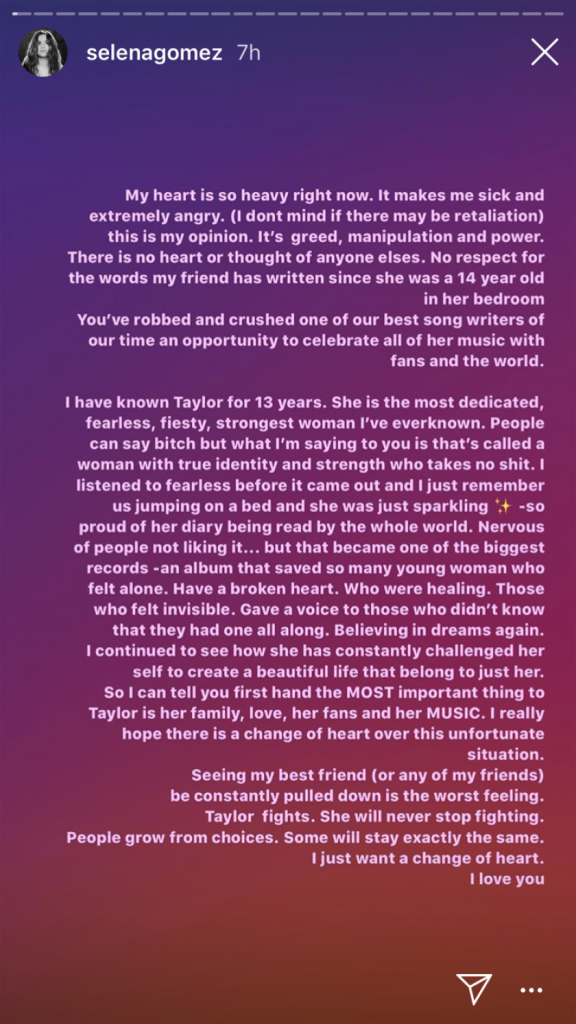 Selena Gomez made a long note regarding the problem and how these two are breaking one of the best artists in the world.  Halsey posted a video of her singing "Mean" and the hashtag #IStandWithTaylor.
Gigi Hadid posted on Twitter "Scott and Scooter, you what the right thing to do is. Taylor and her fans deserve to celebrate the music!!".
Lily Allen said Solidarity with Taylor here, this sounds awful, and people wonder why music hasn't had its #MeToo moment ? 
Rachel Zegler said Shame on them. I can't even imagine what you may be going through— you have an army behind you, though. Stay strong, we're on your side.
Other artists who expressed their support were Camila Cabello, Halsey and Tinashe but many big female singers also kept their mum about the issue.